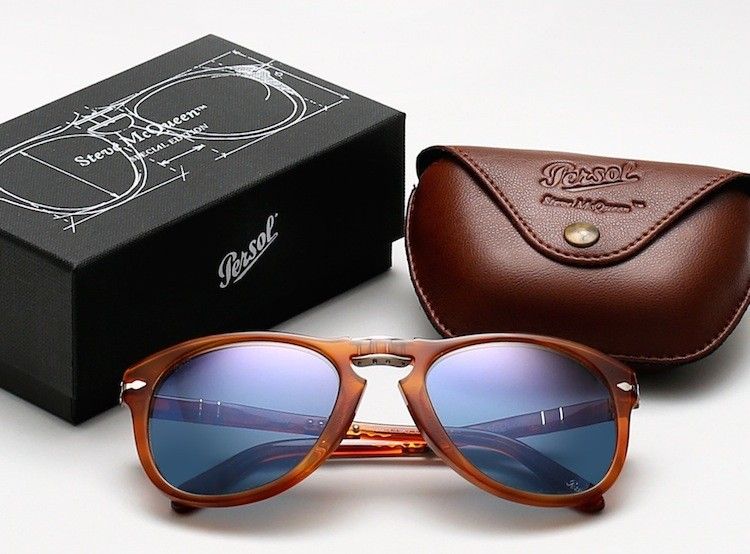 Photo Courtesy of Eyegoodies
Legendary Italian eyewear brand Persol is paying tribute to one of its most famous devotees with a new limited edition pair of sunglasses bearing the signature of Steve McQueen. The actor known as the "King of Cool" famously wore a pair of foldable Persol 714s with custom-tinted blue lenses in 1968's The Thomas Crown Affair, co-starring Faye Dunaway, which was nominated for two Academy Awards. In 2010, the brand released a short run of 714s with blue lenses that quickly sold out. Now they're coming out with a finely detailed limited edition version called the 714SM in McQueen's honor, which is available in tortoiseshell with his signature blue lenses as well as other frame and lens combinations.
Haute online eyewear boutique Eyegoodies, one of the well-dressed man's best resources for Persols in the U.S., has received one of the only shipments of the new limited edition shades, which vary in price from $359 to $459. The new 714SM's feature inward folding hinges showcasing the signature Persol double arrow, a detail faithful to the original as worn by McQueen. Lens options include the very latest polarization and photochromic technology. They also come with exclusive McQueen-branded packaging and a custom leather pouch for carrying the sunglasses in their folded up position. Persol made its big screen debut in 1961 worn by Marcello Mastroianni in Divorce Italian Style; other stars who have worn them on and offscreen include Jack Nicholson, Richard Gere, Paul Newman, Pierce Brosnan, Brad Pitt, Al Pacino, George Clooney and Daniel Craig.