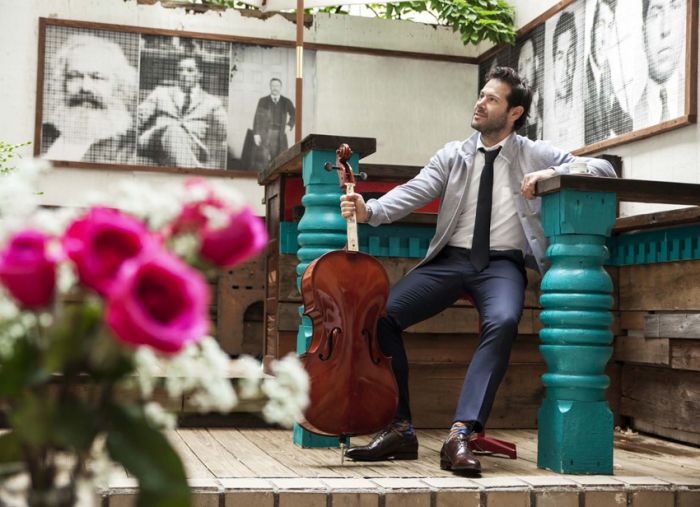 Photos Courtesy of VKNAGRANI
We'll be the first to admit that it's rare for guys to find a label that really speaks to them. Most men opt for comfort rather than fashion, and those who are searching for their own style are left with limited options—restricted to department stores and a few independent labels. But we found a brand that's timeless, contemporary and has that effortless "I naturally look this good" style to it. VKNAGRANI designs suits, ready-to-wear and accessories for men who know what they want out of life and live with purpose, making the most of everyday and leaving a great impression in their wake. We spoke with founder and designer Vivek Nagrani about what makes his brand unique, the challenges of men's fashion today and why he's such a pain in the ass—his words, not ours.
JustLuxe: Can you talk a little bit about your background and what lead you to begin and design VKNAGRANI? Was this something you always aspired to do?
Vivek Nagrani: Since childhood, I have always been interested in clothing, men's clothing. I never cared about a brand, I would always be more interested in the way the garment was made, how the fabric felt and most importantly how it made me feel. I stopped wearing Polo in the fourth grade because it seemed too commercial. I opted for Le Coq Sportif. So yes, I have always wanted to create great clothing.
JL: Your designs are simplified. They're elegant, luxurious and are seemingly made to be timeless. From where do you draw your inspiration?
VN: Thank you for recognizing that. My inspiration was combining the past to fit into the present and still be relevant in the future. In addition, climate is very different today and social norms are very different. I am always finding ways to create clothing that offers the consumer maximum versatility. Each piece is that "go to" piece. Each piece can be worn in multiple ways. For example, the Type X Sweater can be worn as a sweater with a t-shirt and jeans, but can also work as a casual sport coat when worn with our Captain's shirt and our tie.
JL: Please describe the VKNAGRANI man.
VN: The VKNAGRANI man is a gentleman who calls the world home. He moves about the planet with ease. He is well read, he understands luxury and he is his own brand. He is more about character than a label. He is more intrigued by the unique rather than the ubiquitous. The VKNAGRANI man would rather get advice from his father than Google. The VKNAGRANI man is the man other men aspire to be solely because he lives free and is not binded by the status quo.
JL: What does men's style mean for you? How does that translate through your personal style and that of the brand? Do your own personal style and that of the brand coincide?
VN: A man's style to me is the way in which he chooses to live. It has nothing to do with fashion sense, socio-economic factors or the city in which he lives. Style is about grace and confidence. A man with style can be equally sexy in a t-shirt and jeans as he is in black tie.
I create every piece for me. I am a real pain in the ass and think about each and every nuance. If, and only if, I love the piece will I move forward to production. Oh, and then as soon as I find a problem, I find a solution for the next production. So, yes, the brand is a pure extension of not just my sense of style. In addition, the brand is my commitment to the consumer that I will always make something the best I know how.
JL: What do you think is lacking in men's fashion today? How do you hope your brand will fill that void?
VN: The primary reason I wanted to make clothing was because there was such a huge void. Men want to be sexy but often lack the self-confidence or knowledge of how to dress. I found that clothing that was playful but sophisticated was missing. In addition, very few collections address the climate changes we are all experiencing.
Our brand offers the consumer a very simplistic, well thought out way of creating the perfect wardrobe. He is assured to look perfectly put together with very little thought. I often tell clients that my closet is so easy to use that I would look better than most men even if I was blind.
The other issue I have addressed is the modern male's way of living. He is getting married much later in life, so he now requires clothing that is age appropriate, but also offers a sexy, attractive element. Then, there are more men getting divorced and again require the same things.
JL: What do you hope your designs will convey to men? How do you want them to feel in your designs?
VN: I want men to understand how to be a man. I want men to embrace being a man. He should be sexy, sophisticated, playful and understand how to express his individuality. Every guy that wears our pieces, immediately understands this. The collection has very little shelf appeal. The true work is in fabrication, fit and the feeling you experience when you wear it. I want men to understand that dressing well is simple, does not need to be overdone. Far too many men rely on getting noticed for all the wrong reasons. I am far more elated when someone says "you look great" as opposed to "that's a great tie". You see, if they notice one piece rather than the whole ensemble, it means it's out of balance.
JL: So you design everything from socks to suits to ties, what are some of your favorite materials to works with? Where do you source most of these materials?
VN: Finally, an easy question! For all foundation pieces (those which directly touch your body) nothing beats great cottons. I could care less about techy fabrications. Nothing is better than great cotton. For cottons, we use only the best. I source only where I know I can find the best. For example, Peru for Pima, Egypt for Giza and Switzerland for the way they spin the cotton. For clothing, I love cashmere and wool and other variations of wool and cashmere blends. The weight of the fabrics is my focus. I like light weight clothing. I am always on the hunt for the incredible. We just created a pure Pashmina, handmade robe that is unlike anything I have ever worn, felt or seen. It is all handmade and the pattern was created by an artist exclusively for this garment.
JL: You've had a successful career as a designer and undoubtedly have traveled and met people from all over the world; what are some of the most influential things you've seen and learned? What are some of the most important discoveries you've made through creating your own label?
VN: Without doubt, the most influential thing I have learned is to always do what you love. Be passionate and live with purpose. Most people are always looking for material success to define themselves. I want to feel like I am bringing a value to the human existence. I am far from a Gates, Jobs or Branson; however, in my small way, I have chosen to only work with family-owned factories and work strictly with those that value the person over profit.
Through this rather brutal journey, I have discovered that even being a small company, you can really make an impact. Sure, not on the mass population, but even elevating a single person's life yields a wonderful sense of joy.
JL: How do you want your label to expand? Where do you want to go from this point?
VN: My goal is to revolutionize the brick and mortar shopping experience. I wish I could share some of my ideas, but I am keeping them close to the chest. This is where things are going to get really fun. I am determined to re-invent the way a man chooses to shop. If you were to see our showroom, you would understand that I am far from normal.