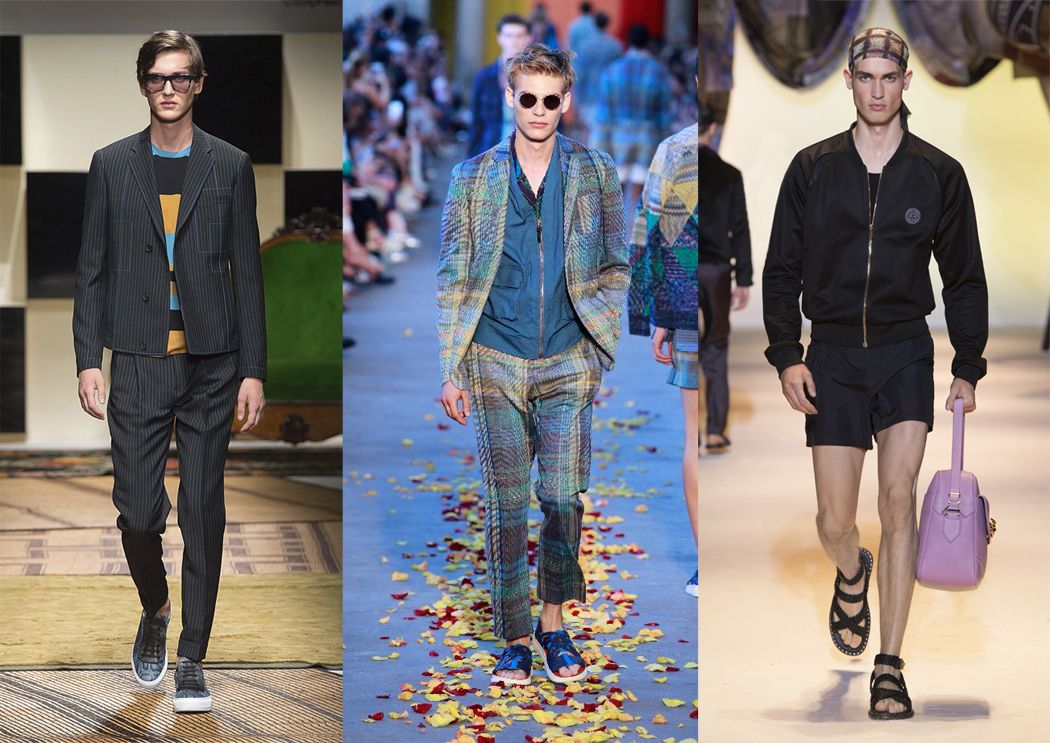 Photo Credit: Salvatore Ferragamo, Missoni, Versace
Italy has some of the best dressed men in the world so it's no surprise that Milan Fashion Week Men's sets the trends for the season when it comes to menswear. The event ended this week after days of runway shows and presentations, and there were some standout collections that will undoubtedly be replicated in the closets of fashionable men everywhere. The Spring/Summer 2016 shows actually had some pretty distinctive trends this season that pushed the envelope of men's fashion. It was unexpected, but so well done we're kind of on board—even with some of the stranger looks. Ahead we outline some of the best trends from Milan Fashion Week's Men's you're sure to see (or wear) next year.
Photo Credit: Gucci & Etro
Feminine Styles
Yes, women have been stealing looks from the guys for years, but this season designers took a page (or rather a shirt) from ladies' closets. Gucci was probably the most notable collection that showcased the trend, but the feminine inspiration showed up in collections from Marc Jacobs, to Etro to Prada. Thin suits, more voluminous, curvy cuts and feminine prints showed up on more than a couple runways this season.
Photo Credit: Salvatore Ferragamo & Missoni
Printed Suiting
Suits are always popular in menswear, but this season they felt new and wearable outside of the office due to the fun colors and casual prints found in almost every collection. Some pieces were subtle, and lightly used pinstripes or checkered patterns, while other labels went for loud color and almost obnoxious (but in the best way!) prints. You can see some of the most obvious examples of this trend from Stella Jean, Gucci and John Richmond.
Photo Credit: Bally & Prada
Color
Blue is the color of the season. While every designer had a mix of tones and shades that they favored, it seemed that bright blue stood out as the champion of the runway. Whether it was used as one of the feature colorways of the collection or just highlighted on a few statement pieces, it was everywhere. Corneliani, Facetasm and Bally probably showcased the shade the best. If blue is too mainstream for you orange and citron tones were also pretty popular.
Photo Credit: Coach & Dsquared2
Bold Prints
If printed suits are not for you, no worries. There were designs on almost everything this season, so you can still rock the trend without having to suit up. Patterns came in almost every size, shape and color from little race cars on Prada sweaters to tattoo and '80s beach prints at Dsquared2. Depending on how daring you want to be this season you could opt for some of the head-to-toe psychedelic prints or just top off your outfit with a simple plaid scarf.
Photo Credit: Versace & Bottega Veneta
Accessories
A few seasons ago, handbags for men were all the rage, and while their popularity hasn't dwindled, today it's less about the bag and more about the total look. Bags were popular of course, but hats scarves, belts and sunglasses made more of an impact than they have in previous seasons. Every runway had some kind of featured accessory and we can't help but wonder if this upswing in accessories has anything to do with the expanding men's accessory market. Give them what they want, right guys?