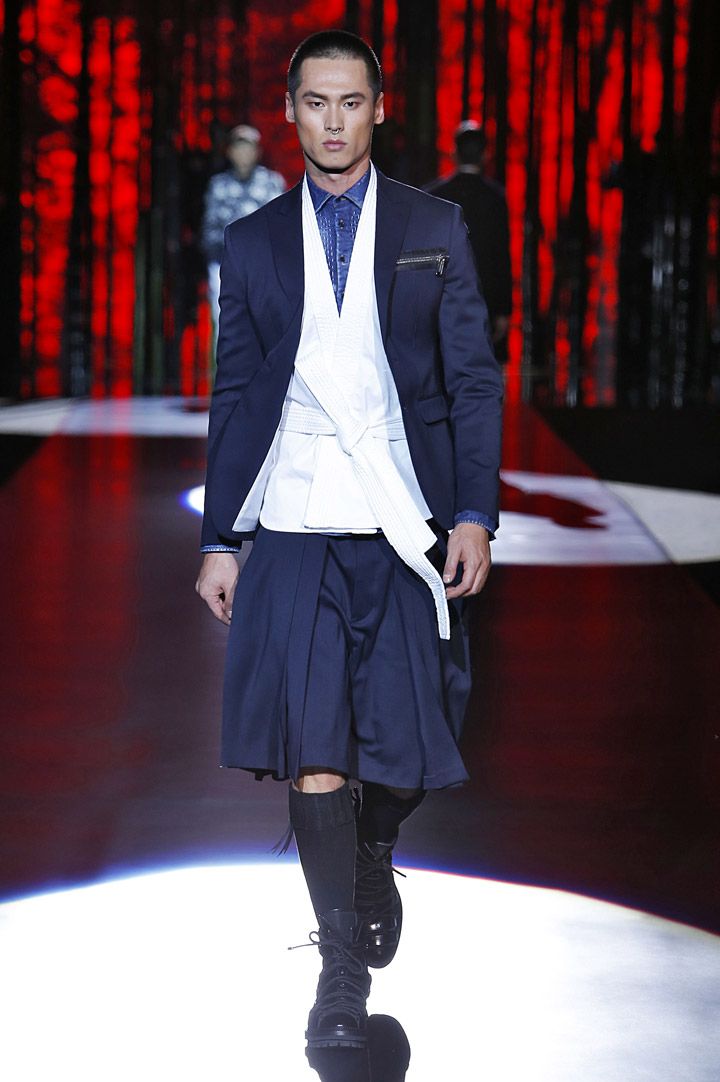 Photos Credit: DSquared2
Caught somewhere between the UK and Japan, DSquared2's Fall/Winter 2016 collection at Milan Fashion Week: Men's was an eclectic mix of what designers Dean and Dan Caten have coined as #mangapunk. Wearing modernized kimonos, rock-styled kilts and oversized outerwear, models walked down the runway to the tune of Turning Japanese amidst a bamboo forest background lit up with colors of the Union Jack.
English overcoats were paired with mandarin collar shirts, judo jackets were resized into more wearable renditions, and pleated skirts and culottes played on traditional shape of both kilts and samurai skirts. Karate-style wrap shirts were layered over button-up shirts and under straight-cut blazers. Glossy satin was used on bombers and track pants to reference ninja fighters. With such a straightforward theme, the twins should be commended for their attention to cut, silhouette and structure, as nothing came off as kitschy or theatrical.
Aside from the cut of each piece, which displayed the twins' familiarity with not only current design but the traditions by which they were inspired, the fabrics and textiles were the highlight of the show. Jacquard kimono fabric was used on bomber jackets, beaded cherry blossoms covered shirts and kilts, and outwear was detailed with Japanese word embroidery. A series of Japanese manga, or comic book, pieces referenced the colorful pop culture of Japan, with animated robots, superheroes, and if you look closely, a cartoon of Dean and Dan Caten.