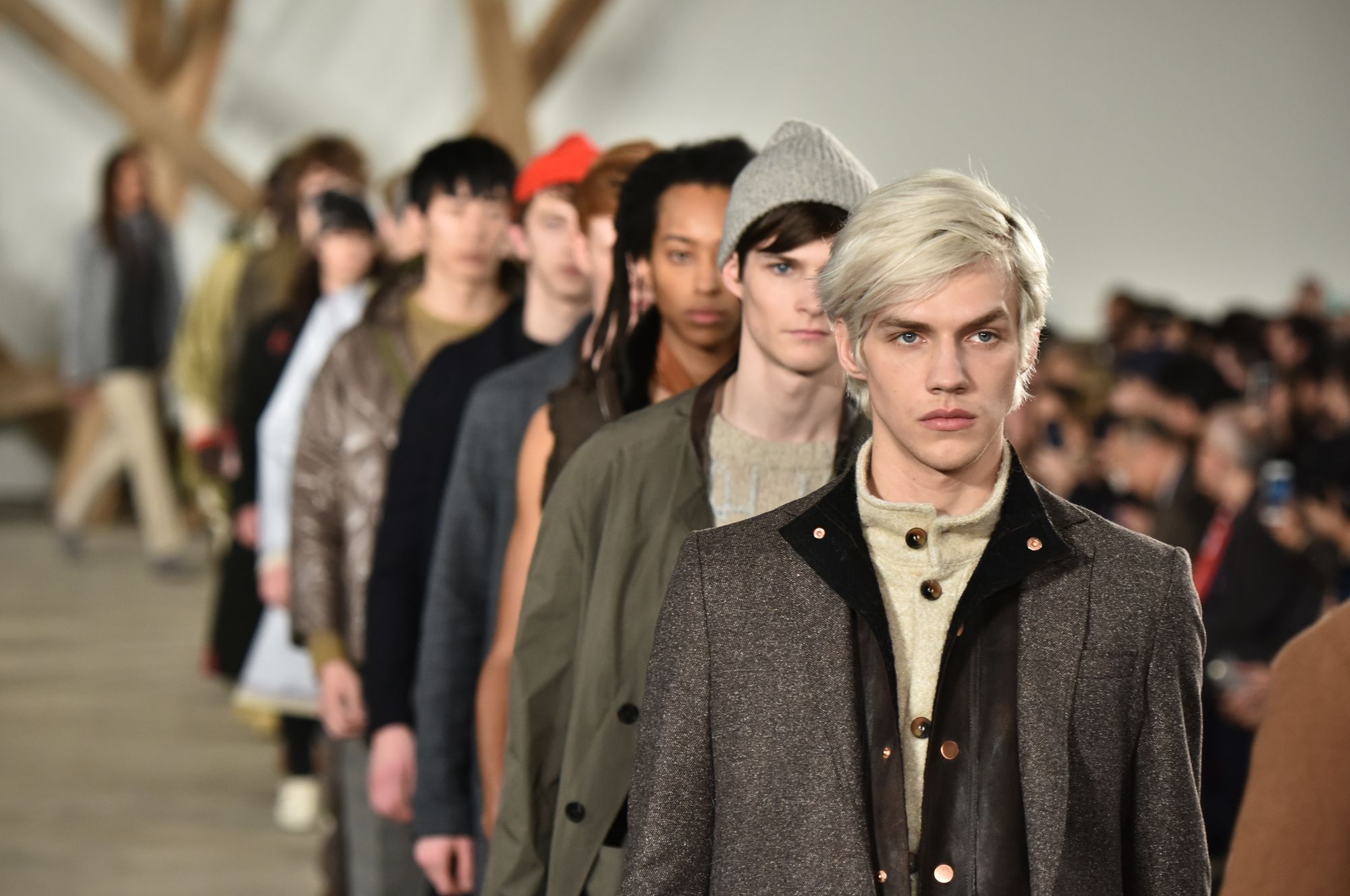 Photos Credit: FashionStock.com / Shutterstock.com
Over the past year the fashion industry has been going through some major discussions about the relevancy and impact of Fashion Week. Brands have been revamping the way they present during the bi-annual events by combining men's and women's collections, limiting their line to a season or two, and even making entire collections available for purchase directly after runway shows. NYFW: Men's, which got its start in 2015, fell right into the midst of the transition and seemed to have a successful, if not a bit shaky, start. To have a better idea of the influence the new Fashion Week was having on the digital market, the CFDA hired Launchmetrics (formally Fashion GPS) to create the NYFW: Men's Influencer Report.
Analyzing attendees from New York Fashion Week: Men's Fall/Winter 2016 shows, the report specifically looks at their social media and global impact as it pertains to the role of traditional media and social media influencers. Journalists made up a whopping 60 percent of attendees suggesting that traditional media is still one of the most relevant forms of coverage. Of this number, 33 percent of journalists were from print publications and 27 percent were from digital publications. Retailers and buyers made up 14 percent of invitees, with stylists making up six percent. Bloggers and photographers each made up five percent, with TV journalists, PR, creatives and educational institutions making up less than five percent each.
Based in NYC, the event brought in a large majority of American attendees, with 76 percent of guests hailing from the New York area, 13 percent coming from around the US and only 11 percent flying in from other countries. Of this 11 percent, 56 percent of foreign guests were from Western Europe, 18 percent were from Japan, six percent were from Russia, and five percent or less were from Canada, South Korea, Australia, Beijing and Hong Kong, Latin America, and India. The report notes that despite the numbers reflecting an almost entirely American audience, the UK and Japan had a significant presence at the shows.
Editors were the highest number of invitees to the shows, and from season to season, the number of editors specializing in menswear has risen. This season, editors were invited to an average of 10 shows each, while bloggers were only invited to two or three. The most influential editors at the event were William Buckey, the fashion director and photographer of Mr. Magazine with over 48,000 followers; Nick Sullivan, fashion director at Esquire and editor of Esquire's Little Black Book, with over 15,000 followers, Wendell Brown, senior fashion editor at Esquire, with over 3,000 followers; Jean Palmieri, senior editor at WWD, with over 200 followers; and Emily Manning, assistant editor at I-D Magazine, who has no social media presence.
While bloggers and social media influencers had a smaller presence at Fashion Week, they couldn't be discounted entirely. These men and women are global personalities that can reach thousands of potential shoppers around the world. The top social media influencers at the shows included Vanessa Freidman, New York Times and International New York Times fashion director, with over 84,000 followers; The Fashionisto with over 72,000 followers; Julie Gilhart, an independent consultant (formerly with LVMH, Barneys and Neiman Marcus) with over 39,000 followers; and Andrew Bevan, Teen Vogue's style director, with over 35,000 followers. Of these names, their global reach is 34 to 69 percent American, 13 to 31 percent Western and Northern European, two to 16 percent Latin American and two to 12 percent Asian. Africa, Eastern Europe and Caucasus, and the Middle East and North Africa regions all measure at less than five percent.
With editors, buyers, bloggers, stylists, journalists and influencers all attending Fashion Week it's no surprise that they're all taking to Instagram to catalogue their experience. During NYFW: Men's F/W 2016, the report shows there were approximately 55,000 comments, 2.79 million likes and 21,400 publications actively engaging on Instagram. Launchmetrics did note that despite the obvious influence of the image-sharing platform, some of the most influential style Instagrammers did not secure invites. As brands are still preferential to traditional journalists, identifying which influencers are the most sought after and which are most aligned to their style could help them make the most of their smaller percentage of blogger attendees. During the event, trending posts and posts with the highest number of comments came from names like blogger Aimee Song, model Nyle DiMarco, and beauty and lifestyle blogger Claire Marshall. The most popular hashtags used were #NYFW, #fashion, #NYFWM, #NYC and #mesnwear.
Traditional forms of media, be it print or digital, are still favored by designers at NYFW: Men's, despite the collective reach of bloggers and social media influencers. The report points out that online and offline media are co-existing well together in the fashion industry and progressing together, collectively reaching a larger and more diverse audience than they have previously. That being said, traditional print still maintains its status quo as the authority on trends for both designers and the public. While it's unlikely a monumental shift will take place in media relevancy any time soon, the report suggests brands will have the ability to target a better audience, and market toward more specified buyers, if they start utilizing social media via bloggers and influencers.