Bob's Watches
Bob's Watches proudly presents a remarkable piece of history from Thomas Francis Finley Jr., a dedicated United States Navy veteran who served for 28 years. With the rank of Navy Captain, he retired and has voluntarily served on the USS Midway stationed at Navy Pier in San Diego for the past 17 years.
Joining the Navy in October 1966, Tom piloted the H3 helicopter during various special operations, including the retrieval of the Apollo 14 astronauts after they splashed down in the South Pacific Ocean on February 9, 1971. Throughout these missions, Tom wore a 1675 Rolex GMT-Master circa 1968, which will soon be available for auction on the Bob's Watches platform. This incredible timepiece is expected to sell for approximately $15,000 – $30,000.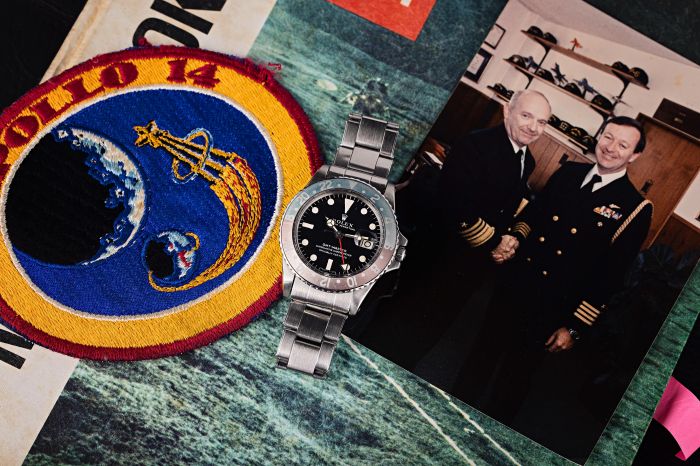 Bob's Watches
The auction, titled "The Apollo 14 Ocean Recovery GMT," will last for 5 days, starting on Friday, November 10, and ending on Tuesday, November 14. It's worth noting that there is no reserve or buyer's premium.
This Rolex GMT-Master, complete with box and papers, comes directly from the original owner, Tom Finley, who purchased it in 1969 in Hong Kong at Artland Watch Co. while on a week-long "shore leave" during Vietnam. Tom decided to acquire a Rolex after his issued field watch flooded, realizing the need for a reliable timepiece. While having limited knowledge about watches at the time, he heard from other service members that Rolex was the go-to brand, so he got one. Tom managed to keep the box and papers safe throughout the years.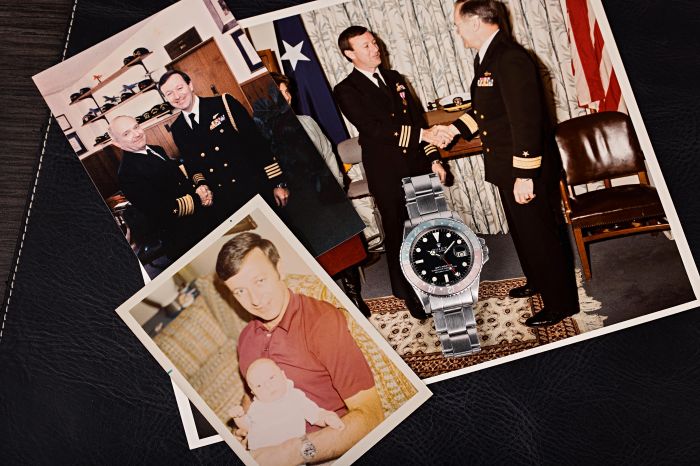 Bob's Watches
Tom played a crucial role in the recovery of the Apollo 14 mission as the co-pilot of the helicopter responsible for picking up the astronauts. Apollo 14 marked the eighth crewed US mission and the third one to successfully land on the Moon. The prime crew members for this historic mission were Alan B. Shepard Jr, Stuart A. Roosa, and Edgar G. Mitchell. The astronauts were transported by Tom's helicopter to the USS New Orleans, the prime recovery vessel. Tom and his crew then safely transported the astronauts to Pago-Pago in American Samoa.
Today, Tom continues to serve as a devoted volunteer at the USS Midway in San Diego. He has been a docent for the last 17 years and an instructor on the ship for the last 15 years. Remarkably, Tom has logged nearly 8,000 volunteer hours aboard the USS Midway. Excited to part with these cherished possessions after decades of ownership, Tom is ready for them to find a new caretaker.