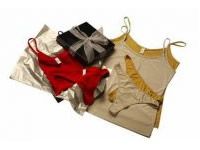 Luxury Shopping:
While money is no object for many in the Luxe-o-sphere, a myriad of fine living products are entirely affordable for one and all. Consider this très fab - and entirely giftable - assortment of luxury lifestyle items sure to delight:
Adea Camisole and Thong Set ($61 - $84.50)
Famous for its exquisite line of Italian lingerie and layering pieces, Adea now offers a line of luxurious and lightweight camisole and thong sets in three festive and elegant colors: gold, silver and red. Unbelievably soft and infinitely comfortable, these garments are made of Meryl - a highly advanced, wrinkle-resistant micro fiber fabric that breathes and maintains a comfortable body temperature in any climate. With equally stylish packaging, Adea's camisole and thong sets are a wonderfully affordable gift of everyday luxury.
(www.myadea.com)
Gemvelopes ($24.99 - $45)
The perfect solution to protect, tote and store your precious jewelry, Gemvelopes chic jewelry pouches will have your bobbles jet setting in style. No more tangled chains or lost earrings, as Gemvelopes offer a convenient place to organize your jewelry-a-go-go. They feature a specially-designed cushion to hold earrings, a strap for rings and necklaces, and a pocket to secure bracelets. Gemvelopes come in several fabulous fabrics and designs, with each adorably fastened by a ribbon and a snap.
(www.gemvelopes.com)
Caesar Featherie Dimple-less Golf Ball ($30 for 3-ball sleeve)
Who doesn't want to eliminate hooks and slices from their golf game and stay out of the rough? The Caesar Featherie "dimple-less" golf ball just may be the key to consistently making those straight fairway shots you long for. A company spokesperson explains that while golf ball dimples create lift at high velocities that increase the distance a ball will fly, they are also responsible for sidespin - a major cause of hooks and slices. The dimple-free Featherie flies straight, allowing for strategic shot placement and a generally more enjoyable golf experience.
(www.caesargolfcompany.com)
iComfort Eye Pillow ($18)
Nothing works harder than our eyes all day long, so a little optical TLC can go a long way. Luckily, the iComfort Eye Pillow is up to the task. Filled with 100% natural grain (flaxseed) and lavender, this unique eye mask also conforms to hug facial contours to best promote rest & relaxation. Your choice of 20 fabulous fabric prints on one side reverses to a supple faux fur backside that is gentle on the eyes. An elasticized adjustable Velcro closure assures a snug and comfortable fit. The iComfort Eye Pillow is great for travel, sleep and meditation, and may also be used chilled to help relieve tired and puffy eyes, headaches and migraines.
(www.tivolicouture.com)
Psi Bands ($14.99-$19.99 per set of 2)
While images of fashion don't exactly evoke thoughts of nausea, two "momprenuers" have actually made the connection - and successfully at that. They invented Psi Bands (pronounced "sigh bands") - stylish drug-free acupressure wrist bands that relieve nausea due to morning sickness, travel (motion) sickness, anesthesia, and even chemotherapy. FDA-cleared, Psi Bands are available in a variety of designs from hip to classic, and are also waterproof and size adjustable around both the wrist and at the acupressure point for individualized comfort. Keep Psi Bands on hand when jet-setting and globe trotting to ensure a bout of nausea doesn't spoil all the fun.
(www.psibands.com)
Scandle Body Candle ($12.95)
Made from 100 percent natural and vegan ingredients including soy butter, shea butter, jojoba and vitamin E, The Scandle is a candle that burns at 2 degrees above body temperature to produce a soothing oil for massage, manicures/pedicures, or use as a daily moisturizer. The Scandle Essentials 4oz Travel Tin offers the ultimate essential oils and aromatherapy spa massage even when traveling. Packaged in a square tin that is compact and lightweight for easy transport, the Scandle Essentials candle, which can burn for up to 30 hours, comes in five scintillating scents from which to choose.
(www.scandlecandle.com)
Linda & Harriett Notepads ($12-$38)
The brainchild of designer Liz Coulson Libre, Linda & Harriet is a unique stationery boutique featuring an amazing selection of letterpress notepads and custom hand-stamped cards and invitations. The company's notepad line, which may be personalized, offers 10 nostalgic, whimsical designs sure to perk up your everyday notes and lists. These charming, high quality notepads exemplify life's simple pleasures.
(www.lindaandharriett.com)
IgnaFire Chocolates ($12)
Now even the most eco-conscious chocolate lover can indulge guilt-free. IgnaFire provides its unprocessed, utterly delectable whole-bean chocolates in completely biodegradable, trash-free packaging sure to appease even the most hardened green thinker. Indeed, IgnaFire's completely compostable gift boxes leave virtually no mark on the planet. The chocolate, itself, is equally exciting. Entirely unprocessed, the chocolate is made from whole, stone-ground cacao beans lightly sweetened with Mexican sugar. No cacao butter is removed or added, which eliminates the processing and retains the healthful flavanols, antioxidants and flavors that occur naturally in the bean. IgnaFire chocolates are available in both eating morsels and a ground powder for making hot chocolate, with four savory flavors to choose from: cacao, cinnamon, vanilla, and moka.
(www.ignafire.com)
Luxe City Guides ($9.99)
Billed as "consummately stylish pocket travel guides, packed with astute, opinionated information for the busy and sophisticated visitor," these handy travel companions will undoubtedly come in handy for discriminating, activity-oriented jet setters. Don't let its small size fool you. These compact guides are jam packed with a wealth of insider tips on the best-of-the-best places to eat, drink, play, shop, spa and slumber in 28 key cities around the world. While each title is available for less than $10, the company also offers pricier box sets. The European Grand Tour Box uncovers the best of London, Paris, Rome, Berlin, Barcelona, Madrid, Istanbul and Florence for $75. The World Grand Tour Box offers invaluable detail on 12 hotspots around the globe for just $110.
(www.luxecityguides.com)
K9 Confections ($9.99)
For that posh pooch in your life, K9 Confections is a must. The company's all natural, fresh baked and utterly adorable dog treats will ensure you canine companion noshes in style. Decorated with yogurt and carob and made entirely of organic ingredients, K9 Confections are available in a variety of mouth-watering flavors, including peanut butter and even pumpkin! The healthy treats are also wheat, corn, soy, salt and sugar free, and contain no preservatives whatsoever. While the company offers an unbelievably large selection of seasonal and holiday designs, its "Heavenly Happy Birthday Dog Bone" is a perennial favorite. Made with five ounces of pure yogurt and carob, this tasty treat will have Fido begging for more.
(www.k9confections.com)
The Luxe List product review editor Merilee Kern scours the luxury goods marketplace for new and innovative must haves. Product submissions accepted via e-mail at Merilee@JustLuxe.com.
- Merilee Kern
JustLuxé.com's "The Luxe List" Product Review Editor