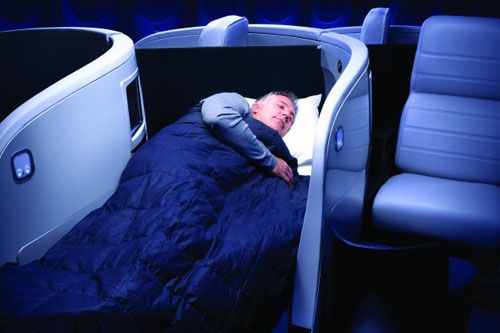 Air New Zealand, Airline of the Year 2010
Outstanding Business Class Travel
Luxury Airlines:
When it comes to long-haul flying there is a lot to be said for choosing upper class seating: more space to move around, better food, comfort. All of these things are great, but what they truly amount to is this: your trip starts the second you board the plane. Hand the flight attendant your jacket, graciously accept a glass of champagne and settle in.
At home in the sky
On a recent trip I boarded an
Air New Zealand
flight from Los Angeles to
London
. Booked in the airline's Business Premiere class, I was pleased to find excellent service and amenities. I was first greeted by Robert, a personable flight attendant who became a pleasant and familiar face throughout the journey. Robert quickly gave me a "tour" of my new space. Along with the ability to transform into a six-foot lie-flat bed, the high-tech 22-inch wide seat features a generous recline and an ottoman to kick up your feet. The personal entertainment center boasts an expansive list of TV shows, both classic and new movies, music videos, and games. The space is set up so guests have privacy on two sides, with an additional seat belt smartly built into the ottoman, should flyers wish to work, chat or dine together.
Peanuts
Speaking of dining, you simply cannot write about an airline and not mention the food. As you may have experienced or read here on JustLuxe, airlines are working very hard to combat the image of "airplane food," partnering with chefs to create menus, expanding selection. In the case of Air New Zealand, menu options include award-winning New Zealand wines and fare selections designed by prominent Kiwi chefs. Peanuts were not offered. Well, not exactly. Instead, antipasti of cashews, almonds, a gherkin, turkey, olive and marinated red pepper appeared. To dine I chose a starter of goat cheese with golden beats, an entrée of New Zealand lamb loin, for dessert a Passionfruit panna cotta. Other standout menu offerings included pan seared Snapper, a cranberry stuffed chicken thigh and the braised beef short rib. I can also personally vouch for the latter as being wonderful, having had it on the flight back.
After dinner, the cabin lights are dimmed and flight attendants come to make up guests' beds. Now full of good food and relaxed, most flyers are ready to sleep. I look for Robert who gives me a quick nod and smile acknowledging I too would like my bed made-up. When I return from brushing my teeth, I get to climb right in. In the morning, fresh fruit, coffee and a three cheese and chive omelette is served à la breakfast in bed before landing.
And the Oscar goes to
This year
Air New Zealand
won the Air Transport World 'Airline of the Year' award, which is the equivalent to winning an Oscar in the world of air transport. The airline has also previously been awarded the 2008 "Best Passenger Service Award," "Best Airline to the South Pacific, Australia, and New Zealand," as well as holding the title for Australasia's Leading Business Class Airline. This doesn't come as a surprise when I reflect back on my experience with Air New Zealand: Robert's attentiveness, the comfort of Business Class Premiere. Also something worth mentioning is the airline's in-flight concierge. Upon departure the entire flight learned of Michelle, who identified herself and offered to assist any passenger in any way. Michelle proceeded to offer London guide books as well as her own personal expertise, explaining her wealth of knowledge not only pertaining to our destination but many European cities, should Heathrow be only a stop along your way. This was one of my first clues Air New Zealand was a step above many other airlines, I appreciated that personal touch offered to everyone.
On the Horizon
During the upcoming year or so, exciting things are happening with Air New Zealand. Innovative and exciting upgrades are coming to all three classes offered by the airline. The changes? Improved menu choices will be available in every class along with touch-screen ordering.
Business Premiere
In addition to all of the luxuries afforded to the current class, beds will become more plush. The mattress will be thicker, a cushy duvet and full-size pillow will be the standard.
Premium Economy
Seats not only recline but also slide forward, like a recliner. Those sitting on the sides have ample space to relax or work. An exceptional way to travel together, the new center-aisle seats swivel so two people can interact, eat together or simply relax.
Economy Skycouch
You will never look at coach the same after experiencing the Skycouch. For years people have been folding up armrests and attempting to sleep or cozy up across more than one seat. Finally seats that are meant to accommodate you and your partner or the family, with armrests that fold completely away, and seats that take advantage of the extra space.
Read about the trip to London.
See our picks for
Best Luxury Airlines
Business Premiere
Premium Economy
Premium Economy
Economy Skycouch
Economy Skycouch
Economy Skycouch
Economy Skycouch