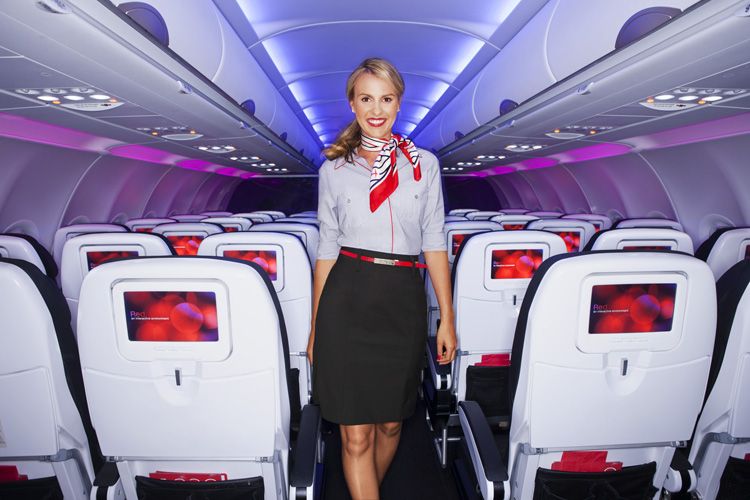 Photo Courtesy of Virgin America
The flying experience in the 60's and 70's was one of
high fashion
, featuring flight attendants wearing designer dresses and neck scarves, and Virgin America airlines plans on bringing that back. With the help of Banana Republic, the airline has created a new uniform line to bring a sense of
luxury style
to their flight attendants and crew. The fresh, modern clothes are aviation inspired and will be unveiled at airports nationwide on August 8, 2012, the airline's fifth operations anniversary.
Not only will the employees get new looks, a Limited-Edition Travel Essentials collection, all inspired by the new uniforms, will be available for purchase onboard Virgin America and at specific Banana Republic stores starting on August 7, 2012.
"In creating the uniform designs for Virgin America, we wanted to respect the heritage of in-flight uniform design while injecting a modern twist that's both functional and fashionable," says Banana Republic Creative Director and Executive Vice President, Simon Kneen. "We referenced the time when onboard style and sophistication was of utmost importance and designed a modern interpretation that incorporates aviation details and celebrates Virgin America's signature style."lltitle=Virgin America Introduces New Uniforms### llcontent=Virgin America has teamed up with Banana Republic to create brand new uniforms for their flight staff, bringing the company forward into a more high-fashion age.
The creative process spanned 18 months, with focus groups and fit sessions with Virgin America's airport teammates, crew, and in-flight employees. They ultimately decided on a nice selection of various styles for the pilots, in-flight, and guest service crew members. The final collection is a combination of modern design and practicality, ensuring that not only will the crew look amazing, their clothes will be designed to fit their unique movements and performance needs. Shirts have been designed with extra length so that when a flight attendant reaches up to store baggage in the overhead bins, their shirts will stay tucked in. Also helping with the tuck problem is a rubberized strip inside the waistband on the pants and skirts that helps to grab onto the material. Fabrics were chosen based on their durability during long travel days, offering stretch and comfort, while still able to withstand multiple dry cleanings.
The women have 13 choices to look forward to. There's a classic pencil skirt, a modern zip cardigan with ribbing detail, lambskin leather jackets, modern trench coats, and silk charmeuse scarves. The men's new wardrobe has nine different styles, including leather jackets, lined mac coats, woven shirts and pants, and striped sleeve sweaters. Though the men's color palette is fairly mute compared with the women's pops of red, we think they look modern and fresh. Accessories weren't forgotten and include an in-flight apron with an aviator inspired logo and a TSA checkpoint-friendly in-flight tote bag.
"Since the golden age of jet-setting in the 1960s, in-flight fashion has often been elusive in the U.S., but we hope to bring a little of it back to the skies with these new designs," says Luanne Calvert, vice president of marketing at Virgin America. "Even as a young airline just celebrating its fifth year in operations, continued investment in our design and overall guest experience is a priority for us. These new uniforms really represent the next stage of evolution of in-flight fashion, incredibly practical and designed for the modern work world – but with a nod back to the stylish golden age of air travel."
Virgin America and Banana Republic have teamed up together in the past, with previous highlights being the live-tweeted in-flight fashion show this past February and in-flight makeovers in a plane cruising at 35,000 feet in 2010.
The Limited-Edition Travel Essentials collection will allow passengers of Virgin America to get a little of the in-flight style for themselves, featuring neat aviator sunglasses, classic trench coats for men and women, and a stylish leather tote and messenger bag. One will be able buy them over the in-flight "Shop" platform or in Banana Republic stores.
For more information visit
VirginAmerica.com