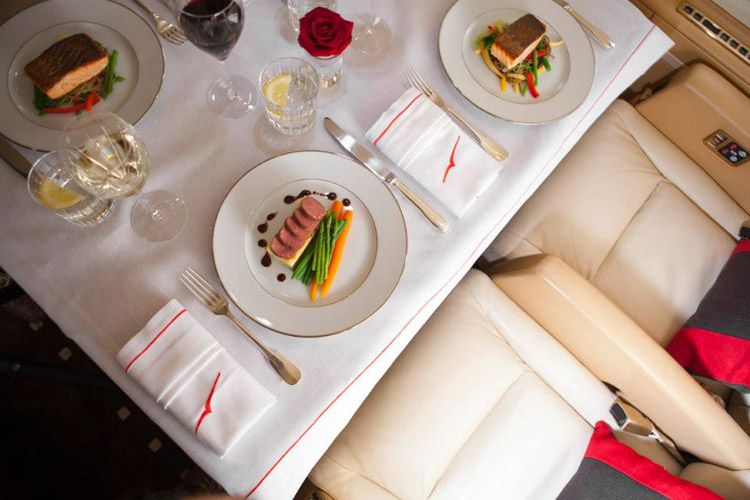 Photos Courtesy of VistaJet
Earlier in the month VistaJet announced their new partnership with Wheels Up, a membership-based private aviation company, to offer VistaJet's Flight Solutions Program (FSP) in the United States beginning in March 2014. The U.S.-based fleet will be operated and managed by Jet Aviation Flight Services, a U.S.-certified air carrier, and is expected to expand its flying fleet to 12 Bombardier Global jets, which will be valued at $600 million.
Under the partnership, Wheels Up will be VistaJet's exclusive general sales agent, with VistaJet arranging flights to be operated by Jet Aviation. Wheels Up customers will have access to the U.S.-based fleet of brand new Global aircraft under Jet Aviation's operational control, and the flights will be consistent with VistaJet's exacting customer service standards.
"By partnering with VistaJet, Wheels Up will offer its members access to a large cabin, Global business jet fleet and a service that is second to none worldwide," said Kenny Dichter, founder and CEO of Wheels Up. "The relationship with VistaJet gives Wheels Up a truly global presence and enhances our offering to cater to all customers' needs, further positioning Wheels Up as a true business aviation solution."
VistaJet is known in the industry for having the youngest fleet in the sky, with an average age of less than two years; and all aircraft operate under their manufacturers warranty. Wheels Up estimates that it will initially secure 5,000 hours worth of commitment via the Flight Solutions Program on the Global aircraft, and forecasts an additional 5,000 hours for 2015.
"We successfully grew our business by carefully identifying which marketplace to enter and develop. Several criteria come into play when making this analysis, however two things are key — timing and having the right partners and team," added Thomas Flohr, founder and chairman of VistaJet. "Our two companies share numerous synergies, including a focus on safety, customer cost benefit, ultimate service and simplicity at the core of all our services."