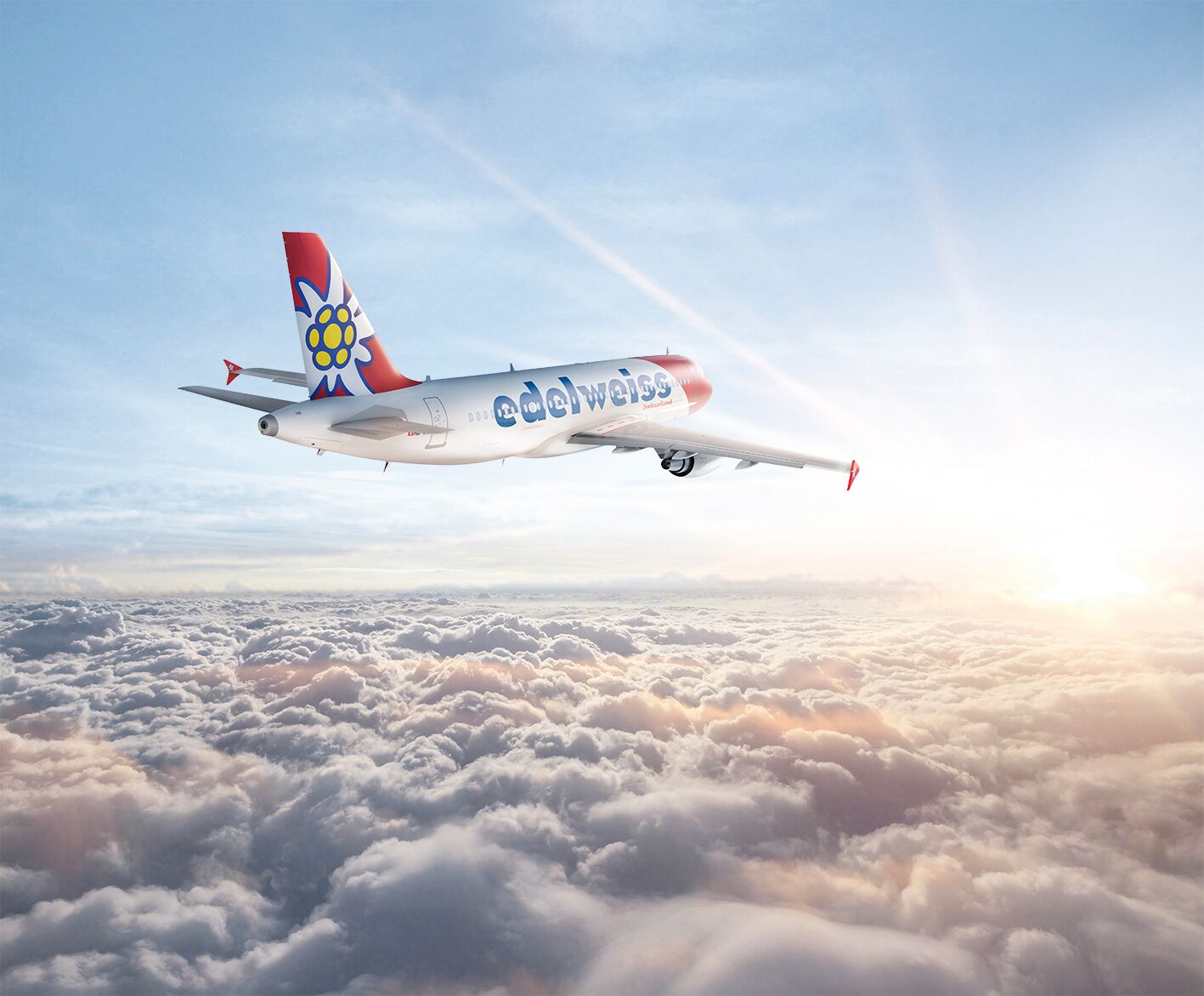 Photos Credit: Edelweiss Air
As a long-time San Diegan, I love my region. The sole exception: when I fly internationally. It is then, and only then, that I long to be a Los Angelean. True, flying in and out of LAX can be a challenge, but flying from a non-hub market like San Diego to a gateway such as LAX before even beginning an out-of-country journey can be an even greater travel test—adding an extra link to an already lengthy and unpredictable process.
So when Edelweiss Air began its bi-weekly, non-stop San Diego to Zurich route in June 2017, the Swiss Air-affiliated airline (and member of the Lufthansa group) captured my attention. In no small part due to its look; the aircraft is distinctive—a red-tipped tail featuring the well-known, white mountain flower with its name, "Edelweiss," emblazoned along the length of the fuselage. With a fly time of just over 12 hours, the Airbus A340 plane—transporting as many as 314 passengers (27 Business Class, 76 Economy Max and 211 Economy)—promises an other-side-of-the-world change of scenery in just a half day.
The time element is certainly appealing, but of greater appeal to me, a devotee of all things Swiss, is the corporate-to-passenger pledge to "offer Swiss quality that inspires and excites" and to "apply values that are globally appreciated of the home country."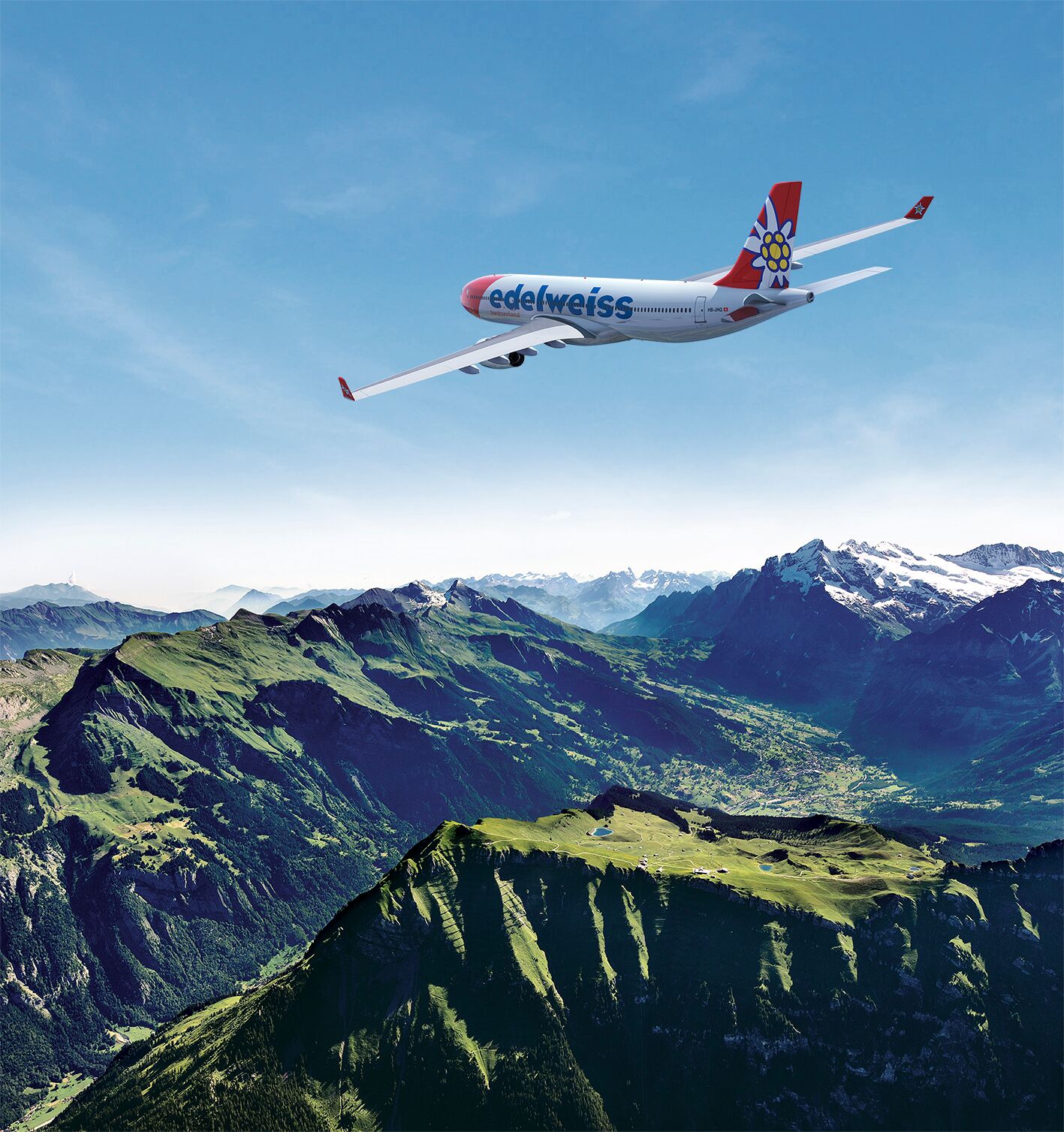 Introduced in June 2014, Edelweiss Business Class is known for its fully lie-flat seats that convert into 6.5-foot beds. You can even dial in your preferred cushion firmness (firm for sitting, softer for relaxing and even softer for sleeping) and for a full-blown pamperfest, there's the massage function. Imagine relaxing in a soft seat, enjoying a meal of Ticino-style osso buco with white and green asparagus or white merlot risotto with spinach and grilled aubergine, followed by Argovian carrot cake for dessert (all traditional Swiss cuisine). Food choices are seasonal, too; September's highlight is grilled meat, including Bauernbratwurst—a mixed grill of farmer's sausage. Referred to as "door-to-door luggage," it's further possible for your baggage to be picked up from your home or hotel and delivered to your destination (when flying to and from Zurich) and even to check it at a train station.
Perks extend to Economy Max, too. They include more room and more service—up to six inches additional seat pitch and two inches extra seat recline. A big bonus is the location of the Economy Max cabin, with seating in the front section of the cabin (much like most airlines' Business and First Class sections)—making it quicker and more convenient to enter and exit the plane.
Every market is different but the San Diego to Zurich route operates seasonally—running until September 18, 2017 and beginning again May 8, 2018. New expansions define 2018 for Edelweiss—an airline of 62 cities in 28 countries—including such short-haul destinations (from Zurich) as Mykonos, Greece; Dubrovnik, Croatia and Madeira, Portugal, and such additional long-haul U.S. destinations as Denver, Las Vegas, Tampa Bay and Orlando.
For a list of more Best Luxury Airlines click here