Photo by Rodrigo Guimaraes for LATAM
The opening of Star Wars: Galaxy's Edge at Disney's Hollywood Studios in Orlando, Florida on August 29th created quite a thrill for all the fans out there as everyone rushed in, excited to come face to face with a Stormtrooper or maybe build their own custom Lightsaber. The 14-acre area is the largest single-themed land ever created in a Disney park.
Batuu may be a planet in a galaxy far far away, but LATAM takes you there in a full on Stormtrooper Plane so you won't have to work too hard to get there.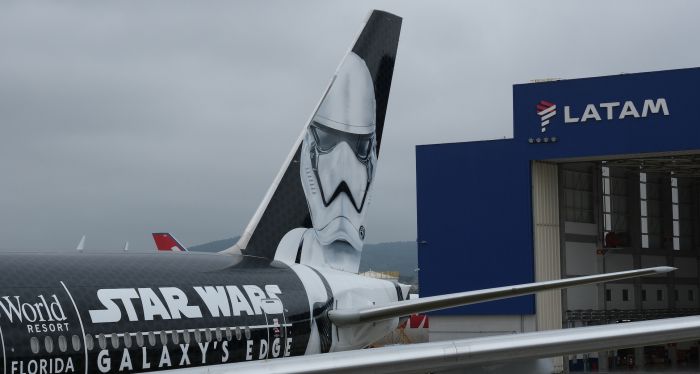 Photo by Rodrigo Guimaraes for LATAM
The beginning of October brought yet another adventure for the fans - a full-on "Stormtrooper Plane" brought to life by LATAM Airlines. With an exterior artwork designed by Disney's creative team in conjunction with Lucasfilm, this Boeing 777 features LATAM's new retrofitted cabins with new Premium Business seats with direct aisle access, a renovated Economy cabin and LATAM+ Seats, which offer greater space, a dedicated overhead bin and premium services such as priority boarding, has a capacity for up to 410 passengers and will serve international destinations from São Paulo to Orlando, Miami and Madrid.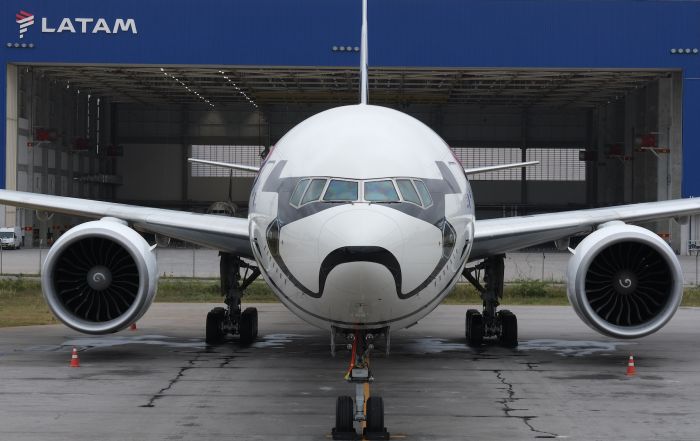 Photo by Rodrigo Guimaraes for LATAM
When speaking to Paulo Miranda, VP Customers, LATAM Airlines Group, he shared: 'We are excited to mark this relationship with Disney, a company recognized for its commitment to delivering a first-class experience to its customers, which aligns with the work we do at LATAM every day.'
The plane itself, which landed in São Paulo for the first time on October 8th, is truly a work of art as it took over 2500 liters of ink and about 21 days to complete.
In addition to traveling on the "Stormtrooper Plane", everyone onboard can enjoy all 10 films of the Star Wars Collection, which are now available on all aircraft via its onboard entertainment platform, LATAM Play.
May The Force Be With You!