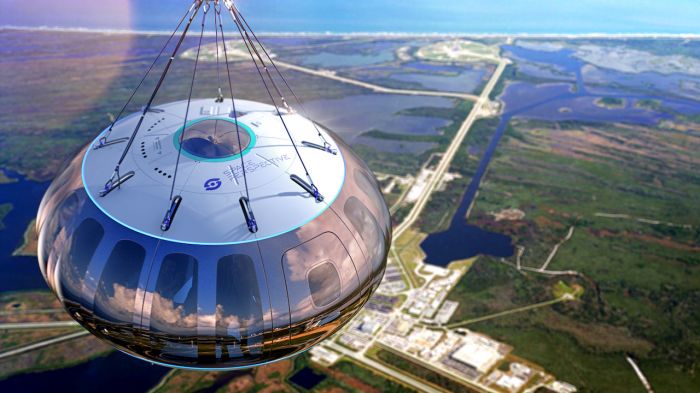 Space Perspective
Space Perspective, the Earth's leading luxury spaceflight experience company, is now ready to advance a more profound appreciation of planet Earth and the interconnectedness of the human race, as it recently revealed Spaceship Neptune's patented, customizable Space Lounge™ interior.
The only carbon neutral, zero-emission approach to space, Spaceship Neptune places safety, thrilling views and interaction between Space Explorers front and center in its pioneering design, with sustainable materials used throughout – including a bar handcrafted using proprietary materials recycled from the unique SpaceBalloon™ connected to the capsule. The patented 360-degree panoramic windows (0.56 meters wide x 1.54 meters high) will be the largest-ever flown to space. Even the restroom will have a view!
Space Perspective is revolutionizing space tourism - as it is a world away from earlier rocket-fueled space endeavors. The elegant ascent in the climate-controlled, pressurized capsule, propelled by a state-of-the-art SpaceBalloon enables passengers to safely glide for two hours at the edge of space absorbing the beauty of Earth within the vastness of space. Lift-off takes place at dawn so guests can soak up the sun rising as they climb 100,000 ft (20 mi/30 km). The gradual, two-hour descent to Earth gently concludes with a splash down in the ocean, where a ship retrieves the passengers, the capsule, and the SpaceBalloon. Every aspect of the interior has been designed to enhance the views while elegantly ascending at a cruise speed of 12mph.
"Our mission is to inspire Space Explorers to connect more closely with our planet and each other, and the environment in which they travel with us is central to this. Our Space Lounge is a world away from the white, utilitarian environments you find in other spacecraft," explains Jane Poynter, Founder, Co-CEO and Chief Experience Officer of Space Perspective.
Space Perspective also announced that hospitality and entertainment entrepreneur David Grutman is joining the company as Experience Curator – to advise on the end-to-end experience for the Space Explorer – from arrival at NASA's Kennedy Space Center in Florida, to in-flight and post-landing.
With a near 360-degree panoramic view which appears seamless to the human eye and capsule layout established, the design team went to work on the detailed interior design, creating the elegant, safe and comfortable Space Lounge. Along with renderings, Space Perspective is releasing an interactive video walk-through showing details of the Space Lounge, right down to the bespoke Neptune drink glasses and a specially created dessert.
The capsule also features:
•Deep, reclining seats, which maximize the ability for Space Explorers to enjoy both the vista and each other, can be reconfigured to accommodate a more intimate dinner for two or special event
•Light weight, dark and tactile sustainable materials throughout its interior to reduce glare and reflection
•Food and beverage service capabilities, including a bar top handcrafted using pellets formed by re-purposing the pioneering recyclable material from Space Perspective's SpaceBalloons
•The center of the capsule is kept free to ensure group photography (WiFi is also available in-flight) can easily be accommodated. Stretching out and walking around is also straightforward
•Customizable, mood lighting, including low red LED lights ensure Space Explorers will absorb the dramatic sights of witnessing dawn, planet Earth, and stars above in space – while easily navigating their way around the Space Lounge
•A telescope and interactive screens – including an overhead 'donut' scrolling display to share key information as the journey unfolds
•Tasteful decorations including floor lamps, plants and herbs such as lavender, basil and rosemary which are used in food and drink prep. The plants remind us of the interconnected nature of our planet
•A luxurious restroom featuring huge windows too so Space Explorers never miss the incredible views
Commercial flights are targeted to begin in late 2024, with 600 tickets sold to date. With the first year of seats completely reserved, Space Perspective is currently taking reservations for 2025 and beyond. Tickets are priced at a market-beating $125,000 per person, and bookings are made with a fully refundable deposit beginning at $1,000. Entire capsules are also available for reservations (up to eight guests and a pilot). Space Perspective's human spaceflight launches are regulated by the FAA Office of Commercial Spaceflight.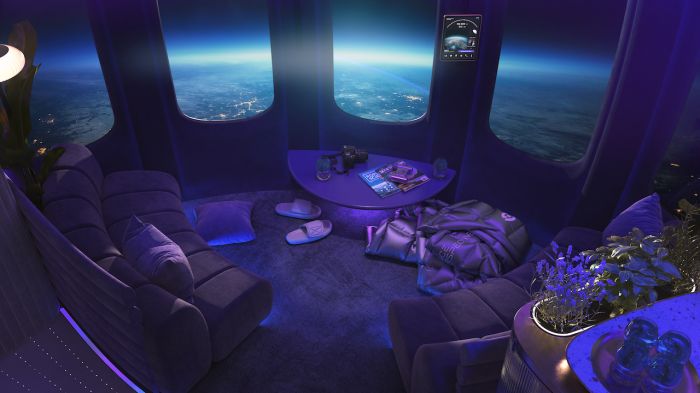 Space Perspective
Lounge on Spaceship Neptune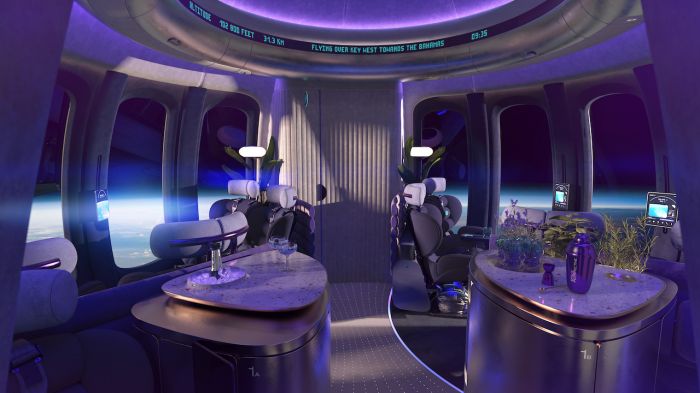 Space Perspective
Interior on Spaceship Nepture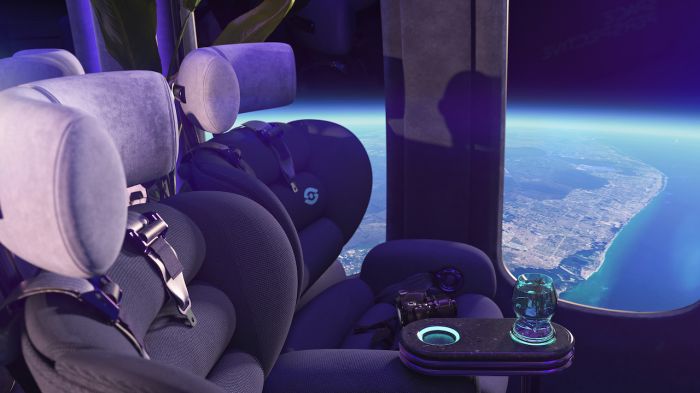 Space Perspective
Interior Side seats on Spaceship Nepture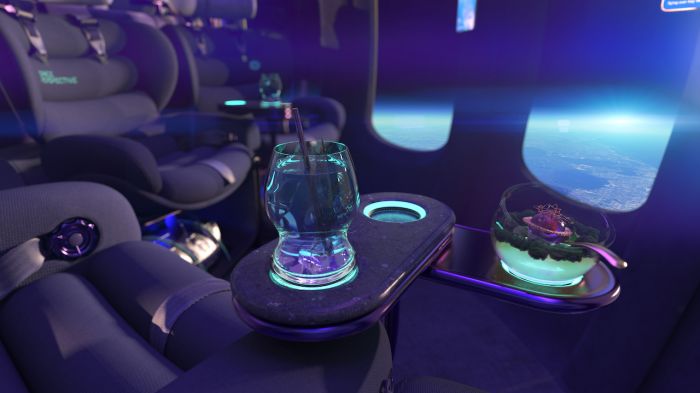 Space Perspective
Libations in Space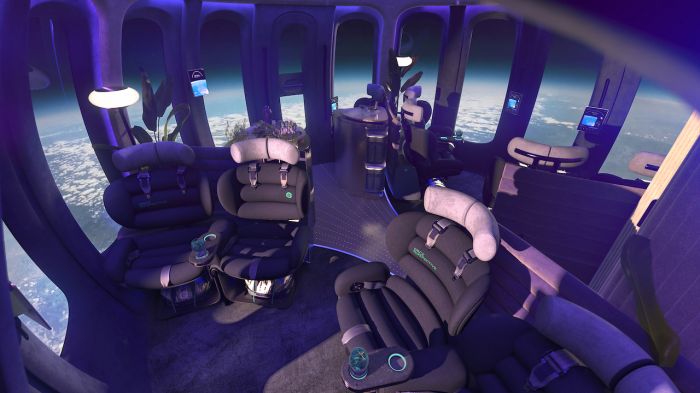 Space Perspective
Overview of Spaceship Neptune.