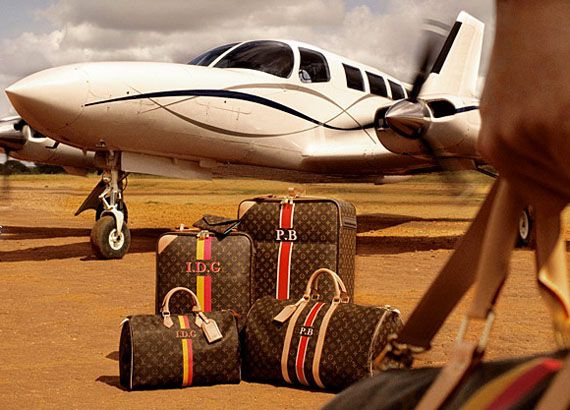 Aircraft:
During the golden age of travel aristocrats, sporting gentlemen and military officers would have their custom-made luggage emblazoned with their monogram, emblem, racing or regimental colors to distinguish their cases and help the army of porters needed to carry it all ensure the collection was complete.
Louis Vuitton
has always offered the
luxe
service, now called "Mon Monogram" to its more discerning clientele, and recently enabled customers to explore the possibilities online – some 200 million in all given the range of available colors and options.
Now in celebration of Father's Day the famed French luxury goods house, which recently opened an impressive new flagship in London, has selected four different styles of men's luggage to showcase the Mon Monogram program for the private jet traveler. On offer are the Pégase 45 ($2,800) and 55 ($3,270) wheeled cabin cases (top row), designed as the perfect accompaniment to private air travel. The iconic Speedy 40 (bottom left, $1,030) and classic Keepall 55 (bottom right, $1,370) meanwhile make the perfect carry-ons. Now all you need is the perfect
destination
….