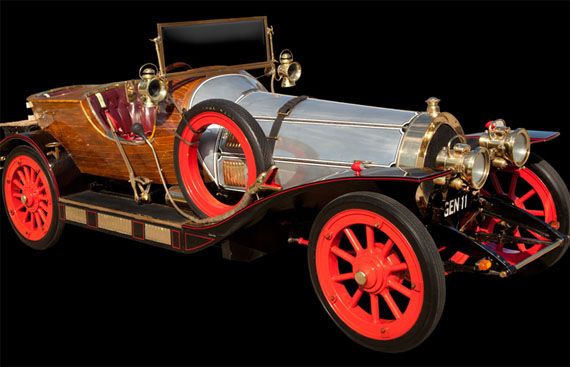 Photo Courtesy of Profiles in History
Handwritten items by The Beatles' John Lennon and studio mogul Walt Disney will be among the featured lots available in the upcoming auction of entertainment-industry collectibles by
Los Angeles
-based auction house Profiles in History.
More than 1,600 lots will be offered at the blocks at Profiles in History's Auction 44. The two-day auction will be held at the Saban Theater, on May 14-15, 2011, in Beverly Hills, California. Celebrity appraiser Joe Maddalena, who also is the manager at Profiles in History and the host of the Sy-Fy network's reality TV series
Hollywood Treasure
, will be the host of Auction 44.
Profiles in History are expecting John Lennon's draft of the opening lyrics to the song
Lucy In The Sky With Diamonds
, as well as his drawn ideas for the artwork of the album cover for the Sgt. Pepper's Lonely Hearts Club album to fetch between $200,000 and $300,000. The Walt Disney collectible, a handwritten letter penned in 1924 by Mr. Disney to Ub Iwerks (the creator of Mickey Mouse) in which Disney is urging Iwerks to come to Hollywood and become his lead animator, also is expected to receive some special attention from collectors. No estimated amount of the final price of the item was provided.
Another collectible from the wonderful world of Disney among the lots is the automobile featured in the Walt Disney 1968 musical film
Chitty Chitty Bang Bang
. The film also starred Julie Andrews and Dick Van Dyke. It is estimated by the auctioneer that the car could fetch upward of $2 million.
In the tradition a European-styled events, which is to always keep the curiosity of the crowd piqued to the maximum, information on other significant lots or items is forthcoming. It is known that there will be lots from film director Frank Darabont, poster artist Drew Struzan and special effects and makeup artist Greg Nicotero. Proceeds from these items will be donated to the Red Cross' efforts to aid victims of the recent disasters that occurred in Japan. With the Hollywood history that this trio has created, their lots should contain some pretty interesting mementos and collectibles.
Highlights of Mr. Darabont's career in films include directing
The Shawshank Redemption
,
The Green Mile
and
The Mist
. Mr. Struzan's movie posters include epics such as
Indiana Jones
,
Back to the Future
and the
Star Wars
film series. Mr. Nicotero's company, KNB Efx Group which has worked on more than 400 film and television projects, has won numerous awards, including an Academy Award in 2006 for achievement in makeup for
The Chronicles of Narnia: The Lion, the Witch and the Wardrobe
.
For more information on Profiles in History's Auction 44, visit
ProfilesinHistory.com
.