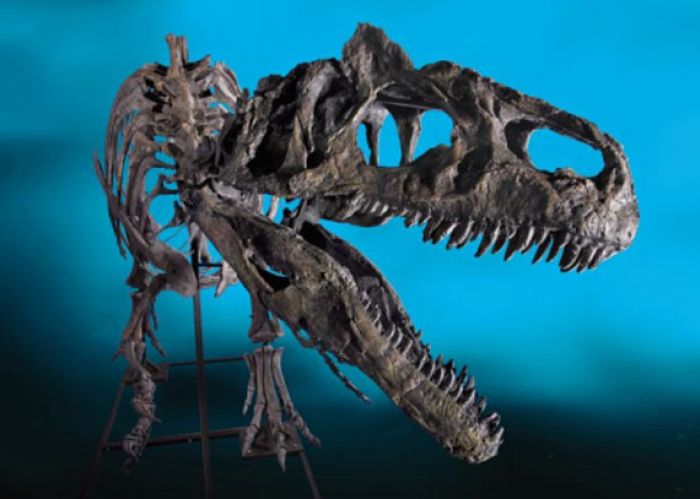 Photo Courtesy of Heritage Auctions
A rare pair of well-preserved dinosaur bones are being sold at Heritage Auctions in Dallas on June 12 as part of a Signature Natural History
auction
event. In the spring of 2007, the team from Dinosauria International LLC discovered virtually complete skeletons of an Allosaurus and a Stegosaurus on a ranch located near the foothills of the Big Horn Mountains in Wyoming.
The fierce carnivore and the well-protected herbivore are believed to have warred for supremacy across the savannahs of Upper Jurassic North America, but were never found together before. It has been hypothesized that the Jurassic giants were battling in the mud when they got stuck and died in combat, preserved forever in 155-million-year-old rock.
The humerus of the Stegosaurus was found nearly inside the mouth of the Allosaurus. The Stegosaurus has been named "Fantasia" after the scene in the classic Disney film while the Allosaurus was dubbed "Dracula" for its deadly fang-like teeth.
The Allosaurus is a full-grown adult measuring approximately 21 feet in length and was found with a fully articulated skull and a full set of teeth, a very rare circumstance. Because of this, a cast was made from the original skull to use for the mounted skeleton so that the scientific integrity of the actual skull remains undisturbed. The original skull is kept separately in a carefully packed crate as part of the mounted skeleton.
The skeleton is mostly original bone with part of the tail and several dorsal vertebrae being modeled reproductions. It has been mounted in attack position. The mount was designed to allow replacement of original bones. Work continues at the site where these skeletons were found and if new bones are unearthed they can be added to the skeleton.
The Stegosaurus measures 18 feet in length and stands over eight feet tall. The skeleton is 75 to 80 percent complete and mounted together with a few elements of another skeleton of equal size and quality. It is mounted in the same manner as the well-known Stegosaurus composite at the
American Museum of Natural History
in New York.
Both skeletons contain a majority of original bone and are prepared professionally with minimal restoration with the bones articulated in their osteologically accurate positions. The skeletons are being sold together and have been dubbed 'The Fighting Pair.' If this lot does not meet its reserve then each item will be offered separately in the two following lots. The pair are estimated to bring in upwards of $2.8 million.