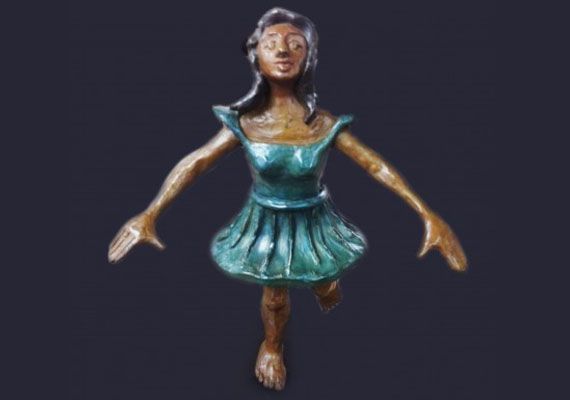 Photo Courtesy of Mara Sfara
For the first time in decades, multi-talented artist Mara Sfara is showing her bronze sculptures in a special show running from March 2, through April 20, 2012 at the QCC
Art Gallery
in Bayside, New York. With a background in English and the Fine Arts, New York-based Mara Sfara's sculptures are often inspired by the artist's own take on Greek mythology and carry names like
Adonis,
Iris
and
Echo.
Through her signature emphasis on hands and expression, Sfara creates exaggerated, yet very realistic sculptures.
Echo
(right) is especially a favorite because of the innate irony found in making a silent piece of art inspired by a great sound. The sculpture has an open mouth from which nothing emits, despite the figure's apparent effort.
As a painter and also jewelry designer, Sfara's sculptures are influenced by her other mediums. Through a use of rich patinas, the sculptures aren't the monochromatic bronzes that are commonly seen. Rather, Sfara uses layers of patinas to create multi-colored hues that transform the sculptures and bring them to life. Mindful of size, her sculptures are small and jewel-like, although she has also commissioned some sizeable works in the 3-D format.
For now, Sfara is enjoying sculpting and favors it over painting (although she acknowledges that can change at any time). Sculpting is a collaborative effort and Sfara relies on two different foundries to bring her visions to life. This is very different from painting, which provides near instant gratification once the paint is put on the canvas. As a fan of the soothing shades of turquoise and teal found in water, much of Sfara's art offers the ocean hue, whether in a painted seascape or a patina found on a sculpture.
Sfara finds inspiration for her art in everything from books to other artists and because of this, always has something new in her works, but she is reluctant to discuss her myriad of upcoming projects. To learn more about Sfara and see her paintings and sculptures, visit
MaraFineArts.com
, but know that the photos there do not do the real thing justice.
Mara Sfara
Hera - Goddess of Marriage and Queen of the Gods
Mara Sfara
Helen of Troy
Heracles
Aphrodite - Love, Beauty, Pleasure
Mermaid with a Trident
Adonis - The Yoga Guy
Athena - Goddess of Wisdom