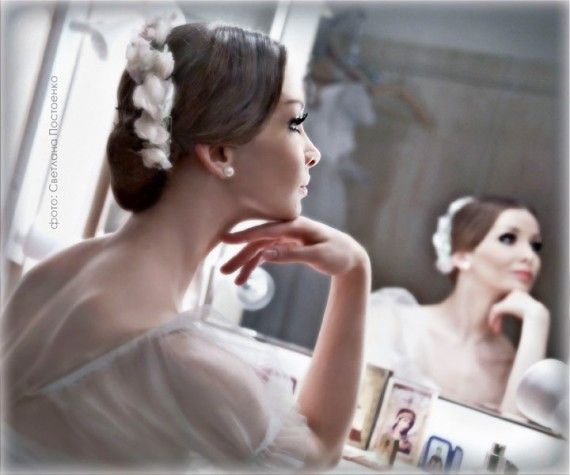 Photo Credit: Svetlana Postoenko
It was meant to be: We snatched up the last two tickets for
Anyuta
, a ballet featuring principle ballerina Evgenia Obraztsova, at the
Bolshoi Theatre in Moscow
, Russia. I couldn?t wipe the grin off my face at the mere thought of being at the historic Bolshoi Theatre, and to be fortunate enough to see the amazing Obraztsova perform live on stage. For me, it was an experience of a lifetime!
The recently restored Bolshoi Theatre is truly a symbol of Moscow. The reconstruction itself, minus the time spent during the approval and design process, took two years with over three and a half thousand specialists for the restorations and updated technical necessities, according to the Bolshoi Theatre. May the theater now confidently know that the nightly standing ovations are partly intended for him as well.
As for the standing ovation devoted to the ballet
Anyuta
, it was naturally Obraztsova's talent and theatrical ability that gave this ballet so much life. Obraztsova has also played the role of Natacha, a Russian ballerina of course, in the 2005 movie
Russian Dolls
by Cedric Klapisch. She was also featured in the documentary titled
Ballerina
in 2006 by acclaimed director Bertrand Normand. Obraztsova has expressed her love for dramatic theater from even a very young age, so her lead role in
Anyuta
gave her the ability to express both talent in dance and acting.
Svetlana Postoenko
The story of
Anyuta
is like that of a soap opera. Anyuta, played by Obraztsova, is a girl whose mother died and whose father turns to alcohol because of this. In hopes of saving herself and her two younger brothers from poverty, the beautiful Anyuta accepts the marriage proposal from a wealthy middle-aged man, Modest Aleeyevich, only to realize then that he is tight with his money and has no intention of helping her poor family.
Svetlana Postoenko
The balding and big-bellied old man is more interested in how his new arm charm, Anyuta, can help raise his social status. Aleeyevich encourages his young bride to flirt with the prominent men at the ball they attend where she even wins the heart of His Excellency. Anyuta's love affairs are successful in achieving her husband's goals, but in the process has turned her into a miserable person who has forgotten all about her impoverished family.
This fairy-tale ends sadly. However, luckily for us all, the ballet genius of Obraztsova continues at the Bolshoi. Her repertoire has included The
Sleeping Beauty
,
Giselle
,
Sylph
and
Emeralds
. This prima ballerina is on tour at times so check in to see when you can catch her in action in Moscow, or elsewhere in the world! Visit
EvgeniaObraztsova.com
to learn more.
Evgenia pictured with Sting and Maxim Belocerkovsky
Obraztsova in
Romeo & Juliet
with Vladimir Shklyrov