The Neon Museum
Aaron Berger, Executive Director of the Neon Museum, Las Vegas, has 20-plus years of experience in museum leadership, nonprofit fundraising, and community engagement, He joined The Neon Museum in Las Vegas in July 2021.
Since then, Aaron and his team emphasize stories that enhance Las Vegas history, and much of the history concerns the legacy of the Neon sign, so symbolic of the visual legacy of Las Vegas itself. The Museum Visitor Center is now insider the repurposed 1950's hotel, La Concha, on Las Vegas Boulevard. Its back area, now called the Neon Boneyard, is full of the iconic Las Vegas signage. Further, the Museum has launched Duck Duck Shed, a celebration of Las Vegas Architecture, Design and Culture that welcomed over 3000 attendees in its first year alone.
With Aaron's leadership, The Neon Museum has enjoyed regional, national, and international media attention through print, web, podcast, and television. The Neon Museum was recognized alongside The Metropolitan, The Getty, and the Smithsonian as one of the top 27 museums in America by Travel + Leisure and USA Today awarded "The Best Pop Culture Museum." Aaron has become the authority on arts & culture and architecture in Las Vegas by the National Trust for Historic Preservation, Travel Weekly, The Times, Forbes, and JustLuxe. Aaron also understands the wellness Zeitgeist that is allowing the cultural identity of Las Vegas to move beyond an indoor gaming culture to a more livable, healthy cultural capital.
We are grateful that we were able to communicate with Aaron about these new ideas.
JustLuxe: How does wellness – in all its dimensions --- especially Forest Bathing, sustainability, and empathy, the use of numinous not glaring light, play a part in the future design of great hotels in Las Vegas?
Aaron: The Duck Duck Shed session, From Neon to Natural: The Use of Light in Casinos, welcomed Gillian Wynn to the stage to explain biophilic design, the beneficial experience of nature in the built environment. She explored the incorporation of botanicals and natural light into building design from residential to office to hospitality. To emphasize her points, Elaine Wynn, and Roger Thomas, who were instrumental in the designs of Wynn properties starting with The Mirage, spoke to the evolution of properties on the Strip which were "casino-centric" with an emphasis on hiding windows from guests, so they didn't realize how long they were gambling. With The Mirage's atrium, tall palm trees, enchanting aquarium behind the front desk, and then the outdoor spaces including the Secret Garden and dolphin habitat, the property became transformative for guests.
While it's hard to forest bathe in the desert, there are many ways to connect with the landscape and nature – even on the Strip. There are several properties that emphasize mountain views for those who want them. Rooms on higher floors facing East can be overwhelmed by the mountain range that surrounds the Las Vegas Valley, which provides an incredible contrast between the urbanization of Las Vegas and the vast desert that surrounds it.
With regards to sustainability in the future of design, while not an architect or designer, I can say that Las Vegas is seen as a leader in water conservation efforts which is reflected in its building design and landscaping efforts. The Southern Nevada Water Authority, our water provider, stated water use has declined by 48 percent in the last 2 decades despite increasing the population by 750,000.
JustLuxe: The Neon Museum has as its benchmark—neon-- which is really an historic material, to some degree, a benchmark in Las Vegas culture. There also seems to be a history to each sign – how is this history related to the culture of Las Vegas and is neon still an evolving material, or are there other materials that are redefining the present and future of the city?
Aaron: Las Vegas and Neon are synonymous. The glow of neon lights is what attracted visitors to this oasis in the desert. Designers used different colors, shapes, sizes, and animation to get drivers to pull off the road and into their restaurant, bar, or hotel. Happily, neon is still used by many businesses. They may be motivated by the nostalgia of neon or because it speaks to their wares. There are large new casinos like Circa that are using LED lighting that resembles neon. Most people see the LED signs that resemble oversized televisions along the Strip now and see that as contemporary signage. Sphere may be changing that with its amazing digital exoskeleton. That's what I love about Las Vegas, it is always evolving, always reaching for the next brass ring, but doesn't forget its roots.
JustLuxe: In the great book, Learning From Las Vegas, Robert Venturi said in his famous dictum, Form Follows Function. How does that relate to Las Vegas neon as it was then, as it is now?
Aaron: It was the architect Louis Sullivan who coined that phrase, but Venturi said, "Less Is A Bore!" which was a playful response to Mies van der Rohe's minimalist statement: "Less is more." Venturi's statement is the best summation of Las Vegas – ever.
MORE? Well, why not have Venetian canals, and pyramids, and the Eiffel Tower, and New York's skyline all within a few blocks of each other? Architecturally, it's mixing plaids with stripes, but in Las Vegas, it works beautifully. And visitors clamor to either stay in one or two iconic properties or make sure they have a view of them.
As it pertains to Sullivan's quote, "Form Follows Function," the idea is that the purpose of the building should always be second to the building's design and never the other way around. Look at architects like Frank Geary and the Cleveland Clinic Lou Ruvo Center for Brain Health. That building's design exemplifies the creative right side of the brain and the analytical left side through its distinct "two buildings in one." Form and function are married here.
JustLuxe: It seems that the Las Vegas culture, in terms of the city's identity, is moving away from the unique to the highly nuanced. How close is Las Vegas becoming to a cultural capital, as conceived original by Jim Murren, who was the CEO of MGM resorts for many years?
Aaron: Las Vegas, in our opinion, has always worked to anticipate, meet, or exceed visitor expectations. There was a recent study, saying 85% of US travelers wanted to experience 'cultural tourism' when visiting a city; meaning they are looking for what makes that city unique. Cultural Tourism in Las Vegas is particularly special because the city's offerings are so diverse. Examples: If you want a themed casino experience – check. If you want a Mid-Century modern cathedral with stained glass windows of the Strip – check. If you want to understand the LGBT story dating well before Stonewall – check.
That is my favorite dimension about Las Vegas. This city is all you want it to be – and still surprise you with more.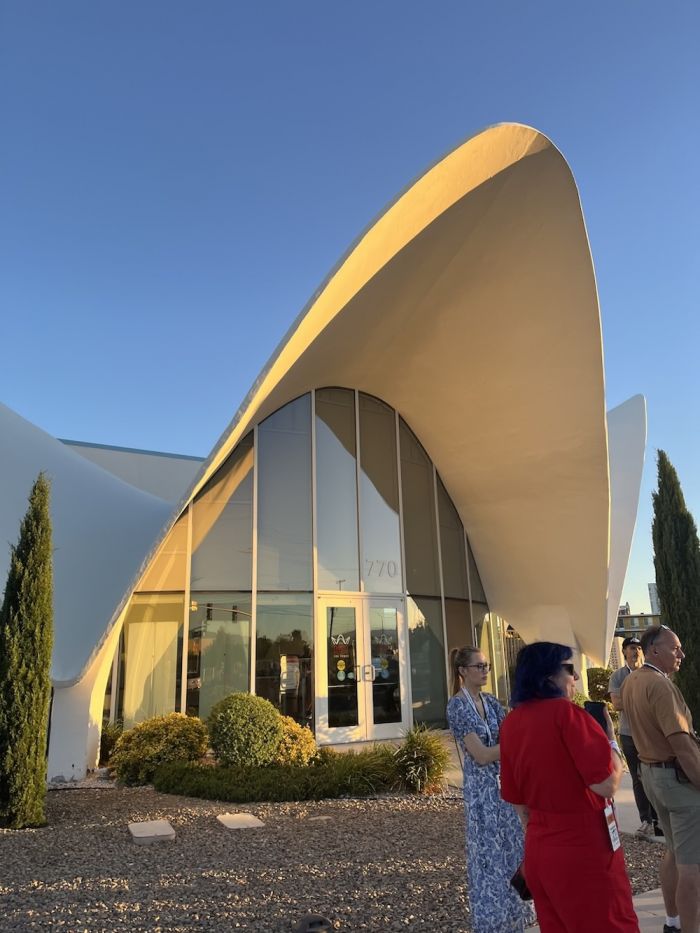 Susan Kime
La Concha Motel -- 1950's vintage, where the Neon Museum Visitor's Center is located.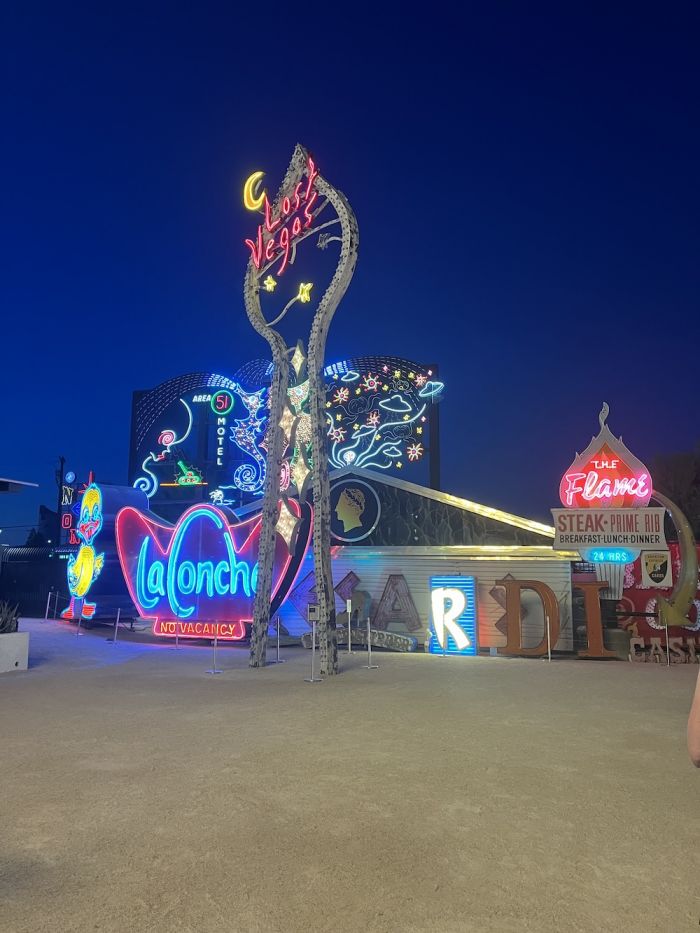 Susan Kime
Neon Boineyard with Neon signage at twilight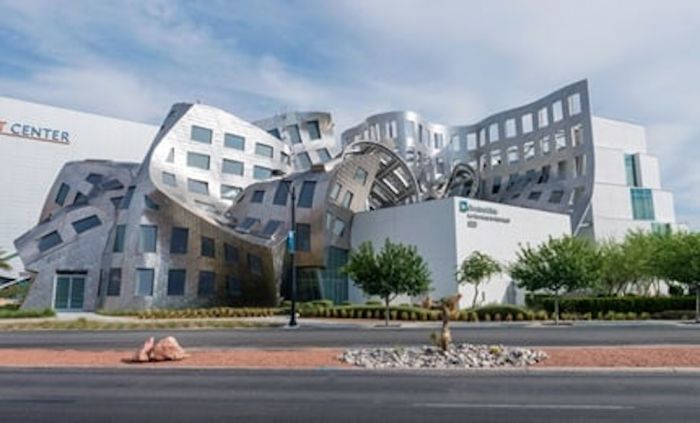 Cleveland Clinic
Form Follows Function