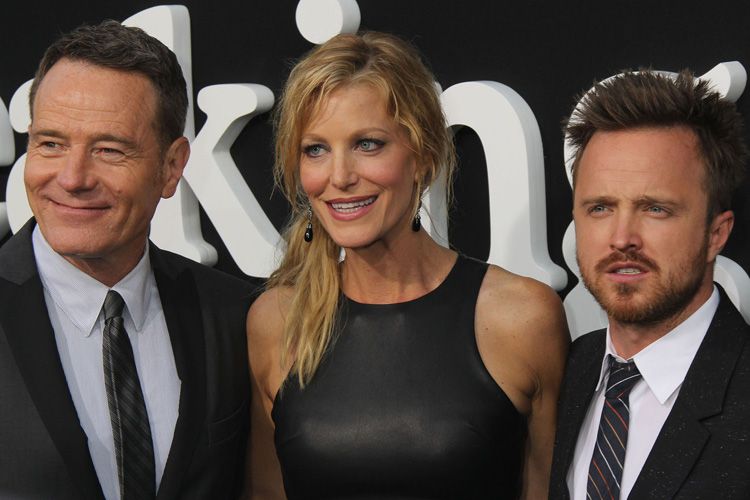 Breaking Bad
is over. I know you're grieving and may even be going through the five stages of loss, but just because the show has ended doesn't have to mean you have to say goodbye to the people
behind
your favorite characters. Not only do
Aaron Paul
and
Bryan Cranston
have plenty of new projects on the way, the rest of the cast has some titles lined up too. Plus, Vince Gilligan is giving us the spin-off series
Better Call Saul
, which is about Saul's life before he ever became Walter White's lawyer, which will obviously star Bob Odenkirk.
Aaron Paul
Hellion
, 2014: Currently in post-production, this indie drama stars Paul and Juliette Lewis, and is about a fractured family trying to keep it together in a small Texas town. Written and directed by Kat Candler, the film is apparently a full-length version of a her short film that played at Sundance last year.
A Long Way Down
, 2014: If Nick Hornby writes a book, there is a pretty good chance it will be adapted into a film —
High Fidelity
,
About a Boy
, and
Fever Pitch
has had two flicks made from it — and considering
Johnny Depp
bought the rights to this one before the book was even released in 2005, it has been a
long
time coming. The dark comedy follows the story of four main characters who all happen to meet on the roof of a high building on New Year's Eve, each with the intention of committing suicide. Paul plays JJ, an American rock star who went to London with his girlfriend, eventually losing his band and the girl. The cast includes Rosamund Pike, Pierce Brosnan, Toni Collette, Sam Neill, and Imogen Poots.
Need for Speed
, 2014: You've probably already seen the
trailer
for this one, which shows Paul as a street racer, fresh from prison, who is plotting revenge against the person who framed him by entering a cross country race. He ends up with a bounty placed on his head when his ex-partner discovers the plan. Co-starring Dominic Cooper, Michael Keaton, Dakota Johnson, and Imogen Poots, the flick is slated for a March 14 release.
Exodus
, 2014: Ridley Scott may not be making the follow-up to
Prometheus
or
Blade Runner
(not
yet
anyway), but he is in the middle of filming
Exodus
. Set to release December 12 of next year, this Biblical epic will tell the story of Moses (
Christian Bale
) and his adopted brother-turned-rival Ramses (Joel Edgerton). Paul is playing the Hebrew slave Joshua, Sigourney Weaver is Ramses' mother Tuya and John Turturro is playing his father, while Ben Kingsley will be a Hebrew scholar. While the film will undoubtedly be washed with criticism for casting white actors, at least the ones chosen are incredibly talented and capable of delivering powerful performances.
Bryan Cranston
Get a Job
, 2013: Cranston stars in this comedy about recent college graduates try to find jobs alongside Anna Kendrick, Alison Brie, John Cho, and Christopher Mintz-Plasse. An official release date has yet to be announced, but I think it's safe to assume Cranston doesn't necessarily play one of the main characters.
Cold Comes the Night
, 2013: This one definitely seems like something Cranston filmed during downtime on
Breaking Bad
. Having already been released in Ireland, this thriller follows a motel owner (Alive Eve) and her daughter as they are taken hostage by an almost blind criminal (Cranston), who wants them to help him get a package from a dishonest cop. Apparently, Cranston's performance is incredibly evil, so maybe he was channeling Walter White.
Godzilla
, 2014: Though it's a reboot of the same
Godzilla
we've seen over and over, this one looks like it may be pretty good — at least judging by the cast. The movie apparently centers on the monster's origins, set in a contemporary time period, and stars the likes of Cranston, Aaron Taylor-Johnson, Elizabeth Olsen, Juliette Binoche, Sally Hawkins, and Ken Watanabe. Directed by Gareth Edwards, the man behind 2010's
Monsters
, it is slated for a release date of May 16, 2014.
Kung Fu Panda 3
, 2015: Jack Black is back as Po Ping, which means there's a new
Kung Fu Panda
flick to be excited over. All we know so far, is that in the new movie Po will be meeting two epic threats, one supernatural and one close to home. Maybe Cranston will be one of those new threats, or it could be other newcomers
Rebel Wilson
and Mads Mikkelsen.
RJ Mitte
The Devil's Ink
, 2014: RJ Mitte stars in this upcoming film about the corruption within a Los Angeles tattoo parlor. The movie also stars Robert LaSardo, Zoe Bell, and Richard Cabral.
Anna Gunn
Rita
, 2013: Gunn stars as Rita, an acerbic private-school teacher who fights to raise her three kids while having to deal with bureaucracy and crazy parents at her school.
Rita
is directed by Migurel Arteta (
The Good Girl
and
Youth in Revolt
).
Dean Norris
The Counselor
, 2013: You'll be able to see Norris in Ridley Scott's newest flick,
The Counselor
, which also stars Brad Pitt, Michael Fassbender, Javier Bardem, Cameron Diaz, and Penelope Cruz. Being released October 25, the story follows a lawyer who finds himself swallowed up by the world of drug trafficking.
Small Time
, 2014: Co-starring Bridget Moynahan and Christopher Meloni,
Small Time
follows the story of a used car dealer in Los Angeles as he tried to convince his son to go to college.
Betsy Brandt
The Michael J. Fox Show
, 2013: Brandt is sticking with television for the time being, playing Annie Henry in Michael J. Fox's new comedy that was inspired by his life.