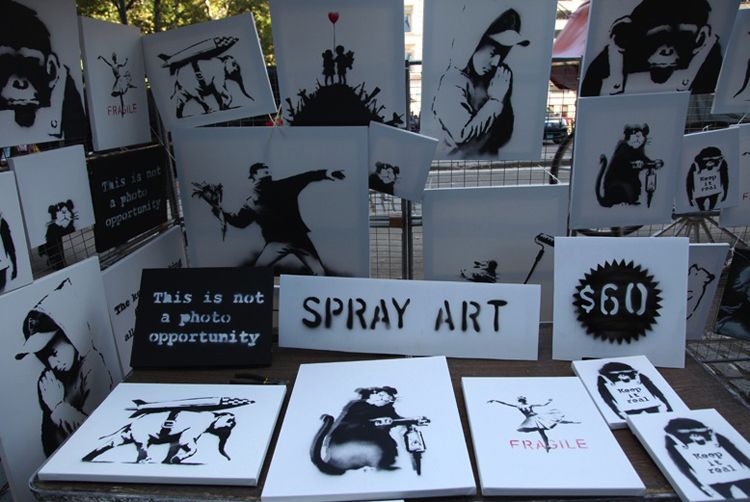 Photos Courtesy of Banksy Official
In case you weren't already infatuated with every move Banksy makes, get ready to feel an extreme surge of sadness, jealously, and admiration. In case you didn't know, the sneaky British artist has been living in New York for the past month creating installations all over the city as part of his Better Out Than In exhibition — including a slaughterhouse delivery truck filled with stuffed animals, a concrete confessional in Manhattan, war horses wearing goggles, and a beaver stenciled on a Brooklyn wall. Over the weekend he decided to do something a little differently and sell some of his pieces in Central Park at incredibly low prices. The catch? No one knew about it.
On his site yesterday, Banksy announced that he had set a stall up in the park, selling 100 percent authentic, signed pieces of art priced at only $60 (usually his work sells for tens of thousands of dollars at auction). He posted a video that showed an old man, sitting idly for hours as people just walked past the booth (either uninterested or assuming they were knockoffs). It wasn't until 3:30 p.m. that the first sale occurred, bought by a woman who wanted some art for her kids. She only agreed to the sale after the price was negotiated down 50 percent (paying a staggeringly low price of $30 each). The second buyer was a woman from New Zealand and the third — and last — buyer was a man who purchased four canvases. He was decorating his new house and told the old man, "I just need something for the walls." At 6:00 p.m., the booth was packed up, having only earned a total of $420.
The Sydney Morning Herald
 estimated that the artwork collectively could be worth anywhere from $221K to $322K USD, with each single piece probably worth at least $42,400. Known for his stunts, Banksy seems to be throwing the art world a curve ball. People may be paying thousands at auction, but when faced with the same art on the sidewalk, they find zero worth in it. Whether he's saying people don't know quality art when they see it (unless someone tells them otherwise) or that his work is nothing special without the hype surrounding it, I don't know — though I have a feeling it's a combination of the two. Regardless, this reaction test was incredibly successful at showing how art changes meaning based on public perception.
In case you're hoping Banksy will be doing this again, he won't be; writing on his site, "This was a one off. The stall will 
not
 be there again today." I can't even imagine how those people who strolled past must be feeling right now, and for the people who unknowingly scored incredibly valuable artworks, congratulations! Please don't sell them on eBay for thousands. Instead, keep them on your walls with pride and gloat if you must.