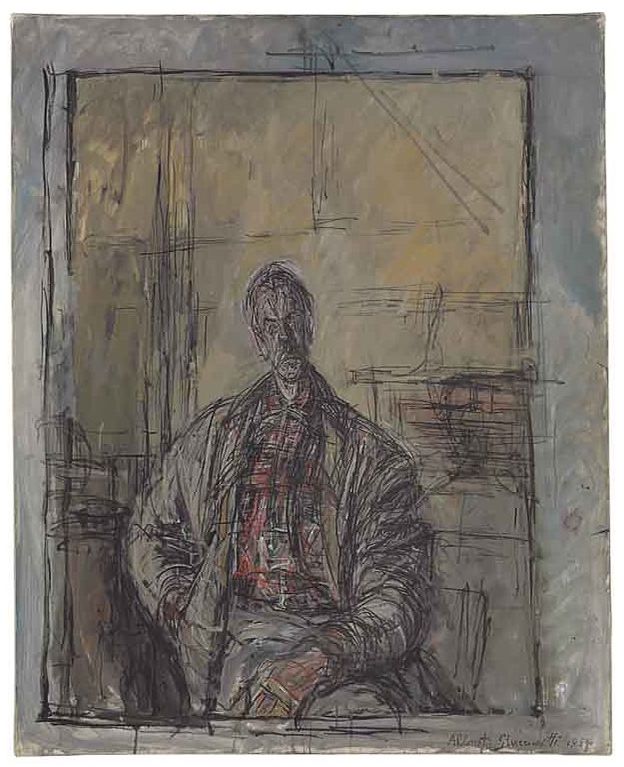 Photo Courtesy of Christie's
Artist Alberto Giacometti's 1954 portrait of his brother, Diego en chemise ecossaise, sold for $32.6M during a weeklong series of sales of Impressionist and Modern Art at Christie's. The price set a world record for a painting by Giacometti, as the previous most expensive rendering for the artist was Portrait de Caroline.
The sales for the week brought in $258M total. Works by world-renowned artists such as Monet, Van Gogh, Picasso, and Wassily Kandinsky attracted bidders from more than 35 different countries.
"From the rostrum I witnessed significant international participation, with particularly fervent bidding from our Asian colleagues working with clients from several different countries in the region," said Andreas Rumbler, deputy chairman, acting head of department for Impressionist and Modern Art and auctioneer for the sale. "It's been a pleasure to see both new and established clients from the region in vigorous pursuit of the best examples of Western art from the Impressionist and Modern eras this week, especially following our inaugural Christie's auction in Shanghai this past September. We were also pleased to see great masters recognized with spirited bidding in the sale, as demonstrated with top lots by Kandinsky and Van Gogh."
Among the top 10 lots sold were three works by Claude Monet, including the 1897 landscape L'Ile aux Orties, which realized $8.1M. A page from a letter Vincent Van Gogh penned to his brother Theo in September 1888 sparked a five-minute bidding war, ultimately selling for $5.4M, surpassing its original estimate between $2.5 and $3.5M.
Pablo Picasso's 1950 Claude et Paloma led the two-day sale of A Dialogue Through Art: Works from the Jan Krugier Collection, far surpassing its original estimate of $9 to $12M, to sell for $28.1M. Alberto Giacometti was again represented, with the bronze figurine Femme debout, which exceeded its estimate by nearly $2M, selling at $5.4M.