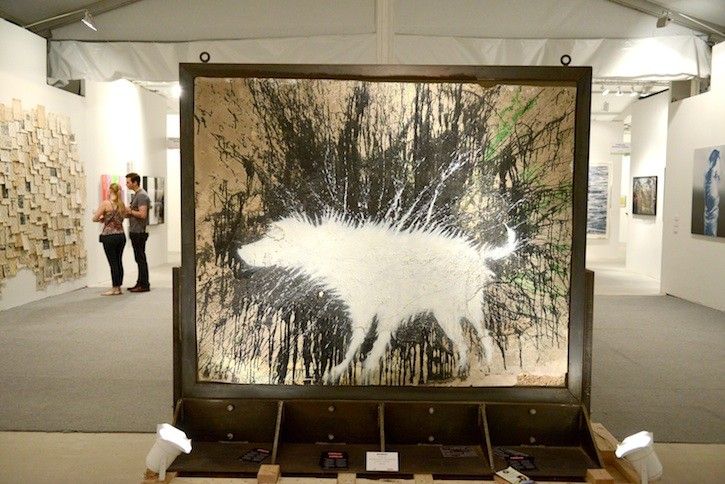 Photos Courtesy of Art Miami
Passion investing is just as concerned with the heart as it is with the business mind, and these days many international millionaires and billionaires are buying high end homes, penthouses, villas and residences because they know that real estate is a solid investment. But they know art is also, and all the better if the home is in a desirable location, like New York, San Francisco or Miami.
In regards to the last locale, very few events seem to showcase the strong connection between high-end art and high-end real estate than the 24th edition of Art Miami, starting on December 3 and ending December 8th, 2013. It is such a substantial event that this week is called Art Week, when thousands of collectors converge from around the world to visit a multitude of art fairs. And Art Miami's sister fair is called CONTEXT, a fair that focuses on cutting edge contemporary art.
Adjacent to each other, both are located within Midtown Miami's Wynwood Arts District and are connected by a courtyard with a lounge and special exhibitions of video and sculptural projects. Together, they will feature 190 galleries from 22 countries within 250,000 square feet of curated indoor and outdoor exhibition space.
This event optimizes the high-end art and real estate worlds through its partnership with Christie's International Real Estate, the Art Miami official partner for the second year in a row. Throughout the event's duration, Christie's is hosting an interactive booth at the event's entrance, exhibiting luxury residential real estate offerings from around the globe. The hands-on display will afford Art Miami visitors an up-close look at over 14,000 significant properties presented by twelve of the network's global affiliates. There is also an invitation-only, VIP champagne reception for top Christie's clientele.
In a certain way also, Art Miami underscores the collector's interest as well as the importance of Christie's — who, according to Bonnie Stone Sellers, CEO, is the only real estate network owned by a fine art auction house.
"Typically, many of our Art Miami clients are collectors and they are impassioned people," comments Rick Moeser, Senior Vice President of Christie's. "And many are young people! This is the fourth year of our being at this event and breaking sales records. Many of our buyers purchase second, third or fourth homes so they can have adequate places for their collections, whether it is art, furniture, or rugs, or anything collectible. The synergy between collecting fine art and collecting beautiful homes is so palpable at Art Miami! Last year, we had optimal sales and a crowd of over 60,000 collectors. This year we expect to do even better."