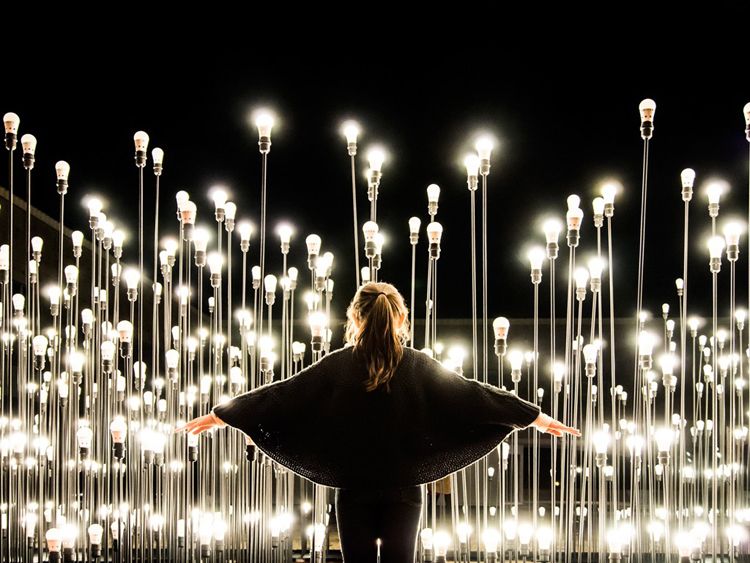 Photos Courtesy of LIKEarchitects; LEDscape
Specializing in ephemeral-architectural art exhibits with a social conscience, LIKEarchitects is an award-winning firm that recently caught our eye. Producing visually engaging creations in their home country of Portugal, the group has created more than a dozen installations over the past few years with materials ranging from what might be considered more traditional mediums to everyday items like tape or light bulbs.
The Andy Warhol Temporary Museum
Most recently the firm presented The Andy Warhol Temporary Museum, an installation featuring 1,500 metal paint cans that created the "walls" of a walk-through maze displaying the artist's work. The maze was actually divided into four rooms, organized thematically, creating a "miniature museum" of sorts. The exhibition attracted more 100,000 visitors to a shopping center in Lisbon and was nominated for an Idea-Tops Award in the "Exhibition" category.
Highly coveted and issued by a committee consisting of respected members of the global-designing community, The Idea-Tops Award, which is also known as the International Space Design Award, is an organization that recognizes works that cover 14 fields of architecture and interior design.
LEDscape
Just last year, LIKEarchitects partnered with Swedish furniture retailer IKEA to create a very visually impactful LEDscape, an interactive art exhibit that was installed at the Cultural de Belém in Portugal's capital city. LEDscape, another walkthrough creation, introduced IKEA's Ledare LED light bulb and demonstrated how green and energy-efficient lighting can be.
The bulbs were as attractive as traditional, less-efficient bulbs, all while offering a similar effect with a higher level of social conscience. The exhibition took visitors through a maze built with 1,200 Ledare bulbs at varying heights, which lit up selected areas of the pathway only when needed, artistically demonstrating energy conservation.
Frozen Trees
Promoting multi-functionality in the current socioeconomic climate, the materials used to construct Frozen Trees included a metallic skeleton structure, LED tape, car batteries, and plastic-bag dispensers. The peculiar mix of resources produced self-sustaining, cylindrical-shaped streetlamps.
X-hibition
Contracted to design partitions for a room that would effectively and efficiently host two different programs on consecutive days, LIKEarchitects' X-hibiton pop-up was designed to complement BIN@Porto, a business conference whose core theme introduces innovations to supplant conventional wisdom. Cardboard was used to create the dividing walls, blue on one side and a striped on the other, to show off interactive artwork and optimize functionality of space. Apparently, it achieved both, as the X-hibition was nominated for an Idea-Tops Award in the Art Display category.
LIKEarchitects does more than just "think outside the box;" they craft new containers for such conceptualization and notions as well, resulting in provocative imagery and cool urban art that often conveys a message. We look forward to seeing what they come up with next!
The Andy Warhol Temporary Museum
The Andy Warhol Temporary Museum
The Andy Warhol Temporary Museum
Frozen Trees
LEDscape
X-hibition