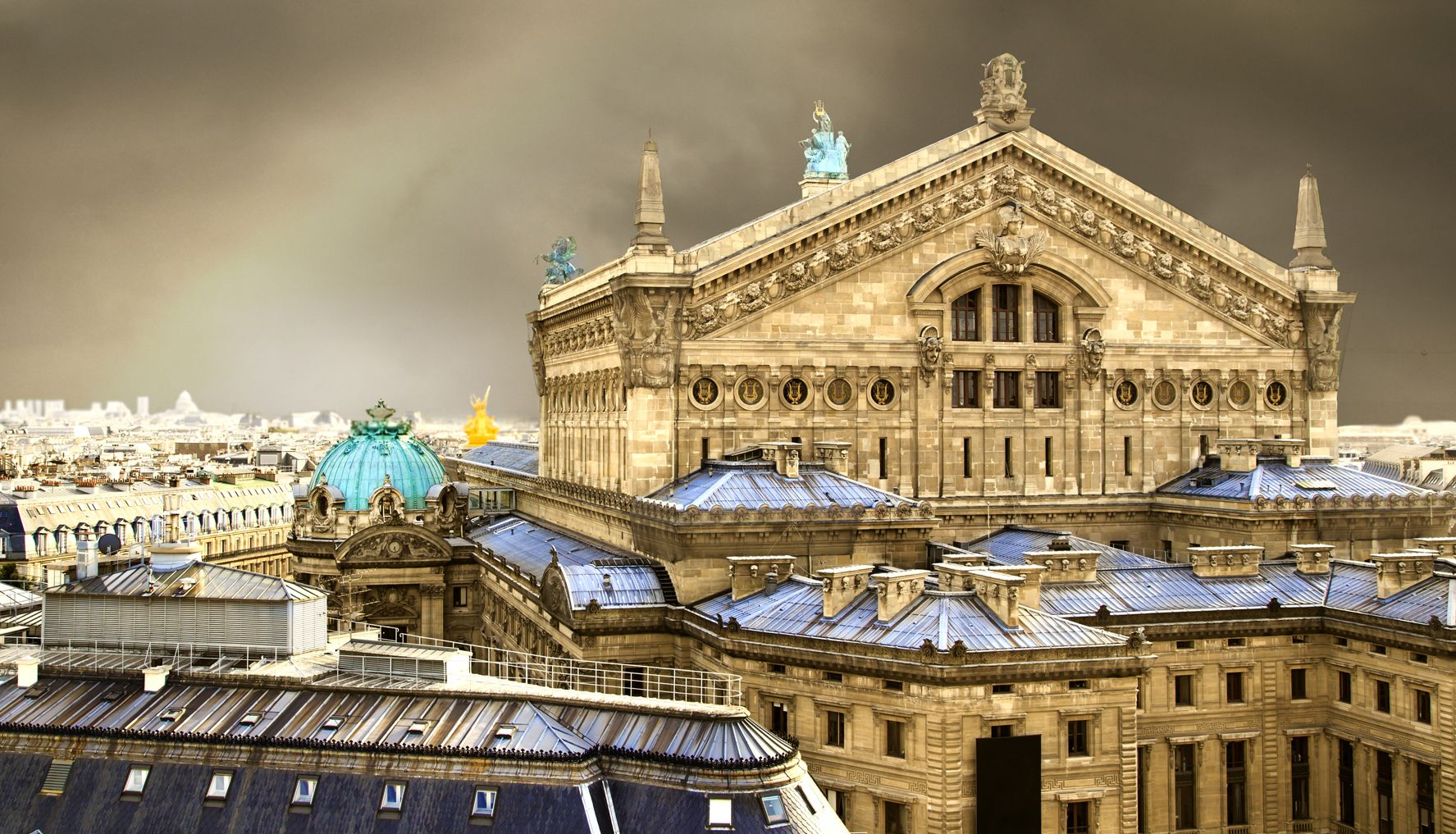 Palais Garnier; Photo Credit: Rrrainbow/Shutterstock
Whether you're an opera fan, an avid admirer of historical architecture, or just someone who appreciates beauty, there are few buildings more lovely than the opera houses found all over the world. Sure, many are incredibly well known (like the Teatro alla Scala in Milan and the Sydney Opera House in Australia), but others tend to be quieter — though their stories are no less amazing. Some have been designed by world-renowned architects, with façades that stop you dead in your tracks, while others have royal history within their walls. Whether your taste is modern or Baroque, these are some opera houses you definitely need to visit on your next trip around the world.
Photo Credit: anshar/Shutterstock
Bolshoi Theatre
Moscow, Russia
Bolshoi (which means "grand") dates back to 1776, and has quite the history with fires — it burned down a few years after it was built, and again after it was reconstructed by architect Joseph Bove. The theater as it's seen today dates to Alberto Cavos' rebuild in 1856 (Cavos also built Mariinsky Theater in Saint Petersburg, Bolshoi's rival theater) and features an eight-pillar façade, complete with a neoclassical pediment and Apollo in a horse-drawn chariot — which is the building's symbol. With 1,700 seats, the interior is draped in red and gold, with four balconies and a gallery.
As the site of many political gatherings, the Union of Soviet Socialist Republics was proclaimed in December 1922 here and apparently, Stalin never missed a show opening.
Photo Courtesy of Munich Residenz
Cuvilliés Theatre
Munich, Germany
Found inside the Residenz (the prince-elector's palace in the heart of Munich), the Cuvilliés Theatre was named after its architect, Francois de Cuvilliés, who was asked by Prince-Elector Maximilian III Joseph to build a theater. Having opened originally in 1753 with a performance of Giovanni Battista Ferrandini's Catone in Utica, this Baroque theater has only 523 seats and is decorated in red and gold, with a variety of plant life represented on the walls — including flowers, palm trees and fruits. Made up of four balconies divided into Italian boxes, the center box is reserved for the prince-elector.
During bombing in WWII, someone (apparently no one knows who) decided to dissemble the theater completely and hide the pieces to protect it from ruin. Considering the Residenz was severely damaged, including the area holding the theater, this unknown genius made it possible to relocate Cuvilliés to the palace's former pharmacy. Upgrades were then added, including a revolving plate, and the Italian balconies were turned into French balconies (meaning that the dividers between the boxes were removed).
Cuvilliés reopened in 2008 after four years of restoration with a series of performances of Mozart's Idoeneo — which actually premiered in this theater on Jan 29, 1781 with Mozart's entire family in attendance.
Photo Credit: Rico Neitzel/Wikicommons
Festspielhaus
Bayreuth, Germany
Though Festspielhaus may not seem like it fits with the rest of these opera houses because of its sparseness, it's actually one of the most famous in the world. With a modest brick façade, the interior is bare to the point that you have to bring your own cushions for the folding wood seats — especially if you're catching a showing of Wagner's six-hour-long Twilight of the Gods. So, why is this theater so famous? Well, in 1850 when Richard Wagner was composing his epic Der Ring des Nibelungen, he decided to build a theater specifically for his music. He partnered with architect Otto Bruckwald and engineer Karl Brandt (not to be confused with the Nazi war criminal) in 1872 and the theater was opened in August 1876. Liszt, Mahler, Bruckner, Nietsche, Tolstoy, and King Ludwig II of Bavaria were all in the audience that night.
While most theaters of this time period were made to be flashy, this one was very financially responsible and was intended to focus on the music, not on the showing of wealth. Without any boxes or balconies, the auditorium can fit 1,800 and the audience was always seated on equal ground regardless of who was there — meaning that all of those above names rubbed shoulders with everyone else.
After Wagner died, Festspielhaus went through some hard times when Hitler became a regular and Nazis took claim of Wagner's work. The entire festival was silent for six years following the war but was thankfully resurrected by Wagner's grandson, Wieland, who brought in more modern productions and updated his grandfather's operas.
If you plan on catching a performance at the Bayreuth Festival you better start some serious planning. Most of the time guests have to reserve seats several years in advance and sometimes that means 10 years!
Photo Courtesy of The Metropolitan Opera
The Metropolitan Opera
New York, United States
Diehards will know that the "the old met" was destroyed in 1967, making way for this new opera house in New York's Lincoln Center, which opened with Samuel Barber's Antony and Cleopatra in 1966. With architecture by Wallace Harrison, the façade of this famous building has a row of five arches, with bay windows covering the front, giving the illusion of transparency when illuminated from within after the sun sets. The Metropolitan Opera houses many works of art, from Aristide Maillol's bronzes and wall paintings by Marc Chagall, to the dozen crystal chandeliers gifted by the Austrian government.
The performance hall also stands as one of biggest in the world, seating 3,800 guests among the orchestra and five balconies — there is even enough room for 200 people to stand. The proscenium (that's the area surrounding the stage opening) comes in at 52x52 feet, while the stage itself is 78 feet deep. There are seven stage lifts, and three full stage wagons that move sets on and off the stage so productions can alternate nightly.
In 2006, the Met launched live broadcasts to movie theaters all over the world, introducing the opera house on a global scale and starting a trend among other famous theaters.
Photo Credit: Kiev.Victor/Shutterstock
Coliseum
London, Great Britain
Though some may think that the Royal Opera House would be the most beloved of the two theaters, the Coliseum goes to great lengths to ensure their productions are the best —- in fact, all performances are done in Shakespearean language! Plus, it's way more relaxed than the stuffy ROH and has had famed conductors like Colin Davis, Edward Gardener, and Charles Mackerras all at the head of their resident company, the English National Opera.
Built by Frank Matcham (the same guy who did London's Palladium), the Coliseum first opened in 1904 and can now be seen from great distances away thanks to its tall tower and brightly lit globe. 2,359 seats are scattered among the orchestra and three balconies, making it the biggest theater in London (it's also one of the city's first to be lit electrically). When it was built, it was originally intended for music-hall shows and was used as a mess hall during WWII for civilian air raid patrols. Later it went on to be a movie theater when MGM took over in 1961, showing flicks like Gone With the Wind.
Once it finally became the Coliseum as we know it, many famous works started playing there, including the premiere of Harrison Birtwistle's The Mask of Orpheus in 1986. With its revolving stage and Edwardian décor, the Coliseum is actually going through a rough time right now, having lost millions when the 2011-2012 season brought in less than 200,000 guests. So, if you live in the area or plan on visiting, give some love to this stunning landmark.
Photo Credit: Robert Fruehauf/Shutterstock
The Royal Danish Theatre
Copenhagen, Denmark
Considered one of the most modern opera houses in the world, the Royal Danish Theatre sits on the canal that goes through Copenhagen, and because there isn't a bridge that connects the building to downtown, many locals take boats across the water to create a beautiful procession. It cost nearly €300 million to build and was funded completely by shipping and oil magnate Maersk Mc-Kinney Moller. Maersk commissioned Danish architect Henning Larsen to design the Royal Danish Theatre, though they hardly ever agreed on anything (from the exterior to the interior) and as a result, the process took around five years.
At 441,320 square feet and 125 feet tall, the design stars an impressive roof that overhangs and extends out far past the base — in fact, on a super clear day you can apparently see Sweden from the foyer's upper levels. Inside you find Italian marble and designer furniture, as well as three chandeliers by Icelandic artist Olafur Eliasson that change color based on light fluctuations. Instead of the traditional red, this opera house upholstered the seats in a rich blue, which references Moller's blue company logo.
Fitting 1,400, the egg-shaped main auditorium is accented with maple wood — there's also a smaller concert hall that seats 500. The upstairs area is reserved for the ballet and choir as rehearsal studios and the orchestra practices in the basement, which also has a recording studio.
Photo Courtesy of Teatro La Fenice
Teatro La Fenice
Venice, Italy
Teatro La Fenice was designed by Italian architect Giannantonio Selva and built over the span of just 27 months, replacing the San Benedetto theater in the late 18th century. Close to Saint Mark's Square, building the opera house was really tricky because of the surrounding alleyways and canals. Two staggered plane-parallel spaces were designed, one containing the vestibule, stairs, and foyer, with the other housing the actual auditorium. With two façades, one facing the canal and one facing the square, visitors have always been able to get there on foot or by gondola. The Neoclassical theater opened in 1792 with a showing of Paisiello's I Giuochi d'Argrigento.
La Fenice has been burned before and like its namesake, the phoenix, it always rises above. The most recent fire happened in 1996 when two electricians caught the Venetian theater on fire, earning themselves seven and six years in prison (there were rumors that the mafia was behind it). The theater was reopened finally in November 2003, with tons of donations (filmmaker Woody Allen included) helping fund its nearly €60 million rebuild.
Once inside, you are met with five levels of balconies that are divided into Italian boxes. Able to seat 1,500 guests, the theater has gotten pretty Baroque in appearance over the years thanks to its ornate detailing and dramatic architecture.
Photo Courtesy of Château de Versailles Spectacles
The Royal Opera of Versailles
Versailles, France
The Royal Opera of Versailles opened on May 16, 1770 with a performance of Lully's Persee for the wedding of the Dauphin, the future Louis XVI, to Archduchess Marie-Antoinette. Designed by the king's first architect, Jacques Ange Gabriel, it was the largest theater in France at the time of opening (it was able to seat 800).
From the outside, the theater isn't flashy and is actually pretty hidden among the castle's other buildings. The entrance maintains a minimum appearance with its white plain walls, but once you enter the lavish auditorium it's obvious where all the money was spent. Everything inside was built from wood, even the faux marble columns and sculptures, and painting to look otherwise. The theater has two balconies, one set back a bit, and royal boxes with wire mesh screens for privacy, all overlooking the oval floor plan and amphitheater orchestra.
Because it cost so much to open, not more than 20 performances were held from the time it opened to when the Revolution hit. The theater was silent until Louis-Philippe came to power and expanded the boxes, adding dramatic red and gold accents. It underwent another restoration in 2007, which cost over €12 million.
Photo Credit: Kentoh/Shutterstock
Palais Garnier
Paris, France
In 1861, Napoleon III requested Charles Garnier to begin work on a new opera house (Garnier had actually competed for the honor, beating out at least 171 candidates). The finished Palais Garnier showcases the grandeur and excess that tend to surround top opera houses, with an open floor plan and domes framing the edifice (which was meant for the emperor).
The entrance, which was inspired by Victor Louis' Grand Theatre de Bordeaux, was designed to welcome guests into a world of opulence and wealth and leads them to a huge double staircase. The Italian-inspired auditorium is draped in red and gold, able to seat 2,000 in its orchestra and balconies. If you're lucky enough to visit, don't forget to look up at the awe-inspiring ceiling mural painted by Marc Chagall.
If you like honey, you should make sure to visit the opera's gourmet food shop Fauchon, which sells its own brand of honey collected from the bees that live on the roof.
Photo Courtesy of Drottningholms Slottsteater
Drottningholms Slottsteater
Stockholm, Sweden
Found just a few miles away from Stockholm, the Drottningholm Palace Theatre is still in its original state from when it was inaugurated back in 1766. Even the machinery has been preserved, meaning you won't be getting many modern amenities here — but that is part of the charm.
With classical and Baroque music finding a home here, Slottsteater is a minimalist look straight into the past. Found on the grounds of Sweden's royal residence, the foyer was designed in 1971 by French painter Louis-Jean Desprez. The intimate auditorium is the real gem though, with stucco plasters and long bench seats allowing for mingling and conversation between guests. Though there are a couple boxes (one of which is the royal box), this opera house doesn't have any balconies and the stage is just as deep as the sitting area (which holds 454 people) — giving the entire area a balance that other auditoriums don't match.
Photo Courtesy of RMN/Gérard Blot
Petit Théâtre de la Reine
Versailles, France
Our favorite opera houses are the ones which haven't been changed that much from their original glory, those with less modern facilities that maintain their old world charm and beauty. It just so happens that the final one on our list meets that description perfectly, having been built for Marie-Antoinette after Louis XVI gave her the Chateau de Petit Trianon and its grounds — not too shabby of a gift. Apparently, the young queen missed her life in Vienna and wanted a small theater to capture the lifestyle she used to have there.
Designed by architect Richard Mique and inaugurated in 1780, the Petit Theatre de la Reine (The Queen's Theatre) has a humble façade with only two columns and a single pediment. Once inside, you are met with an array of blue, white, gold, and faux marble carved from wood. It's obvious that the theater was built for her personal use in mind (in fact, she even used to dress up in costume and join the actors on stage), as the small auditorium can only seat 100 and the pit only fits around 20 musicians.
The original machinery, which was designed by Pierre Boullet to allow for several set changes, has been kept preserved. Some of the original stage sets used for Marie-Antoinette's mini performances are still around today, and have been preserved and restored. For example, the original forest and cottage set were used in the Versailles Opera's Le Roi production in 2012. Unfortunately, shows are no longer held at Petit Théâtre de la Reine, but if you're lucky you may be able to get yourself a tour.