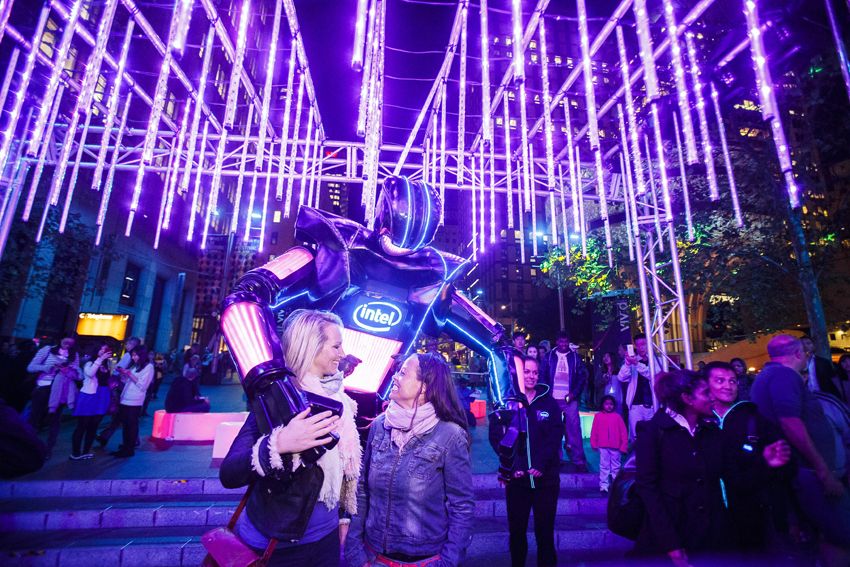 Photo Credit: James Horan/Vivid Sydney
Right now, Sydney, Australia is flooded with color for their annual light, idea, and music exhibition Vivid Sydney (which runs until June 9). Tons of installations, sculptures and projections can be seen while strolling around downtown or while floating along Sydney Harbor, making it a must-see event for locals and visitors. Don't believe us? Check out these amazing photos and book your plane ticket immediately (or plan for next year, but that's much less inspired).
Photo Credit: James Horan/Vivid Sydney
Lighting of the Sails
As the most public event, international award-winning artists were commissioned to create original artwork to be projected onto the Sydney Opera House.
Created by: 59 Productions (UK/USA) Sydney exclusive
Photo Courtesy of Vivid Sydney
Urban Tree Project
This architecturally mapped digital projection turns the MLC building into a living tree in the middle of urban Sydney. Not only do the artificial leaves react to a virtual breeze, there are little birds and animals that scurry through the tree.
Created by: Nicholas Tory, Lucy Keeler, Martin Crouch, Julian Reinhold, Iain Greenhaigh
Photo Credit: James Horan/Vivid Sydney
Colour the Bridge
Visitors are able to change the color of the Sydney Harbour Bridge thanks to its interactive lighting technology and over 100,800 energy-efficient LED lights.
Created by: Iain Reed of 32 Hundred Lighting, Martin Bevz (software design and production)
Photo Credit: Daniel Boud/Vivid Sydney
Cleft
Meant to be an "optical enigma exploring the timeline of our local history," this installation features a line of angled boxes with a bright stream of light cutting across. By day, the boxes take center stage and when night falls, their form fades into the background for the light to dominate.
Created by: Simon Grimes
Photo Credit: Daniel Boud/Vivid Sydney
Terraform
This strange sculpture is actually meant to be sat on. Its ribbed folds look more like rolling hills than they do a comfy bench, but that's the whole point.
Created by: Nicholas Malyon, Nikola Kovac, David Vu
Photo Credit: James Horan/Vivid Sydney
Heavens Cloth
Borrowing its name from Yeats, who once called the sky "heavens' embroidered cloths," this installation is a cool canopy of light, color and sound that delicately suspends over a pathway.
Created by: Arup MAS, Tim Carr, Mark Gilder, Nathan Blum, Jo Black, Mitch Allen, Chris Sims, Alex Edwards, Peter Swallow, Joni Foster, Jim Niesel
Photo Credit: James Horan/Vivid Sydney
Photo Credit: James Horan/Vivid Sydney
Photo Credit: Jason Leguier Photography/Vivid Sydney
Photo Credit: Daniel Boud/Vivid Sydney
Photo Credit: Anson Wong/Vivid Sydney
Photo Courtesy of Vivid Sydney
Photo Courtesy of Vivid Sydney
Photo Credit: James Horan/Vivid Sydney
Photo Credit: James Horan/Vivid Sydney
Photo Credit: James Horan/Vivid Sydney
Photo Credit: James Horan/Vivid Sydney
Photo Credit: James Horan/Vivid Sydney