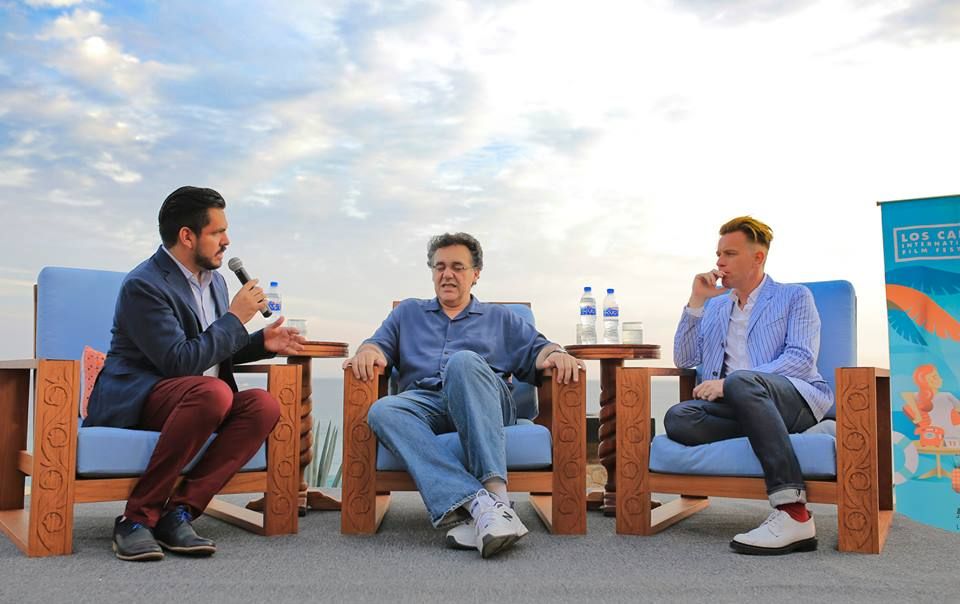 Photo Credit: Los Cabos International Film Festival
There may be tons of film festivals to choose from, but it's pretty hard to beat one that has the Pacific Ocean as its backdrop. Known as the "Cannes of Latin America," the five-day Los Cabos International Film Festival is held at the southern tip of Mexico's Baja California peninsula and is surrounded by iconic sea-based landmarks, like El Arco and the Playa del Amor. Founded in 2012, the event just held its fourth edition, showcasing some of the best films that Mexico, Canada and the United States have to offer. With big-name stars like Ewan McGregor and Jared Leto making appearances, the film festival saw its highest numbers yet, while still maintaining an intimate and exclusive atmosphere for fans.
Photo Credit: Mila Pantovich
Overall, the event presented 45 films, 19 of which were Mexican Premieres, 11 were American Premieres and four were World Premieres. This year also saw the launch of a brand new program called Spotlight, which highlights North American filmmakers who have "a central role in shaping contemporary cinema." Alex Ross Perry was the first to receive this honor, known for such films as Impolex (2009), The Color Wheel (2011), Listen Up Phillip (Los Cabos 2014 Official Selection) and Queen of Earth (Los Cabos 2015 Latin American Premiere). The festival also gives out over $425,000 in prizes, including the México Primero FOX+ award that includes $40,000 (this year it went to Semana Santa director Alejandra Márquez).
Photo Credit: Josafat De La Toba
Kicking off with the Opening Night Gala on November 11, the first night brought actor/musician Jared Leto in to present the Tribute Award to Jean-Marc Vallée, both having worked together on Dallas Buyers Club (which closed 2013's festival). Vallée's film Demolition made its Latin American premiere later that night, telling the story of a husband (Jake Gyllenhaal) who absolutely refuses to mourn his dead wife. Co-starring Naomi Watts and Chris Cooper, the movie is an emotional look at how mindless destruction can sometimes lead to finding balance in grief.
Photo Credit: Josafat De La Toba
The following night saw the Latin American Premiere of Carol, starring Cate Blanchett and Roony Mara, while Friday marked the Mexican Premiere of Remember. With the stunning Christopher Plummer in every single scene, Remember is just about perfect and was definitely the highlight of the event for me. Without giving too much away, Plummer stars as a man with growing dementia who discovers that the Nazi responsible for killing his family in Auschwitz is still alive. The catch? He has to find him among a list of four possibilities to enact his revenge, all while continually forgetting his mission. When the movie screened at the Venice Film Festival, it received a 10-minute-long standing ovation and it definitely deserved every second. If Plummer doesn't win every award possible for this role, the academy doesn't know what it's doing.
Photo Credit: Josafat De La Toba
The last night greeted Ewan McGregor with the Protagonist Acting Award before Danny Boyle's frenetic Steve Jobs closed the festival. Last Days in the Desert director Rodrigo Garcia presented the statue to the actor, joking that McGregor "lowers a director's anxiety level" and adding that "he's also done a lot of full-frontal nudity, for which we're all grateful." McGregor shared his own stories of first meeting the director in Mexico, telling the audience that that was when he first fell in love with the country.
Photo Credit: Josafat De La Toba
When attending, it's a very good idea to arrive at the festival's hub at the Pabellón Cultural de la República early on gala nights, so you can catch the red carpet and score a cushioned seat inside (which is where the awards are given). Overlooking the marina, the venue screens gala films inside and outside on the roof simultaneously, but the outdoor seats are made from an incredibly uncomfortable hard plastic that is bound to taint any screening.
Photo Credit: Josafat De La Toba
Though celebrities were definitely there, including Alexander Skarsgard and Liam Neeson, the focus is less on the glitz and glamor of famous faces and more on industry professionals rubbing elbows and making deals. With television being a major focal point (Netflix and HBO both had reps in attendance), there are probably more than a few future projects in the works—especially for that of Argentina's Chromo.
Photo Credit: Mila Pantovich
There are tons of hotels in the Cabo San Lucas area, with over 14,000 rooms across the board (and 3,900 more planned for the following two years), but I definitely recommend staying as close to the marina as possible. The Grand Solmar Resort and Spa is just a five-minute walk from the Pabellón Cultural de la República, but of course you can take one of the many shuttles or private cars. Though during this year's festival the Grand Solmar was undergoing massive renovations following the Hurricane Odile, the hotel did its best to accommodate the wave of festival attendees and regular time share visitors. Personally, I can't wait to see what it looks like once its new façade is complete. With the famous Arch literally on the other side of the rocks, you can be on a boat to see it within 10-15 minutes of walking, making the Solmar's prime location pretty hard to beat.
Photo Credit: Josafat De La Toba
From the movies and after parties (of which there are many) to scuba diving under the Arch, heading to the Los Cabos International Film Festival every November is about so much more than just seeing films. Since most of the events sold out beforehand, don't wait too long to buy your pass next year (ranging from the $36 single day pass to the $150 five-day Industry Badge) and make sure to book your hotel in advance.