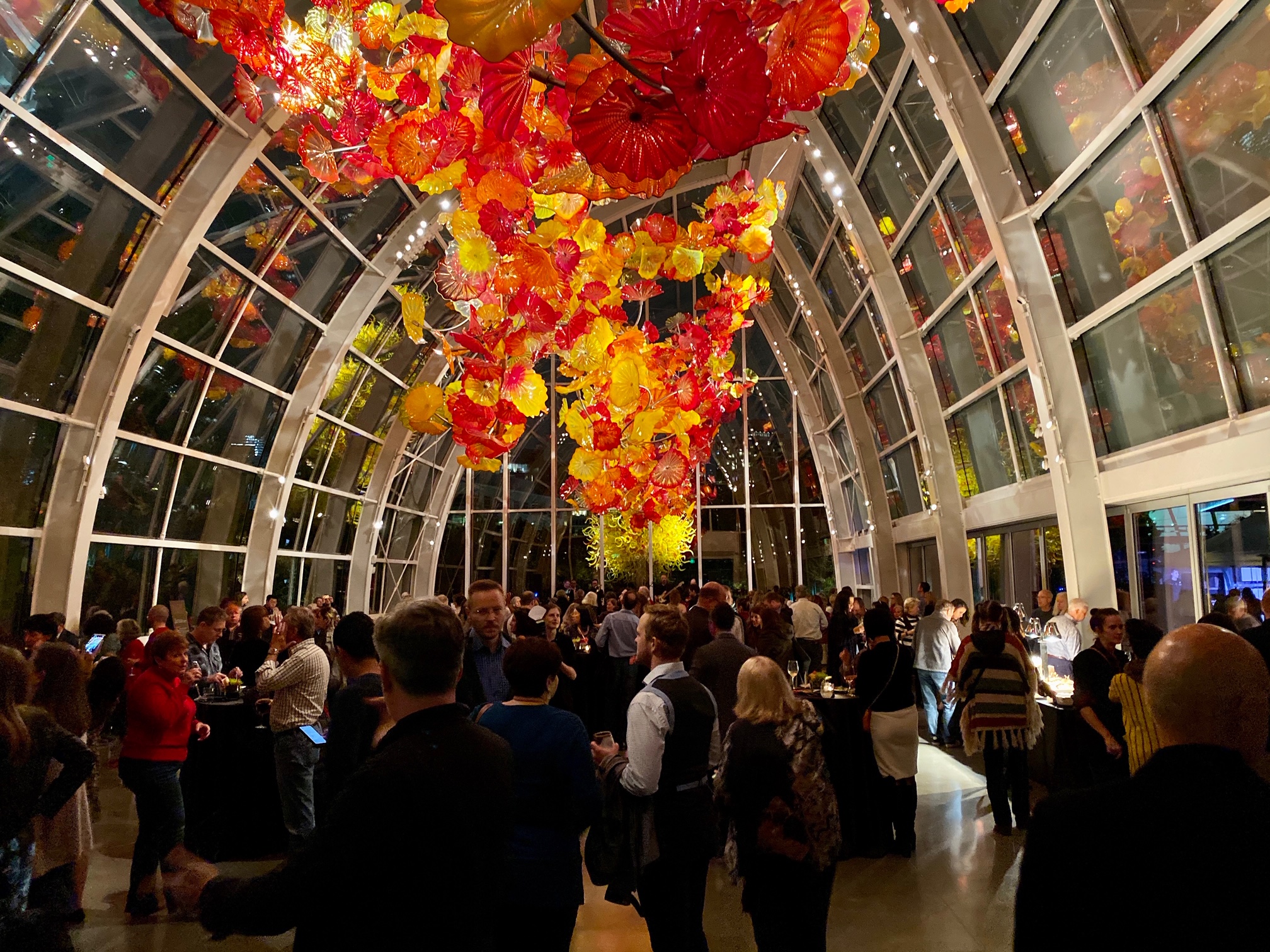 GATHER at Chihuly Garden and Glass, photo Dan Miller
One need watch only one episode of the popular Netflix series Blown Away to become mesmerized by the art of glass blowing. Within each molten glass creation is found beauty and creativity, and within the process is drama, suspense, and the ever present threat of unintended fracture. The art form - nearly Shakespearean in its theatricality – is more popular than ever and Seattle is where fans can immerse themselves. With more than 700 glass artists calling the Pacific Northwest home, the region is the ideal place to discover the diversity of glass art. Blown Away is great entertainment; but why settle for television when you can experience the real thing?
Seattle recently celebrated its standing as the 'American Venice' with Refract: The Seattle Glass Experience, an inaugural four-day festival lineup of exhibitions, art parties, live glassblowing demonstrations, lessons, and open studios. The creation of Visit Seattle, Chihuly Garden and Glass, and more than 50 art organizations and prominent glass artists and studios, Refract lured glass art aficionados, collectors, and the curious to this most recognized hub of glass art in the United States. The festival's overwhelming success indicates that this will become an annual and beloved fall event.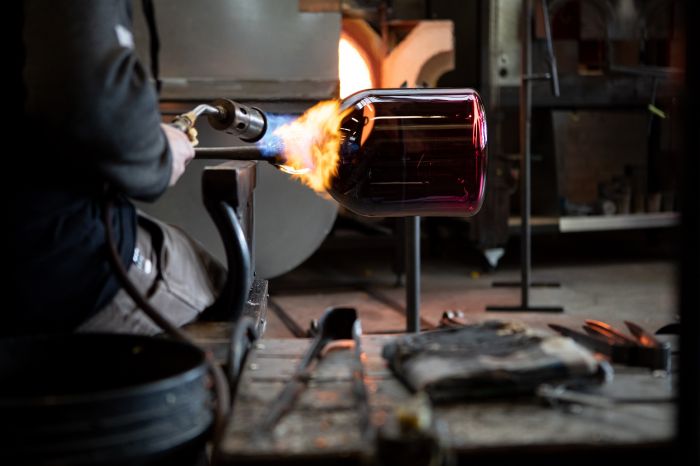 Photo, Megan Swann for Visit Seattle
The Studio Glass movement began in the 1960's. It has expanded dramatically since then, particularly in the Pacific Northwest. Correspondingly, fan interest also has expanded as evidenced by the popularity of Blown Away. A recent study by the Glass Art Society revealed that 74 percent of respondents are interested in learning more about glass art. With Refract, the city of Seattle and its surrounding towns provided a front row seat to glassblowing action.
"I've spent 45 years selling glass in Seattle and in those years the city has grown up and changed a lot, right alongside the studio glass movement – the growth between the two goes hand-in-hand," said William Traver, owner of Traver Gallery and Vetri in Seattle. "As much as we having going on here with glass, it's very surprising how few people know about it.'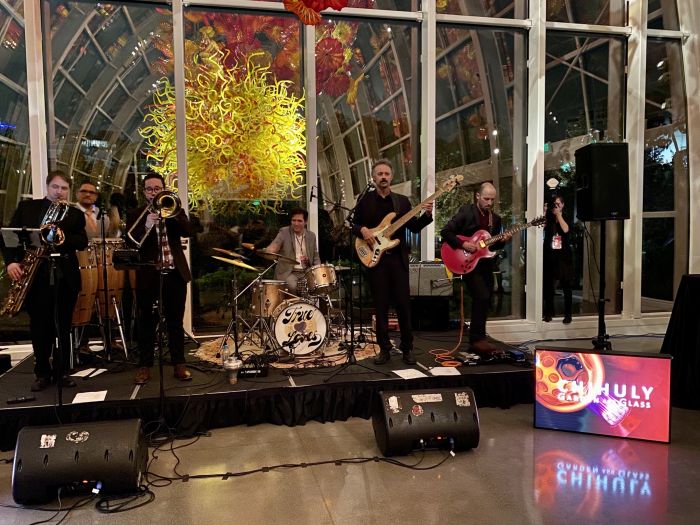 The True Loves perform at GATHER, photo Dan Miller
From Tacoma, to Bainbridge Island, to downtown Seattle and various Seattle neighborhoods, Refract showcased the artists and organizations that have contributed to making the Puget Sound region the epicenter of glass art in America. Chief among these artists is the iconic Dale Chihuly whose fantastical glass creations provided the backdrop for Refract's official opening party, GATHER. Held within Chihuly Garden and Glass, the Seattle Center showcase for his colorful works, the festival's energetic kickoff included glassblowing demonstrations held in a retrofitted 1967 Airstream, live music by local band The True Loves, and the ability to wander at will through the art-filled galleries and gardens.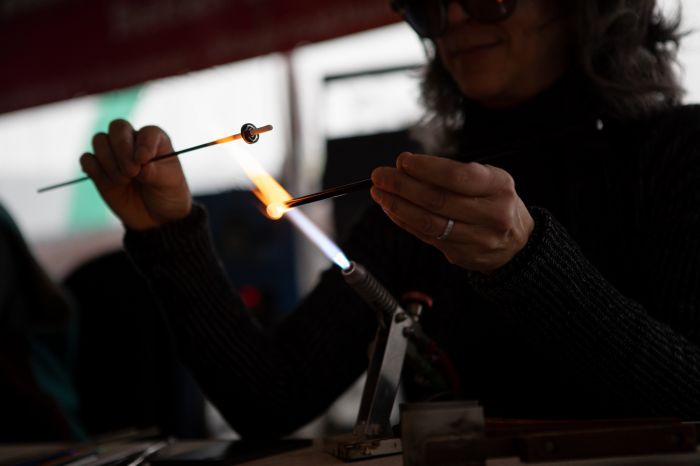 Photo, Megan Swann for Visit Seattle
Throughout the festival's four days, luminaries of glass art came out to shine with epic exhibitions, fascinating talks, tours, demos, scores of open studios, and exclusive collector events. Featured were artists such as Dan Friday, a native of the Pacific Northwest's Lummi Nation, who during his 25-year career in the field has worked alongside master glass artists including Chihuly, Preston Singletary, and Paul Marioni. Deeply connected to his Native American roots, Friday's art is inspired by both the teachings of his tribe and his Seattle surroundings – recurring themes in his work include native birds, bear, and salmon. He demonstrated his skill in front of an admiring crowd during Fused: A Festival of Glass at Pratt Fine Arts Center. This Friday night's ultimate art party featured varied artistic exhibitions, a live bronze pour, and music by Tlingit glass artist Singletary's all indigenous band Khu.éex'.
Dan Friday, photo Dan Miller
Dan Friday, photo Fran Miller
Refract programming was designed to appeal to both long-term collectors and those new to the medium. The various parties and celebrations allowed guests to mix and mingle amongst the artworks. In addition to Pratt and Chihuly Garden and Glass, the famed Pilchuck Glass School, and iconic Pike Place Market served as party locales. Studios, such as beloved glassybaby madrona, invited intrepid novices to create their own works of glassblown art. Various artisans throughout town threw open their doors, such as Richard Royal, whose latest body of work considers math in nature. "My current pieces look at geometry as a systematic process that is found in all things natural and how they grow," said Royal, who has been working within the glass medium for 45 years. 'I'm not interested in creating works that look like things found in nature but in the way nature creates and using this process to create sculptures that are a reflection of that process."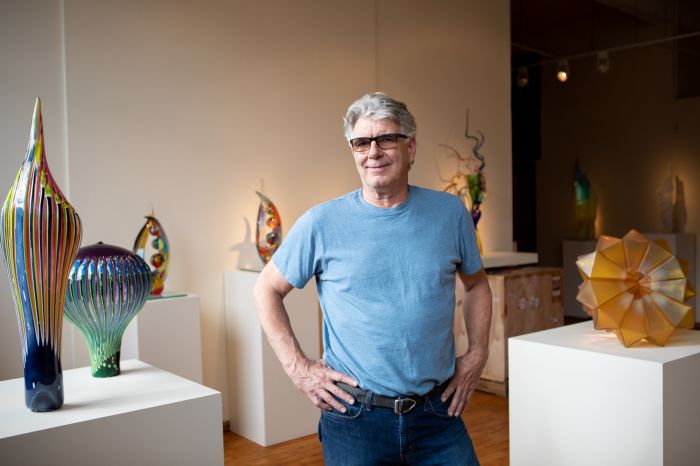 Richard Royal in his studio, photo Megan Swann for Visit Seattle
Perhaps one of the best endorsements of Seattle's reign as the American Venice is the dual residency of famed Lino Tagliapietra who travels between homes in his native Murano, Italy and in Seattle where he maintains his Lino Tagliapietra Studio. An apprentice glassblower at age 11, he was appointed the title of 'Maestro' at the mere age of 21. It was 1979 when he visited Seattle for the first time, introducing students at the Pilchuck School to the tradition of Venetian glassblowing. Now in his 80's, he continues to produce works that inspire and amaze, many of which are on display at his refined and elegant downtown Seattle gallery.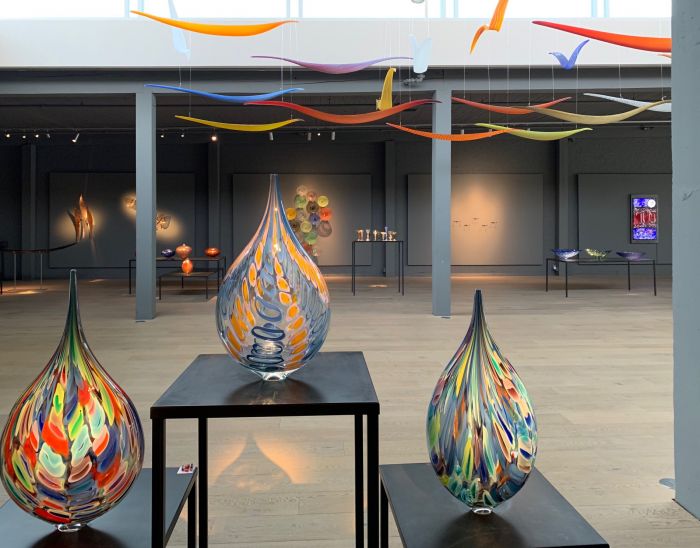 Lino Tagliapietra Studio, photo Fran Miller
"Artists who work in glass in our region are pushing boundaries, mixing multiple forms of media, and exploring new technologies," said Michelle Bufano, executive director of Chihuly Garden and Glass. "It has been incredible to watch the growth of the community over the years. Refract was – and is - an opportunity for artists, studios, museums, and exhibitions to come together and welcome longtime fans and curious newcomers alike to learn about and celebrate what makes our arts community so special."
The festival wrapped-up with Raise Your Glass at Pike Place Market's MarketFront Glass Pavilion with live music, glassblowing, and flame work demonstrations. And the special guest? Blown Away contestant and Seattle resident Janusz Pozniak who joined the party to celebrate and honor his glass community.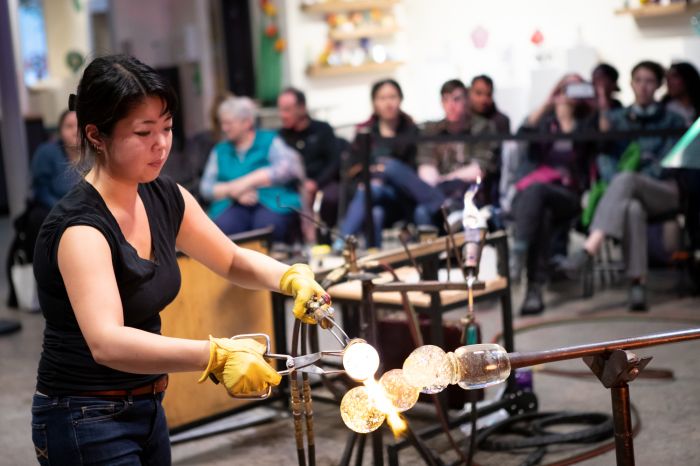 Photo Megan Swann for Visit Seattle
20 of the region's best hotels offered exclusive Refract hotel packages, including room discounts, complimentary parking, signature cocktails and desserts, and art packages. Keep an eye on www.refractseattle.org for information about next year's event, and to make plans for 2020. With its inaugural festival an incredible success, Refract is sure to become one of the nation's most popular arts events.