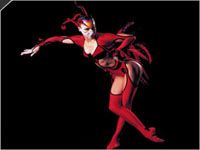 Arts & Culture:
For a number of years now I had heard about Cirque du Soleil. And every time another person told me about their experience with this unique and bold performance art, my curiosity soared to new heights. Typically when this happens with a book, movie, or play, I tend to be let down by the actual experience because of course I have built up the actual product to epic proportions in my mind.
Not so in this case! While in Las Vegas recently, I was finally able to experience first hand the Mystère production of Cirque du Soleil, and was totally blown away by the brilliant creativity and execution of this fabulous show.
The most fabulous show on earth- I've read this description of the circus so many times in reference to the magical aura of this entertainment venue, but as a product of the culture of post WW II technology with its entertainment saturation I've never felt the awe described in literature that say someone growing up in the Great Depression might have felt peeking through the canvas of a tent that housed a fat lady or tattooed man.
I was aware during the performance that I had not experienced this type of childlike awe in quite some time. Starting with the Opening or Taiko, our senses were overloaded with performers crawling straight down walls like lizards. Leaping acrobats, beak faced birds, oversized babies and errant clowns who irreverently tossed the audience's popcorn and pulled people out of their seats.
The costumes and colors in themselves were provocative. The high-tech scenery surpassed any special effects that might be used in a video production, and the physical skills of the performers stunned me. I literally could not take my eyes off the Hand to Hand musclemen, brothers Marco and Paul Lorador from Portugal, who performed a hand and body balancing act that I wouldn't have believed possible without the trick of the camera, if they hadn't almost been close enough to reach out and touch. Their grace and strength seemed superhuman as they balanced each other, every muscle in the human body working in total harmony with the other.
Then there was the Chinese Poles, The Aerial Cube, the Bungee, the Korean Plank, Trampoline and Fast Track, and the Aerial High Bar. And this is only one of half a dozen themed productions that are equally distinct and imaginative. In Las Vegas alone you can see "O," "Love," "KẦ," "Zumanity," and "Mystère." And there are eight other productions that travel around the world as well.
It all started in 1982, in Baie-Saint-Paul, Quebec, a charming, rural area popular with artists, art collectors and tourists. A group of young street performers, the Club des Talons Hauts (the High Heels Club) began to hatch the idea of organizing an entertainer's festival, the Fête Foraine de Baie-Saint-Paul, which was the precursor of what was to become Cirque du Soleil. Guy Laliberté, an accordion player, stilt walker and fire-eater, dove into business to organize and plan the growth of the young company, creating one of the most amazing entertainment venues for a global stage.
Yes, I encourage you to see this show, this fabulous show. Put it on your A list of things you want to do in upcoming months. You will not be disappointed.
By Ruth Mitchell
Courtesy
BuyOutsideTheBox.com