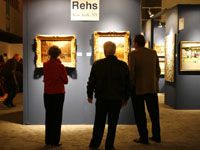 Arts & Culture:
The 15th Annual Los Angeles Art Show returns to the Los Angeles Convention Center January 20-24, 2010. Presented by the Fine Art Dealers Association (FADA) and KR Martindale Show Management this encyclopedic art event will feature more than 100 international exhibitors, an engaging lecture series and special events program, a sculpture garden, and special exhibit spaces. The 2010 Los Angeles Art Show debuts a Guest Country Program and welcomes Uruguay.
By invitation-only and launching in 2010, the Los Angeles Art Show welcomes Uruguay, as its first Guest Country. The Guest Country Program is comprised of specially curated exhibitions, lecture programming and special project space and has a goal to showcase nations with strong visual arts traditions that demonstrate a keen understanding of the international climate. Under the direction of the Dirección Nacional de Cultura and the Ministero de Educaión y Cultura, a special exhibition of Uruguay's top International artists, 34° 53' 0" S - 56° 10' 0" W will be on view at the show. The exhibition will be accompanied by a lecture.
Additional Special Exhibitions include: Signs: Contemporary Middle Eastern Art , Snapshot , The Sister Cities of Los Angeles International Art Exhibition , Vox Humana and An Intimate View of Los Angeles.


The Los Angeles Art Show has been a driving force for the City's Arts Month. According to the resolution passed in August of 2009, "The Los Angeles Art Show, bringing thousands of works from 100 domestic & international galleries and a number of world class museums to Los Angeles. The City will use the confluence of over 50,000 visitors to anchor a month-long celebration of arts in the City. WHEREAS, Los Angeles Arts Month is an opportunity for the Los Angeles art community to synergize the Los Angeles Art Show with the City's artists and art institutions to create a cultural Mecca ...."

The Los Angeles Art Show will open in conjunction with the International Fine Print Dealers Association's (IFPDA) 25th Annual Los Angeles Fine Print Fair offering collectors and art lovers a comprehensive look at Prints in all techniques. Juxtaposing many periods and movements, visitors will have an opportunity to view and purchase fine prints from across a broad spectrum of Old Master, German Expressionist, antique and modern Japanese, 18th and 19th-century European, 19th century American, American Regionalist, Latin-American, and Modern works to Contemporary masterworks and new editions.

The 2010 Show will feature expanded satellite programs and special events, including a compelling symposia series of art discussions highlighting prominent artists, museum, and arts professionals in topical discussions. The programming will be complemented with after-show mixers for the art enthusiast and the trendsetters of the Hollywood art scene. The Los Angeles Art Show VIP Program will also return for art industry professionals and avid collectors. For additional information about the VIP Program, or to qualify for participation, please visit the web site at www.laartshow.com.