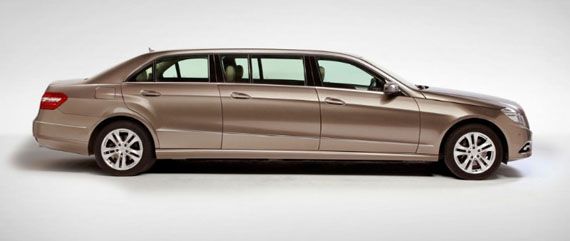 Luxury Automobiles:
Introducing the first official photo of the E-Class Limousine, a stretch limo built by
Mercedes-Benz
with partner Binz. Binz is known to specialize in modifying cars for special services, including ambulances, hearses and fire-fighting vehicles.
Binz, which is based in Southern German, has gotten the approval of Mercedes-Benz to produce a six-door stretched-version of the E-Class. With a length of 5.98 meters, this version is 1.11 meters longer than the standard E-Class sedan.
Two seats and two doors were added increasing the seating capacity to seven. The two doors, which were added for the car to be more practical, required the engineers to rethink the entire bodywork to keep a high level of torsional rigidity. This had to be done, especially since the central pillar needed to be displaced.
The E-Class Limousine will be offered with varying levels of armoring and equipment to meet safety and comfort standards. This included the dividing leather-covered wall between the driver and the passenger compartment. Buyers of this luxury limousine will have the choice from two gasoline engines and a diesel, namely: the 350 CGI BlueEfficiency, the E500 and the E250 BlueEfficiency.
Three seat-setting options will be available: 6-Door Limousine, where the passengers on the second row face the driver, Vis-a-Vis Limousine where the passengers on the second row face those on the third and Individual Limousine which comes without the second row of seats.
Andrew Christian
4wheelsnews
JustLuxe
Contributor