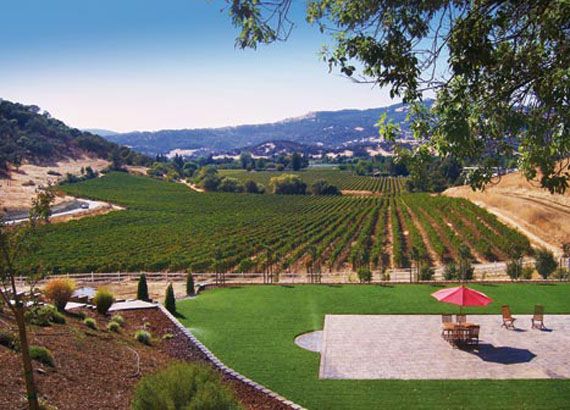 California Vineyard:
The first time Frank and Liz Vezér (Vee-zur), founders of  Vezér Family
Vineyard
, laid eyes on Suisun Valley, they were on their way to the Napa Valley to look for a home. "We instantly fell in love," Frank recalls.
The fertile valley, located just 12 minutes east of downtown Napa, is framed by two mountain ranges, providing a similar range of terroir to its mighty neighbor. The Vezérs were charmed by the Suisun Valley's beauty; its potential for making premium wines; and the relaxed, hospitable nature of its residents. They purchased a 30-acre ranch with 17 acres planted to Zinfandel and Petite Sirah, the two grapes that are most readily identified with the region.
In 2003, Frank and Liz bottled their first vintage. One could call it beginner's luck, but their award-winning streak has yet to be broken. Every single wine
Vezér
has produced has won a top award or superior rating. Of most recent note, the 2007 Vezér Cabernet Sauvignon won double gold at the Finger Lakes International Wine Competition and a whopping 97 points at a blind tasting at Napa's Bay Leaf Restaurant. Another wine to note, La Salette, is an exquisite blend of Petite Sirah and just a touch of Zinfandel.
The Vezérs' son-in-law, Jake Stuessy, does about 80 percent of the winemaking. Both Jake and Frank trained under the esteemed Gary Galleron, who still acts as their wine consultant.
Suisun Valley's rolling vineyard hills are a magnet for bicyclists. Each weekend, they pause in groups to admire the town that Frank, Liz, and their dear friends and business partners Sam and Mimi Mizirawi have worked hard to create. A couple of times each year, the Vezérs open their home ranch to the world at large for a concert in their vineyard.
"After all, this is the wine hospitality valley," Frank says. He likes to watch people discover it as much as the wines of Vezér Family Vineyard.
WHAT TO BUY:
'05 La Salette Ripe cherry, toasted oak, ripe plum, hint of sweetness $85
'06 Cabernet Sauvignon Blueberries, cassis, cocoa $49
'07 Verdelho Fresh-picked peaches, pears, apples $35
CONTACT:
707.429.3958; 888.823.8463
vezerfamilyvineyard.com
2522 Mankas Corner Rd, Ste V
Suisun Valley, CA 94534
Tasting Room Open Sun–Fri 10–5; Sat 10–6
Winery Tours by Appointment Only
GETTING THERE:
From I-80N, exit at Suisun Valley Rd/Pittman Rd (Exit 41) and follow Suisun Valley Rd about 5 miles. Turn right at Mankas Corner Rd. The tasting room is on the right.