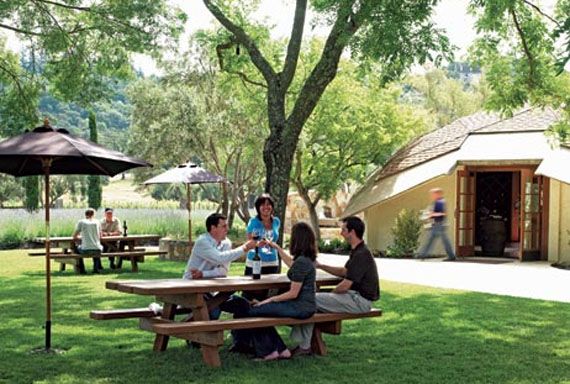 The wines of Folie à Deux Winery and Napa Cellars can be discovered together in one warm and inviting tasting room just off of Highway 29 next to Mustards Grill in the
Napa Valley
.
Visitors are welcome to taste the delicious wines inside and then stroll out onto the tasting room's beautiful grounds. There, they can enjoy selections from the portfolio of wines while lounging on a picnic blanket or sitting on a bench shaded by the tasting room's mighty oak tree.

Folie à Deux Winery and Napa Cellars make a nice partnership in the tasting room. The labels of Folie à Deux are lively and novel; those of Napa Cellars are classic and traditional.
After a few sips, it is apparent that there is nothing contradictory about this match. What's more, both labels are crafted by the same winemaker, Joe Shirley, who knows how to couple his imagination with his professional knowledge of winemaking. Joe likes to dedicate time to the technical side of his craft. In fact, his work on grape seed tannins was published in the American Journal of Enology and Viticulture.

Folie à Deux Winery serves up full-bodied flavors with wild essences. Folie à Deux's 2008 Chardonnay delivers balance and authority with aromas of green apple and a dash of banana with citrus on the palate. There's also the Folie à Deux 2007 Amador County Zinfandel that offers complex aromas of plum and cherry with a hint of spicy clove. The palate is rich with flavors of blackberry, raspberry and plum.

Following tradition has resulted in Napa Cellars receiving a bevy of awards. Napa Cellars' 2007 Chardonnay received the coveted Trophée de Citadelles and its 2007 Pinot Noir received 90 points from Connoisseurs' Guide to California Wine. All of the wines one finds here are classic, artistic, and enjoyable-characteristics that attract visitors back to the tasting room time and time again.

WHAT TO BUY:

07 Folie à Deux Zinfandel Ripe plum, brambly blackberries, jammy fruit, sweet caramel $18
07 Folie à Deux Cabernet Sauvignon Tart black cherry, blackberry, raspberry, dark toffee $28
07 Napa Cellars Syrah Blueberry, cola, violets, rose petal, red currant, licorice $37
08 Napa Cellars Chardonnay Melon, Granny Smith apple, clove, spiced oak, coconut $24


CONTACT:
707.944.2565
7481 St. Helena Hwy
Oakville, CA 94562
Tasting Room Open Daily 10–6
folieadeux.com

GETTING THERE Located directly off Hwy 29 (St. Helena Hwy) next to Mustards Grill in Oakville.