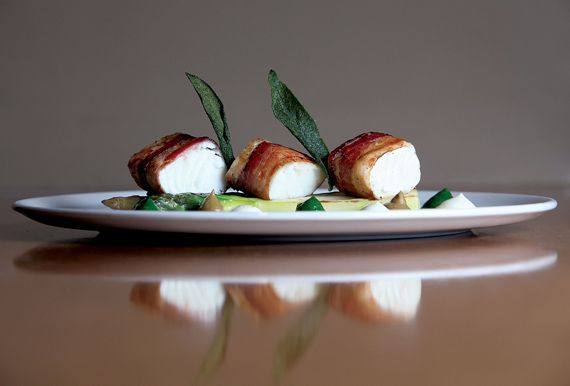 Photo Courtesy of Larkspur
Situated slope-side at
Vail Ski Resort
, Larkspur Restaurant celebrates American classic culinary delights with modern flair. A warm and welcoming ambiance coupled with fantastic fare make it one of the premier dining favorites in the Vail Valley.
With a dining room fireplace with a stone hearth, patrons feel at home in the mountainous setting. The scent of house-made bread lingers in the air and whimsical touches, such as the glass water, olive oil and wine bottles used in a utilitarian decoration make the restaurant unique, yet contemporary. The wood and bronze skeleton of a canoe and hand-carved hummingbirds adorning the walls of the dining room complete the décor
and the food speaks for itself - it might actually sing.
The cocktail list includes such refreshing choices as the Larkspur Lighting, a bright red libation with a flash of yellow lemon garnish mixing in-house infused raspberry and blueberry vodka with fresh lemonade. Another favorite is the Vail Iced Tea, a tea-infused mango Ceylon vodka and lemonade.
For patrons looking for something with a little less kick, the Larkspur Quadruple Filtered Water offers a way to give back to the community while quenching your thirst. At $1 per person, the ambient, chilled, or sparkling Larkspur water sales are donated to the Eagle River Scholarship Fund, a fantastic way to be charitable while enjoying Rocky Mountain H2O.
The Signature Caesar Salad is host to the phenomenal crispy potato croutons - an item that has become so popular, the restaurant now offers them as a side. The Veal Scaloppini is also a signature item, accompanied by twice baked potatoes, creamed spinach, and lemon beurre fondue. Luxury-inspired comfort foods, such as the Fried Green Tomatoes with grilled pineapple relish, spicy crema, goat cheese, and bacon, make the restaurant a destination in and of itself accommodating guests from around the globe.
The House-Made Sorbets are a delight to the tastebuds. The Cucumber Sorbet with fresh cracked pepper is a palate cleanser leaving you wanting more, or perhaps just ordering a heaping bowl of it to-go. A variety of sweets and artisan cheeses, coffee and dessert wines are enough for a second trip to this restaurant.
Dutch Oven Blueberry Crumble with oatmeal foam and yogurt ice cream competes with the Chocolate Peanut Crunch Bar with liquid raspberry and a salty caramel gelato for best dessert selection. The sorbets are memorable and equally fantastic, conjuring childhood memories or tropical vacation recollections with varieties such as Fudgecicle, Chocolate Graham Cracker, Coconut Milk, Cran-Orange, Apple Celery, and the refreshing Cucumber.
Overlooking the main dining room, Chef's room, and a glass-walled private dining retreat, the wine cellar is home to 6-7,000 bottles of wines from around the world. Seating around 200, Larkspur is a perfect place to enjoy a meal or plan a mountain wedding reception. Using local farms and growing their own herbs and leafy greens, Larkspur is proud to know where every veggie they use comes from in the Vail Valley.
Thomas Salamunovich, Executive Chef and Owner of Larkspur, is internationally trained and thrives on producing authentic fare for his guests. Creating artistry for dinner, the symphony of aromas and artistically crafted cuisine produced in the kitchen of Larkspur is sure to make an impression on even the most fastidious of patrons.
Uniting the dining experience and wonderful menu selections, guests of this fantastic restaurant are in for the meal of a lifetime. Restaurant Avondale and Larkburger also enjoy the culinary musings of this renowned chef. To make reservations at Larkspur, visit
LarkspurVail.com
or call 970.754.8052.