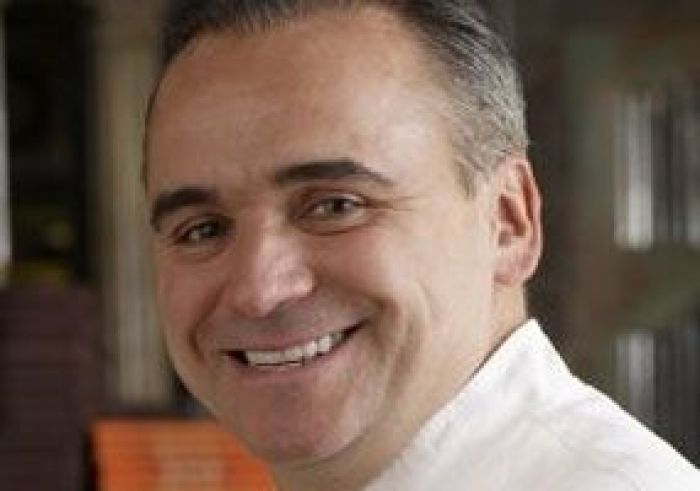 Photo Courtesy of Aria Resort & Casino
Some chefs are better from afar: on television, or on the pages of a book, where no one can experience their artistic, socially awkward tendencies. And some, like Chef Jean-Georges Vongerichten, are the opposite. 
With 10 restaurants in New York and others in Asia and Europe, plus his thriving MGM Resorts partnership, the Alsace native is used to hosting the most discerning customers in the world in grand style. Yet during a recent kitchen tour at the
Food + Wine All Star Weekend
in Aria, Las Vegas, he proved to be the kind of host who's at his best in close quarters and under bright lights, with open flames three feet away from his elbow and numerous kitchen staff whizzing around in every direction.  
Having covered Jean-Georges' recent openings and restaurant news in other JustLuxe features recently, we used our Vegas time to talk to him about more universal topics — particularly those that might help home chefs in the upcoming holiday season.
JustLuxe: What's your secret to constant reinvention over the years, in so many new markets, and with so many different culinary focuses?
Jean-Georges Vongerichten:
 We own and run ten restaurants in New York, out of 32 total worldwide. For the rest, we always partner. For example, our partner in Las Vegas is
MGM Resorts
. So I am responsible for coming up with the style, the design, the menu, the training and MGM does the day-to-day operations, which are so grueling. 
Traveling is an inspiration. I'm going to China in two weeks, and I'll go back with 30 new ideas for New York. I've traveled recently to Bora Bora, Istanbul, Paris...but always, my focus is on the plate.
JL: What are the three dishes any home chef should know how to prepare to perfection?
JGV:
A simple dressing for a salad. One part acid, to two parts oil. After that, you can add the other ingredients. Number two, you should be able to sear meat or fish in a pan. Very quickly, with salt and pepper. Always add herbs: rosemary, thyme, etc. Number three: For a dessert, a very quick chocolate mousse. One cup of chocolate, melt over a double boiler, with a little water underneath. One cup of cold cream in a bowl, whip it up pour chocolate into soft peaks, and mix it up. (Note: Jean-Georges' fifth cookbook,
Cooking at Home with a Four-Star Chef
, comes out November 1)
JL: What is the secret to a perfect steak?
JGV:
A great piece of meat, with a nice marble.
JL: With the holiday season coming up, what is your tip to stay calm and on top of things while hosting friends and family?
JGV:
Do less! But do it well. For Thanksgiving, for example, already the turkey is a big deal. You only need three garnishes. People try to do too much, and then everything is halfway. In general, I try to keep only three elements on a plate, so I don't overwhelm.