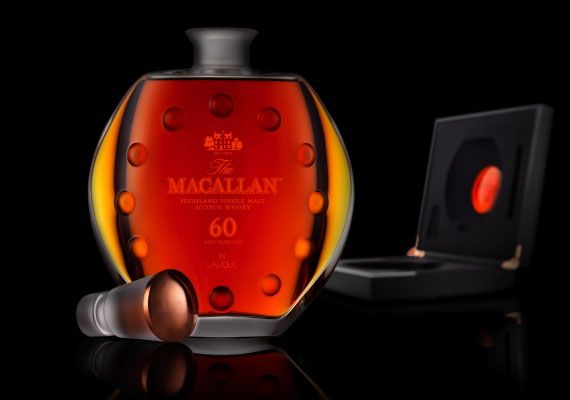 Photo Courtesy of The Macallan
Famed Speyside distillery The Macallan and legendary crystal maker Lalique are coming out with their latest highly-prized collaboration in time for the holidays. 
The Macallan
in Lalique Curiously Small Stills decanter, the fourth in the covetable series of single malt presentations, contains an exceptionally rare 60-year-old whisky.
Limited to only 400 numbered pieces worldwide, with only 72 of those destined for the U.S. in December, the decanter is based on the distillery's distinctive copper stills, Speyside's smallest, and is priced at $20,000 apiece. The spirit was drawn from five sherry casks, made from a mix of Spanish and American oak, filled in 1950.
"Our relationship with Lalique goes from strength to strength and this fourth collaboration further cements the synergy between our two brands," notes David Cox, Director of Fine & Rare Whiskies for The Macallan commented. "Our Six Pillars continue to provide the inspiration for these stunning decanters and the addition of the Curiously Small Stills creation underpins the fascinating journey through the heart of The Macallan. The stills themselves are the smallest on Speyside which gives the spirit maximum contact with the copper to create the rich, fruity, full-bodied flavors of The Macallan."
"The Curiously Small Stills decanter has been designed by our team in Paris and crafted at Lalique's crystal making facility in Wingen-sur-Moder, Alsace," notes Silvio Denz, President and CEO of Lalique. "Each piece was worked on by up to 15 craftsmen. Each decanter bears the esteemed 'Lalique France' signature, which symbolizes authenticity and over 100 years of creativity, heritage and craftsmanship, and comes in a beautifully designed lacquer presentation box, with a crystal stopper and a collectors guide, detailing the craftsmanship that has gone into producing this beautiful objet d'art." Visit
TheMacallan.com
to see more.