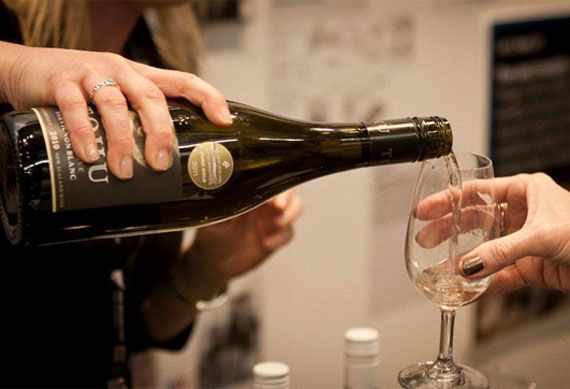 Photo Courtesy of Air New Zealand Wine Awards
Though producing just around 4% of the world's wine, New Zealand has become an outsize powerhouse in the international wine industry. That's why, when we heard
Air New Zealand
was hosting its 25th annual Air New Zealand Wine Awards in Auckland last week, we hopped a flight across the Pacific to see what they were pouring, which wines were winning the prestigious medals being handed out, and what we should be looking to buy in our own wine shops back at home.
Medals Matter
Before you go skeptical on us and say that medals don't mean much (and for the most part we'd agree), keep in mind that, though the airline is the major sponsor and the awards bear its name, the competition has nothing to do with the airline's own wine program. It is actually run and judged by the New Zealand Winegrowers Association, the national organization for the country's 1,300 grape growers and winemakers. So without a corporate cause, these awards are all about integrity and peer recognition — no wonder they've become the country's most prestigious.
"The Air New Zealand Wine Awards are significant for a few reasons," says Steve Smith, the chairman of the judges. "They are an independent assessment for improvement in quality across the industry," he says, "and they promote consumer awareness."
The awards themselves were a black-tie gala event for over 700 guests (including us) held on Saturday, November 12 at the Langham Auckland. Before all that came together, however, a lot of work was put in.
The Process
Nearly 1,500 wines were submitted by wineries all over the country to be judged by five special panels of three senior judges and one associate judge each. The judges are either winemakers or wine industry professionals such as a steward, sommelier or journalist. The head judge (this was his fifth and final year) was Steve Smith, Master of Wine, and director of the famed Craggy Range winery in Hawke's Bay.
These judges blind-tasted the wines, meaning they did not know which wines they are tasting, over the course of 3 days and made their marks. Wines could win Bronze, Silver or Gold medals (or none at all), in both the conventional and sustainable categories. The sustainable category, which was introduced in 2007, is called "Pure" (i.e., a "Pure Gold" medal for an exceptional wine made 100% sustainably). From there, a few gold winners are selected as Gold Elite, and then from there one wine in each category was chosen as the overall champion or Trophy Winner. That's a lot to keep track of.
Different and Better
To Smith, one of the most thrilling developments was the fact that for the first time, a Verdelho and a Grenache won gold medals in the competition. He noted an exciting new dynamism to the Sauvignon Blancs, suggesting that winemakers are starting to experiment with exciting new styles.
John Belsham, winemaker at Fox's Island Wines and one of Air New Zealand's wine consultants, enthused, "New Zealand winemakers have figured out that commercially, they have to produce wines that are not only different, but also better — they are finding different paths to take, and the small producers are constantly challenging the pigeonholes common with New Zealand wines."
As evidenced by the exciting and extensive lineup of wines — both in general and those that won prizes — there are going to be a lot of new and interesting developments in New Zealand wines in the years to come, and we can watch future Air New Zealand Wine Awards for insight into the country's dynamic and energized wine industry.
The Standouts
We wanted to share some of the standout wines that we tried over the course of the evening along with the judges' tasting notes on them.
Sauvignon Blanc:
Dashwood Marlborough Sauvignon Blanc 2011. In a country where 75% of total wine production is devoted to Sauvignon Blanc, the one that wins this category must be spectacular, and this delight from the famed Marlborough appellation doesn't disappoint. "This smashing beauty shows perfumed aromas of passion fruit, lime zest and subtle capsicum," said the judges. "Impressively concentrated and intense, perfectly balanced."
Chardonnay:
Villa Maria single Vineyard Keltern Hawke's Bay Chardonnay 2010. This wine won not only the Chardonnay category, but also the overall trophy of the show, so you know it's something pretty special. That might come as a surprise to folks who only think of Sauvignon Blanc when it comes to New Zealand white wines, but this limited edition showcases just how stellar Chardonnays from the country can be; especially when they come from the renowned Gimblett Gravels are of Hawke's Bay on the North Island. The judges said: "Beautifully framed and weighted with white peach, cream, oatmeal and a hint of flinty notes. The palate is concentrated and seamless with a terrific length."
Gewürztraminer:
Lawson's Dry Hills The Pioneer Marlborough Gewürztraminer 2010. Gewurz, as it's affectionately called, is not just for sweet-toothed grannies any more, especially this acclaimed vintage from Marlborough. "Attractive and inviting on the nose, with stone fruit, tropical flower and subtle spice notes. The palate is rounded with elegant sweetness and a delicious long finish." This was truly one of the more memorable wines we came across.
Pinot Noir:
Pencarrow Martinborough Pinot Noir 2010. Just as Sauvignon Blanc is to whites, Pinot Noir is to reds when it comes to New Zealand wines, and this one comes from one of the country's most awarded wine regions in the southern part of the North Island. The judges called it, "Opulent and complex, a sumptuous wine showing dark cherry richness backed by subtle spicy, truffly complexity with beautifully woven oak characteristics."
Syrah:
Bilancia Hawke's Bay Syrah 2010. Syrah is becoming more and more widely planted, thanks in no small part to the fact that these grapes are producing simple fabulous wines in New Zealand these days. Try this one, which is "voluptuous, supple and fleshy with pristine blue-blackberry, dark plum and floral perfume. The palate is superbly ripe while remaining impeccably balanced with silky tannins."
Cabernet Sauvignon:
Mudbrick Vineyards Waiheke Island Merlot-Cabernet Sauvignon 2010. This little island off Auckland has long been producing blockbuster wines, including this "stylish and engaging red with cassis, blueberry and gentle cedary oak notes. The palate is intense, fruit-rich and classically dry with fine, chalky tannins. Powerful and sophisticated."
Trophy Winners
If you'd like to see a list of the Trophy Winners in each category, you can
click here
, and we've also included it below, so look out for some of these champions in your local wine shop:
Air New Zealand Champion Wine of the Show
Villa Maria Single Vineyard Keltern Hawke's Bay Chardonnay 2010
O-i New Zealand Champion Sustainable Wine
Villa Maria Single Vineyard Keltern Hawke's Bay Chardonnay 2010
Label and Litho Champion Sauvignon Blanc
Dashwood Marlborough Sauvignon Blanc 2011
JF Hillebrand New Zealand Ltd Champion Pinot Noir
Pencarrow Martinborough Pinot Noir 2010
Rabobank Champion Chardonnay
Villa Maria Single Vineyard Keltern Hawke's Bay Chardonnay 2010
Wineworks Champion Sparkling Wine
The Sounds Marlborough Méthode Traditionnelle 2008
stuff.co.nz Champion Gewürztraminer
Corbans Private Bin Hawke's Bay Gewürztraminer 2008
Guala Closures NZ Champion Pinot Gris
Spy Valley Marlborough Pinot Gris 2011
Plant & Food Research Champion Riesling
Martinborough Vineyard Manu Martinborough Riesling 2011
BDO Champion Other White and Rosé Wine
Waimea Nelson Viognier 2010
Business World Travel Champion Merlot
Villa Maria Reserve Hawke's Bay Merlot 2009
Gold Medal Vintage Insurance Champion Cabernet Sauvignon or Merlot/Cabernet Blend
Mudbrick Vineyard Waiheke Island Merlot Cabernet Sauvignon 2010
Fruitfed Supplies Champion Syrah
Bilancia Hawke's Bay Syrah 2010
New Zealand Winegrowers Champion Other Red Styles
Not Awarded
The Langham, Auckland Champion Dessert Wine
Charles Wiffen Late Harvest Marlborough riesling 2009
New World Champion Open White Wine
Dashwood Marlborough Sauvignon Blanc 2011
Fairfax Media Champion Open Red Wine
Pencarrow Martinborough Pinot Noir 2010
Newstalk ZB Champion Exhibition White or Sparkling Wine
Lawson's Dry Hills The Pioneer Marlborough Gewürztraminer 2010
Kapiti Champion Exhibition Red Wine
Charcoal Gully Estate Sallys Pinch Central Otago Pinot Noir 2010