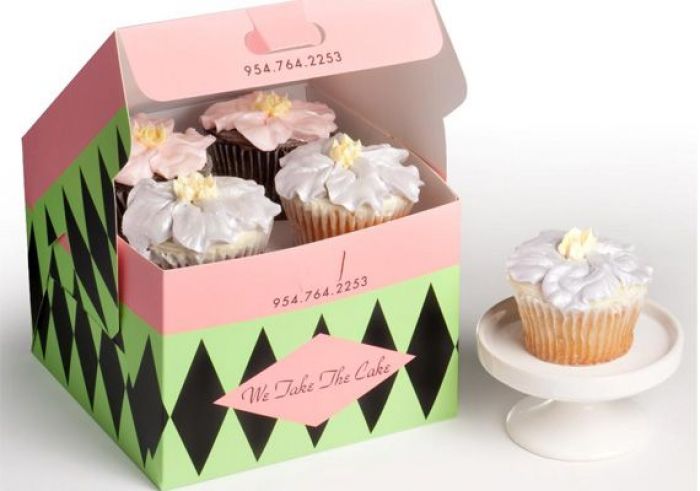 Photo Courtesy of We Take the Cake
Three years ago, I landed an interview for a project I
really
wanted.  Determined to stamp a strong impression, I went to the fanciest cupcake shop in
Washington D.C.
and picked up a small box to bring with me. The crew that I interviewed with were impressed. "We love cupcakes!" they said. This quickly taught me the value of thoughtfulness. It also taught me the power of cupcakes. I earned the account.
Years later, I have watched cupcake companies become extremely popular in every city I visit. And what's not to love? Individually wrapped sweets in smaller portions that look fun and can be eaten by hand. So I gave some thought to the cupcake craze and did a couple of searches online to see what caused this madness before getting quickly sidetracked by my only addiction bigger than sweets: CNN. 
The article that caught my eye:
"10 People We Wouldn't Know Without Oprah."
Number eight behind Gayle King and Nate Berkus was Lori Karmel, owner of "We Take the Cake." 
An omen?
 I hopped on their website to check it out. Not only do they offer a variety of cupcakes, but they're also making bundt cakes and layer cakes that cater to all kinds of dietary restrictions. Their menu includes a gluten-free chocolate cake, flourless chocolate cake, vegan chocolate layer cake, and all products are certified Kosher. Even Oprah named their Key Lime Bundt Cake one of her "favorite things" in 2004.
To top it all off, they even deliver nationwide, which is perfect for sending that special someone a sweet treat on any occasion. I took that gift giving idea and decided it was time to do something nice for my team, so I ordered a box of eight assorted cupcakes. When they arrived, we devoured them completely. My team was happy. Now, not only did I 'get the job,' I got the job done as well! Hooray for cupcakes!
So, I have deemed "We Take the Cake"  the purveyors of America's best cupcakes. Why? Because they taste delicious and show up by way of my trusty UPS guy just after lunch. Ideal!
5 reasons that sealed the deal to have cupcakes delivered to my office:
1. I have never had cupcakes delivered from across the country and wanted proof that it is possible for cake and frosting to arrive without incident. They did — in an insulated cooler, packed with dry ice. Instructions noted that the cupcakes would stay fresh for four days.
 

2. Ordering online is the new black. It is — did you see the CNN Black Friday sales report last week? They reported that online sales increased from last year 39.3% on Thanksgiving Day and 24.3% on Black Friday, according to IBM's 'IBM Fortune 500 Coremetrics' that collected real-time date from 500 different retailers.


3. I am too time deficient (e.g. busy, lazy,) to wander to CakeLove or other trending cupcake hotspots in my neighborhood.


4. Southern kitchen goddess, Paula Deen featured "We Take the Cake" Red Velvet Cupcakes in "Quick and Easy Meals." If they are delicious enough for Paula...


5. People are predestined to favor either sweet or savory flavor profiles. I am all about the savory.  But every now and again, I crave one or two bites of something decadently sweet to satisfy my craving. One WTTC cupcake is of perfect size for one person (the savory-tooth), but there is an assortment of eight (sweet-tooth.) Visit WeTakeTheCake.com to learn more.
Oprah's Favorite Key Lime Bundt Cake
6" Chocolate Layer Cake with Peanut Butter Mousse
6" Fresh Strawberry Cake