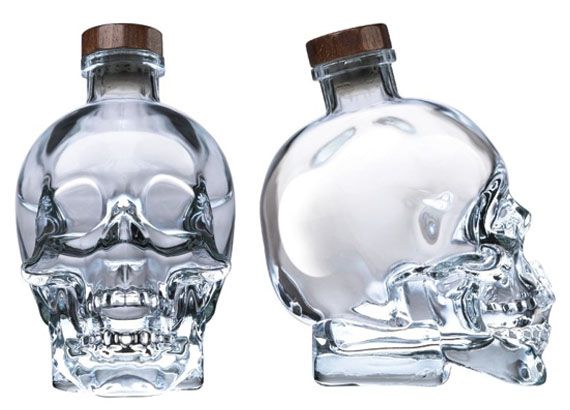 Photo Courtesy of Crystal Head Vodka
I am a fool for skulls...so much so that I gave my best friend a skull-and-cross-bone onsey at her baby shower last week. I am also a sucker for a
really good martini
. In fact, I believe that a martini — yes, straight vodka or gin — is one of the easiest drinks to make poorly. Equally, it is one of those drinks that is truly memorable when made well.
So, channeling my former profession (bartending) and current obsession (making the world's best martini), I set out on a quest for the right ingredients. In this case, the 'right ingredient' is outstanding premium vodka. I have my usual favorites, of course, but I wanted to go bigger. And when I learned of Crystal Head Premium Vodka, complete with crystal skull vessel designed by famed American artist John Alexander, my life actually became a little happier. This was the vodka I needed for my little experiment. I picked up a bottle for $45 bucks.
The fact that this vodka is the brain child of screen legend, Dan Aykroyd, is intriguing, but what really sold me was the discovery that it is triple crystal-filtered through Herkimer diamonds. Diamonds! I didn't know what this meant, I just knew that it sounded amazingly indulgent—as every martini that I call for usually is.
Now, I read up on Herkimer diamonds, and learned that there are claims within the new age community that they project enlightenment, positive energy, and mystical properties and who am I to argue with the metaphysical world? After all, I felt a wave of positive energy pulsate right through me after the first, second, and last sip of my Crystal Head Martini.
Four times distilled and blended from select grains, Crystal Head excited my palate with her clean, subtly sweet flavor, and a slightly creamy body that drank like a buttery New World Chardonnay.
The Crystal Head Premium Vodka Martini, Straight Up
Ingredients:
3 oz. Crystal Head Vodka
1 oz of ice
1 drop dry Vermouth
Martini Shaker
Martini Spoon
1 olive (garnish)
1 twist of lemon (garnish)
(Most amateur bartenders will look at you as if you have three heads when ordering this garnish… But a whisper of salt, a touch of brightness — awesome)
Garnish 2:
Skull Toothpicks by Grasslands Road Ghoulish Glamour
Instructions:
Place glass in freezer for five minutes or fill with ice and water to chill.
Pour vodka over ice in the martini shaker and cover.
Shake five times slowly, once up, once down.
Remove lid from shaker and stir slowly—twice one direction, twice the other.
After setting glass out to pour, add one drop of vermouth to the glass and dump immediately.
Pour vodka in your slightly chilled martini glass.
Brush the lip of the glass with the twist and drop it in.
Place large green olive on a skull toothpick. Pull out the twist and wrap it around the pick, Drop it in.
Toast, always looking at the eyes of the person you are toasting. Sip.
Turn on Ghostbusters, have another sip, kick your feet up, watch the ghostbusting, enjoy!
Tip:
Bruising a martini occurs when it is shaken too hard and the vodka becomes diluted. This is not the end of the world, however, not bruising the martini means that you are able to taste the subtle flavors that are so well thought out during production. In this case, taste the diamonds. Next stop, stars! Go to
CrystalHeadVodka.com
to learn more.
See our picks for
Best Fine Spirits