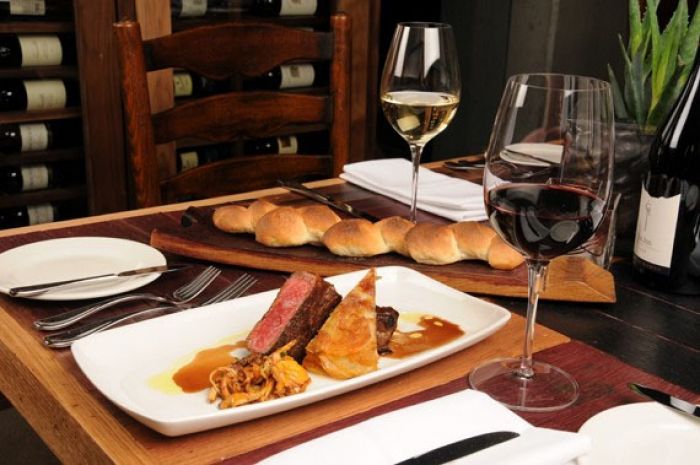 Photo Credit: Coohills & Chad Chisholm
Denver's restaurant scene
is growing and receiving national recognition; Coohills Restaurant is one of the notable additions to the Mile High dining experiences. With a recent influx of high-end culinary interest, new additions to the family of fine dining have Denver abuzz.
Think Colorado needs to move in front of cutting edge to read: Coohills in LoDo is fantastic French cuisine with a Colorado cutting edge located alongside the waterway of Cherry Creek in the historic lower downtown district; this new restaurant experience is especially exceptional.
French-inspired in both food and atmosphere, the white marble French pastry counter, wine barrel serving platters, and chic touches throughout the restaurant make for a luxurious night out. The restaurant is divided into three zones — the bar, community lounge, and fine dining — all which blend seamlessly with unbelievable food and service throughout. From sommelier bartenders to knowledgeable and extremely friendly staff, the service is bar none and atmosphere impeccable, whether looking for an after work drink, a quick bite before a game, or an anniversary dinner to remember for a lifetime.
Owners Tom and Diane Coohill are no strangers to the culinary scene. Chef Tom Coohill is French trained by some of the finest chefs in the world. The influence extends throughout his menu, which gives nods to previous positions he held at Atlanta's Ciboulette, Le Francais, and The Abbey as well as Ma Maison in Los Angeles. The Pâte, both a chicken liver and country variety is such an example; the five hours of meticulous preparation and detailed presentation lend for an exceptional dining option in Denver. Technique is something Coohills prizes and it shows throughout the restaurant.
A fun and creative cocktail menu, extensive wine list, and happening happy hour make for a great local hang out or special occasion destination at Coohills. Cocktail items such as the Wild Blueberry Martini, made with Hanger One Blueberry vodka, cranberry and lemon juice, agave nectar and fresh muddled blueberries and the Goodnight Ginger created with Square One Basil, lemon juice, agave nectar, ginger liqueur, and fresh basil join a medley of unique and delicious drinks. Several craft beers are also offered and an extensive and unique wine list includes bottles such as New Zealand's Craggy Range "Le Sol" Syrah by Gimblett Gravels.
Utilizing sustainable seafood, this land-locked restaurant is using some of the newest technology to bring Denver the finest and
eco-friendly
dishes without skimping on world-class flavor, presentation, and affordability. Doing deep research into sourcing sustainable seafood, Chef Coohill even has the Seafood Watch app on his iPhone. Such an example of this ocean-friendly fare is the beautifully prepared Spot Prawns, served with a cauliflower puree and parsley oil. The vibrant dish is a perfect appetizer or light bite whether enjoying on the patio in the spring or summer or before a hearty meal in the winter. Diver Scallops with house-made gnocchi and tarragon broth also appear on the pasta side of the menu; the melt-in-your-mouth pasta plays off the three oversized scallops with perfect French seasoning.
The Escarole and Parmesan Crusted Farm Egg Salad is not to be missed. As a lunch option or pre-dinner salad, the melody of flavors and textures crescendo with the fantastically prepared crusted egg within the leafy greens. Served with pancetta, garlic and a Dijon vinaigrette, the perfectly sized salad will leave you wanting more. Wagyu has become a favorite for Coloradans and visitors alike. Several restaurants are now offering the prized beef and Coohills rises to the occasion preparing the Snake River Farms Wagyu Strip Steak in both eight-ounce and sixteen-ounce cuts. Served with golden Chanterelles, pommes Anna and bordelaise sauce, the balanced dish is richly flavorful and a decidedly wonderful alternative to classic steak houses.
Save room for dessert — the presentation is breathtaking and its French style undeniable. From the Apple Tart with cinnamon stick ice cream to Vanilla Bean Bread Pudding with dark caramel sauce and house-made whipped cream, the decadent and delicious dessert menu is not to be passed up. Visit
Coohills.com
to learn more and make reservations.
Courtesy of Coohills
Dining Room
Courtesy of Coohills
Private Dining Room