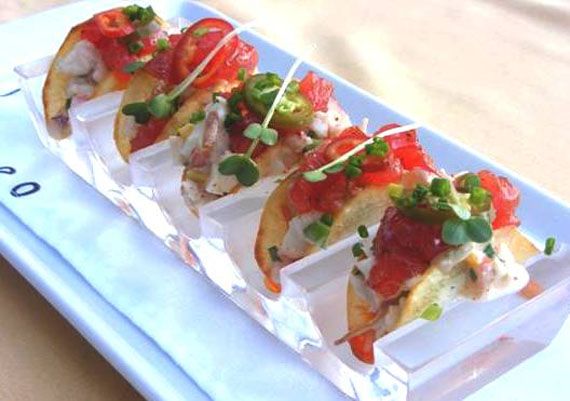 Photo Courtesy of The Westin Kierland Resort & Spa
Tired of Turkey? Go to the grocery store and pick up ingredients for Millionaire Tacos! Compliments of
The Westin Kierland Resort & Spa
, Scottsdale, Ariz. Pairing Suggestion: Paige Springs Cellars? 2010 Vino de la Familia Blanca ($21).
Ingredients:
(Makes 5 tacos)
2 oz. Hamachi (Yellowtail)
2 oz. Lobster diced
1 oz. Mangoes
¼ tsp. Lime Juice
½ oz. Fried Onions
½ oz. Scallions
1 tbsp. Pickled Jalapeño, chopped
1 oz. Ahi Tuna, diced
5 Yucca Taco Shells (a crispy yucca chip in the shape of a taco. Buy in a store or make them yourself following instructional video below)
5 Daikon Sprouts
½ oz. Lemon Oil
Kewpie Sauce (recipe below)
Kewpie Sauce:
4 oz. Japanese Mayonnaise
1 oz. Yuzu
1 oz. Ponzu
1/8 oz. Red Pepper Flakes
Combine all ingredients well
Directions:
1. Season the Hamachi and lobster in a bowl. Marinate in lime juice.
2. Add the kewpie sauce, fried onions, and scallions.
3. In a separate bowl toss the tuna with lemon oil. Season to taste.
4. Divide the ceviche mixture and place in taco shells.
5. Top each taco with ahi tuna and garnish with jalapeño, daikon sprouts, and chives.