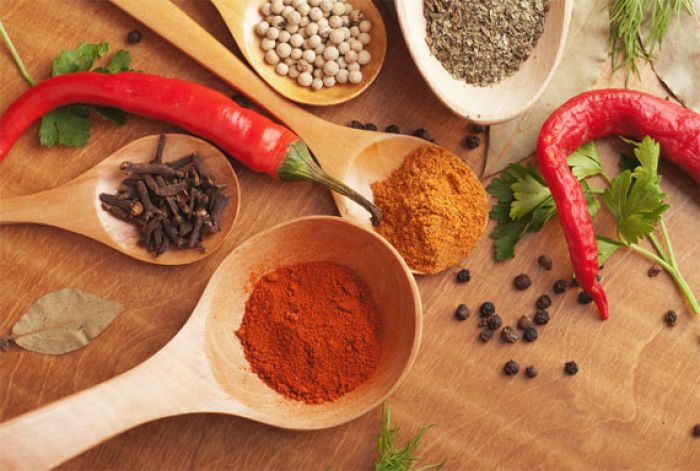 We sat with four half-eaten plates before us and pondered whether Port Townsend—a tiny town on the Olympic Peninsula in Washington State (where both of our parents happened to live)—could become the paprika capital of the world. "…It just might. It should."
Quickly becoming a favorite pastime among my posse of friends in
Washington DC
is developing an eating experience centered around one food item. Last time, it was a "pickle tasting party," this time, a "paprika party." If you haven't had ingredient-centric kitchen adventures yet, it is well worth the little effort it takes to put on a proverbial creative chef hat.
Our dishes were conceived in less than five minutes standing in the produce section of our neighborhood grocery. We had seven types of paprika, very little time, a low budget, and a handful of vegetarians meeting on our stoop in less than 15. Our dishes were a total shot in the dark—a Hail Mary, if you will. And all four of them were absolutely, unequivocally, earth-shatteringly amazing.
Since this party is centered around one ingredient—a spice—we will start there. "Some Like it Hott" Alder Smoked Paprika. We had seven varietals in our palms and chose four. And that's where it will begin.
The Paprikas:
Piment D'Espelette, Alder Smoked Poblano Paprika, Alder Smoked Paprika 7*, Non-Smoked Fuszerpaprika
The Dishes:
A quick note: To some, this paprika is quite spicy, and others, not so much. Taste a dab on your finger before adding to a dish to get a feel for the spice level. Additionally, I am not an organized chef and don't follow
recipes
, so I have listed just the components. As for measurements, they are included where possible, but otherwise, you will have to use your best judgment.
Slices of Green Tomato with Cat Cora's Organic Olive Oil, Crushed Sea Salt, and Piment D'Espelette
Simple. Slice, drizzle, dust, enjoy.
Roasted Cauliflower with Non-Smoked Fuszerpaprika
There is something sinfully delicious about well-seasoned, simple roasted vegetables. Just toss the cauliflower in olive oil, salt, black pepper and paprika and slow roast in the oven at 400° F for 40 minutes. Serve. Eat. Oh My Gosh—Enjoy.
White Bean Dip with Garlic and Non-Smoked Paprika Verde
In a food processor, add canned (or dried, soaked and softened) white beans, juice of one lemon, salt, white pepper, and paprika to taste. Stream Avocado Oil (I like Ahuacatlan) in for an antioxidant rich binder.
Alder Smoked Paprika *7 Honey with simple Goat Cheese, Hard Salami, and Sliced Baguette
Are you kidding me? This was the most decadent, delicious, [non]-guilty pleasure of them all! Mix honey in a small dish with alder smoked paprika and incorporate with a fork. Serve with goat cheese, hard salami and baguette. The tangy, soft quality of the goat cheese with the spicy, sweet, mixture of the honey played off one another perfectly. And for a hearty punch of salty fat, top with a piece of salami on a slice of baguette. Ridiculous! (In a good way.)