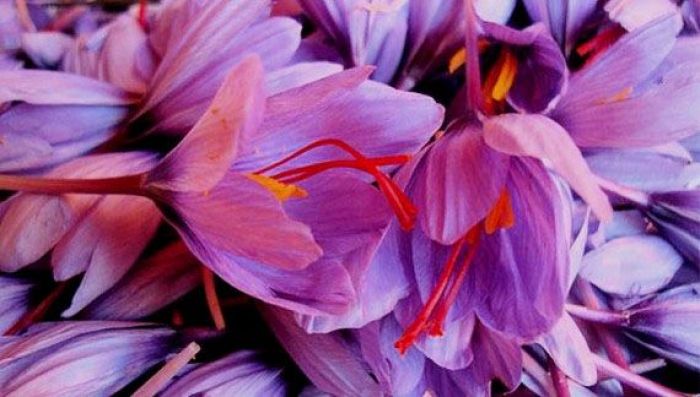 Photo Credit: ISNA/Amin Khosroshahi
Top Ten lists shed light on fascinating corners of pop culture. I recently came across a list of the world's most expensive foods, thanks to the folks at Kitchen Geekery. Who knew the most expensive mushroom is an Italian white alba truffle (the owner of a Macau casino recently paid $330,000 for a 3.3 pound beauty)?

Almas caviar is sold at only one retail outlet in the world (one kilo in a 24-karat gold tin: $25,000), and a 17-pound Japanese Densuke watermelon sold for $6,100 in 2008. The strange-but-true list continued until I reached the world's most expensive spice: saffron. This I knew, and decided to learn more.


Saffron is actually the stigmas (female reproductive part) of the Saffron Crocus (Crocus sativus) plant. Each mature plant contains only three bright red stigmas. The crocus' origin is not definite. Scientists know that Egyptian physicians were using saffron as a digestive around 1600 BC. Most probably, the origin is Iran or Greece (from "krokos"). One legend tells of Hermes, son of Zeus, and his friend, Crocus, throwing a discus to each other. Hermes hit Crocus on the head, fatally wounding him. As Crocus lay dying, three drops of his blood fell on the center of a flower, thus becoming the three stigmas of the flower named after him.

Saffron's insanely labor intensive production is the reason for its place on any "Most Expensive" list. The Saffron Crocus variety is the only one of 75 species of crocus with the right stuff to produce saffron. Contrary to its spring-blooming brethren, the Saffron Crocus blooms in autumn. With only three stigmas per plant, it takes a lot of plants to deliver a decent yield. A pound of saffron requires about 225,000 stigmas; at three per plant, that's about 75,000 plants grown over an area the size of a football field. This one-pound harvest takes the better part of a week.

According to a study conducted in 2008 (IDOSI.org), about 90% of the world's saffron comes from Iran. India is the largest importer, not for flavoring, but for dying fabric the official yellow color of Buddhist robes. Other large producers dominating the world production of saffron are the La Mancha region of Spain, Kashmir, Turkey, Greece and Morocco.

Cooking literature describes the aroma and taste of saffron in a range from delicate, flowery, and perfume-like, through hay-like, musky and earthy, to medicinal. As a spice, the adage "a little goes a long way" applies. Foods benefiting most from its addition include risotto, eggs, mushrooms, seafood, spinach and potatoes. International dishes include Moroccan cuisine using chicken and lamb, French bouillabaisse, Spanish paellas and sopas de pescado, and Indian Biryani (spicy rice and chicken).

Saffron is also one of the more exotic ingredients in several Italian liqueurs. Strega Herbal Liqueur, produced in Benevento, Italy since the mid-1800s, consists of about 70 herbal ingredients, bottled at 80 proof. It has a strong mint or coniferous taste, and is used to flavor torta caprese, a traditional Italian chocolate and almond or walnut cake named for the island of Capri, where it originated. Fernet Branca is a bitter, aromatic spirit made with dozens of herbs, including saffron. It dates to the mid-1800s and is bottled at 86 proof. Its base is grape alcohol. Fernet Branca is commonly added to coffee and espresso drinks, and it is also considered an excellent hangover cure.

Quoted prices for saffron vary widely. Authentic, high-quality saffron ranges in price from $1,600 to $5,000 per pound. Fake or inferior "saffron" abound. In a fake product, crocus stigmas are substituted with dyed corn threads, and sold in bulk. Authentic saffron is usually sold in one-gram packets, and is expensive. If you think you have inexpensive saffron, you do not have saffron. Interesting fact: merchants caught selling fake saffron in Bavaria in 1444 were burned alive.

One of my favorite saffron recipes (because it yields cookies!) is this easy to do gem:

Orange Saffron Butter Cookies

Ingredients:
1-1/8 cups all-purpose flour
1 stick butter at room temperature
2 pinches saffron threads (stigmas)
½ tablespoon orange zest
1/3 cup sugar
2 large egg yolks
Directions:
Work saffron and orange zest into butter. Blend in sugar, and then egg yolks, one at a time.
Add flour to form a soft ball of dough. Cover and refrigerate for at least three hours.
While preheating oven to 325 F (165 C), remove dough from refrigerator to soften slightly.
Drop one rounded teaspoon of dough per cookie on ungreased cookie sheet. Press dough flat.
Bake 10 minutes, or until edges begin to brown. Rack cool and store in airtight container.