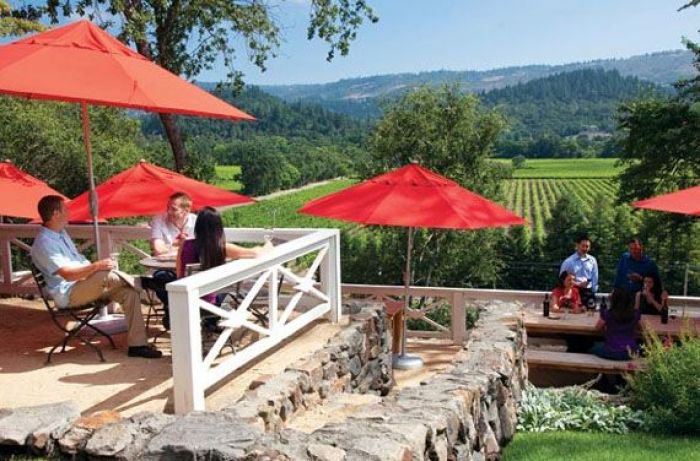 Photo Courtesy of St. Clement Vineyards
The short path from the parking lot to the charming Victorian house that houses St. Clement Vineyards' tasting room is steep, but worth every step. The landmark Napa Valley estate, established in 1878 by the
San Francisco
stained glass merchant Fritz Rosenbaum, was one of the first bonded wineries in the Napa Valley. But St. Clement's history began in 1976, when William Casey, a local ophthalmologist, bought the house and built a 10,000-case stone winery in the backyard.
Although St. Clement Vineyards owns very little of its own vineyard acreage, the winery has built its modern-day legacy from long-term relationships with some of the best winegrowers in the Napa Valley. These relationships represent half of the Napa Valley's 33 different soil series, and 100 different soil variations, which translate into an amazing palate of flavors and tannin structures for Winemaker Danielle Cyrot.
Danielle came to St. Clement from Stags' Leap in 2005. Although she appreciates the philosophy that wine is created in the vineyard, she also monitors her cellar carefully. Intent on crafting wines that are elegantly structured with refined tannins and balanced components, Danielle wants her wines to be an expression of herself.
She talks passionately about each of her wines. When asked about the 2010 St. Clement Sauvignon Blanc, Bale Lane, she says, "I love it straight out of the refrigerator, alongside a plate of local cheeses and a fresh baguette. It is a crisp, clean, and refreshing wine that cuts through the heat of summer."
Architecture buffs and lovers of great wines who visit St. Clement's main tasting room appreciate the building, meticulously restored to the finest detail, and the offerings of single-vineyard Cabernets and Oroppas, the iconic Bordeaux-style blend. Eight of the thirteen wines in St. Clement's current portfolio are available at the winery and poured in the reserve room behind the main house. Despite its long history in the Napa Valley, St. Clement always holds many pleasant, new discoveries.
WHAT TO BUY:
'10 Bale Lane Sauvignon Blanc Aromas of honeydew, grapefruit, and a slight hint of honeysuckle $21

'07 Oroppas Black cherry, mocha, cedar, spice box $55


CONTACT:
St. Clement Vineyards
2867 St Helena Hwy N
St Helena, CA 94574
866.877.5939
info@stclement.com
stclement.com
Tasting Room Open 10 a.m.–5 p.m.

SPECIAL NOTES: Private tasting and tours by appointment, picnic grounds, scenic view, wine club discounts, wine club events.