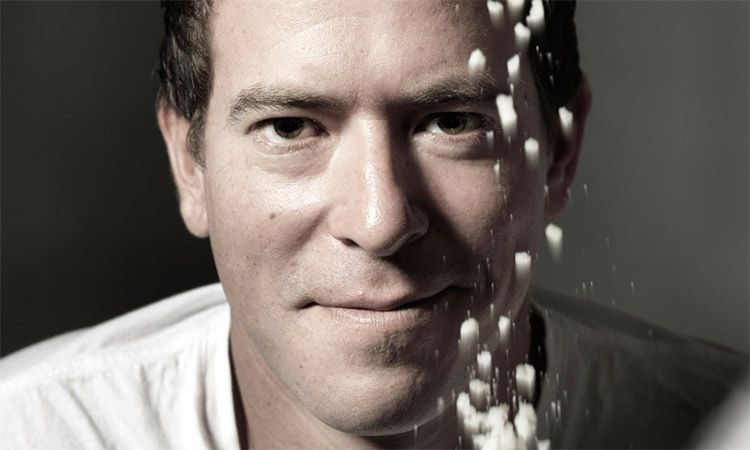 Photo Courtesy of Maras
It's little wonder that when Westin built a luxurious, 30-story, sparkling steel and glass hotel in Lima last year (now Peru's tallest building) at the cost of $130,000,000, they searched for a
top chef
whose talents would not be dwarfed by this iconic landmark.
The man they chose for the job was Peruvian-fusion wunderkind, Chef Rafael Piqueras, 36, who cut his culinary teeth on the likes of Antica Osteria del Teatro in Italy and Giuda and El Celler de Can Roca and El Bulli in Spain.
Piqueras named the restaurant, Maras, after one of his favorite ingredients, the flavorful pink saltused for six centuries by villagers of Maras in the Sacred Valley. Menu hits include Peruvian style tuna carpaccio with cushuro (cushuro is a local caviar-like seaweed), 21-day-old suckling pig confit with a Greek yogurt sauce, oxtail stuffed with foie gras that is brought to the table under a silver dome, which when removed, releases an intoxicating cloud of lavender-scented smoke.
Maras is sophisticated yet fun, with an insider-party vibe. The place is filled with upscale locals and traveling foodies in-the-know. If it's your first visit, ask for a Menu Degustation (tasting menu) to fully appreciate the full range of Piquera's talents. After a delightful two-hour dinner, filled with one culinary surprise after another, Chef Rafael graciously sat down with me for an exclusive JustLuxe interview.
Notably, he was the first Latin American to be invited as an exhibitor at the food fair "Madrid Fusion" 2004.
JustLuxe: What inspired you to become a chef?
Rafael Piqueras:
When I was a young boy, I visited my great-grandmother on the weekend. I was fascinated by the fact that although she had two maids, Marcello was in charge of all the household cooking, baking and marketing. It was quite a rare thing for a man to be cooking in a home, but after watching him run the kitchen, I knew I wanted to be a chef.
JL: Were you self taught or did you go to culinary school?
RP:
I studied at the Cordon Bleu in Lima and then in Italy. After that I was fortunate to work at some of Europe's
top restaurants
such as Antica Osteria del Teatro and Spain's legendary, El Bulli.
JL: Who is your culinary idol?
RP:
That would be Joan Roca (El Celler de Can Roca in Girona, Spain), both as a chef and a person. He's the most "complete" man I know, and one of the few that can balance his work with his family life. My wife and I just had a baby girl, Aitana, and I want to spend as much time with them as I can, but it's difficult (Rafael then whips out his cell phone to proudly show me a picture of his lovely Greek wife and their adorable daughter).
JL: What is your proudest culinary achievement?
RP:
When I was only 25, I was recognized as one of the world's top 12 chefs in the Madrid Fusión II–International Gastronomy Summit. That was very exciting.
JL: If you couldn't be a chef what would be?
RP:
Hmmm, I used to think I'd want to go into acting. My uncle is a famous actor.
JL: If they make a movie about your life, who should portray Chef Rafael?
RP:
I think it should be the actor who plays Jack Bauer in 24. (Side note from interviewer: Rafael is about a zillion times more handsome than Keifer Sutherland!)
JL: What is your trademark saying in the kitchen?
RP:
If a dish isn't right I will yell, "Are you trying to spoil the restaurant? Taste this! Taste this!"
JL: Is there a signature dish you're known for?
RP:
That would probably be my corn tart filled with oxtail ragout, but just between us, I wish I could take it off the menu because I'm soooo tired of making it.
JL: Any easy tips for cooking at home?
RP:
If you sprinkle Maras salt on a dish before grilling, the flavors really come alive.
JL: What is something that most people don't know about you?
RP:
I used to be a real party boy but now I would much rather spend time with my family and go out for a quiet dinner at a steak house.
JL: If you could cook a meal for anyone in the world, who would it be?
RP:
That's easy. I can't wait to start cooking for my daughter.
Go to
MarasRestaurante.com.pe
to learn more.