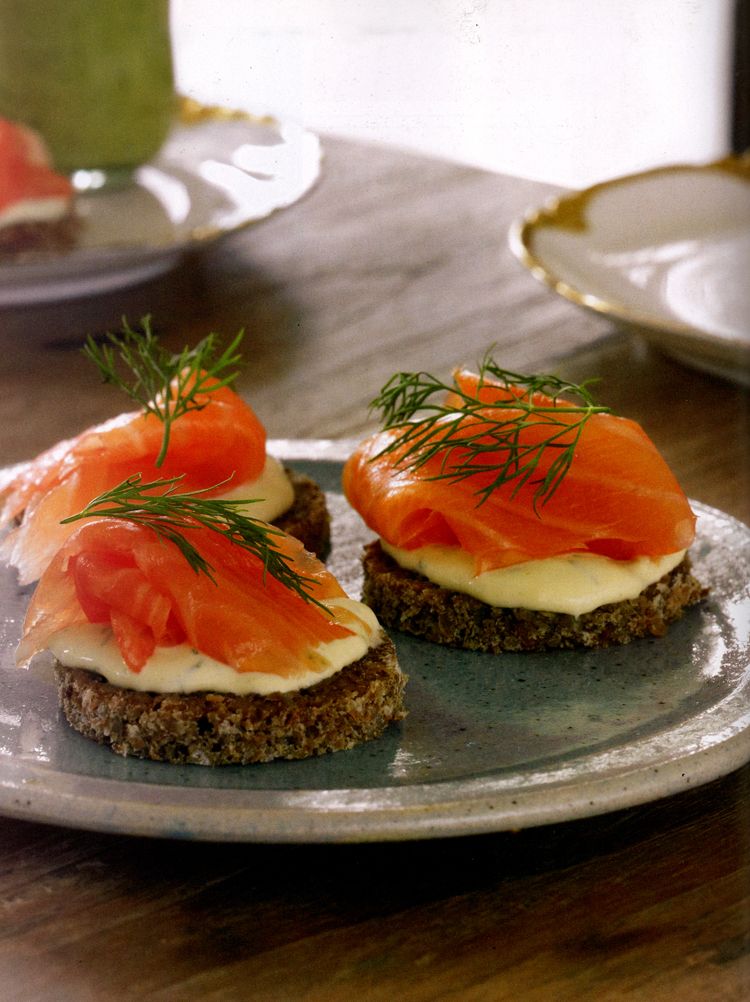 Photo Courtesy of Katie Lee
This flaky smoked salmon canapé recipe comes to us from celebrity chef Katie Lee, author and former host of Top Chef.
These little smoked salmon canapés with Dijon crème fraiche look so elegant, yet take no time at all to whip up. They are perfect for brunch, but also great with afternoon tea or as a little appetizer during cocktail hour.
Katie also recommends pairing her brunch recipes with Clos du Bois Chardonnay.
Servings:
6 (about 50 pieces)
Prep time:
20 minutes
Inactive prep time:
4 hours to chill sauces
Cook time:
10 minutes to toast bread
Special equipment:
1½ inch round cookie cutter
Ingredients:
3 tablespoons crème fraiche
2 tablespoons Dijon mustard
1 tablespoon honey
1 tablespoon fresh lemon juice
1 tablespoon fresh minced dill
6 large slices pumpernickel bread
½ pound thinly sliced salmon
Minced dill for garnish
Directions:
In a small bowl, combine the crème fraiche, mustard, honey, lemon juice, and minced dill. Chill at least 4 hours, until serving time.
Cut the crusts from the pumpernickel. Use the cookie cutter to cut bread into circles. Lightly toast. Let cool.
Spread the Dijon mixture on the pumpernickel rounds. Top with a piece of salmon and garnish with dil.