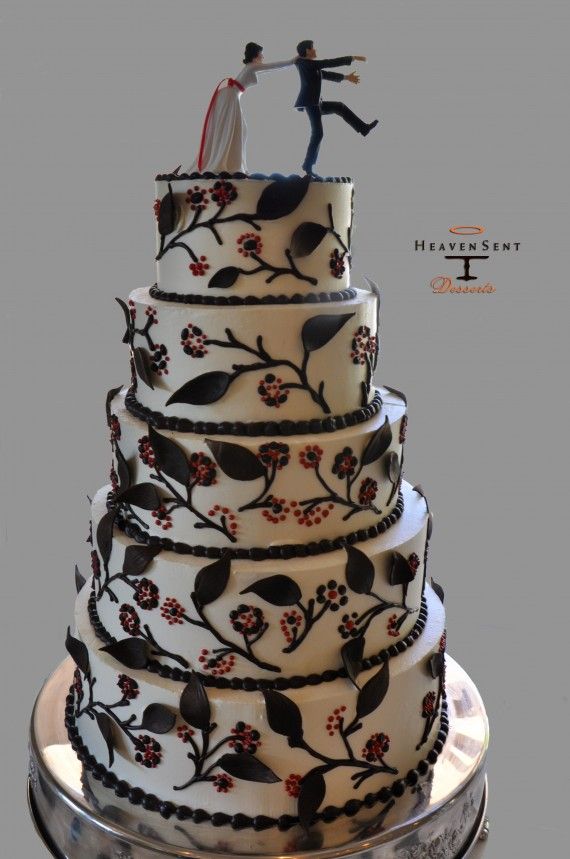 Photo Courtesy of Heaven Sent Desserts
How does one make a cake that TAKES the cake?  Now that wedding cakes are being substituted and "reinvented" a la candied apples, churros and donut towers, I thought to sit down with top cake baker and owner, Lachlan Oliver, owner of Heaven Sent Desserts based in San Diego, to get a slice on the wedding cake industry. 

JustLuxe: You've made cakes for Beyonce, Madonna, NFL stars, such as Shaun Phillips, and military heads of state.  What is your approach to wedding cakes, particularly for your discerning clientele?

Lachlan Oliver: At Heaven Sent Desserts, we love to personalize the experience of designing a wedding cake. Help your baker by bringing in clips, photos, fabrics, and any keepsakes that illustrate a "story" of your relationship, which can inspire an entire look of a cake. A three-tiered plain white cake doesn't usually say anything, other than "you are about to eat a wedding cake," but a tree trunk-like cake with the couples' initials "etched" in the icing is a statement. As is a cake made to look like a stack of love novels, topped with figurines of the librarian couple. These are a few of the "stories" we've created for customers. Also, you can use your cake to celebrate your guests as well. For one customer, we created 3-inch mini cakes with personalized messages for ALL wedding guests celebrating an anniversary the month of the wedding. We feel it allows couples to give back to those guests in attendance and expresses, "because of your love, I can now love my groom."

Ultimately, we see each wedding cake as a physical display that gives homage to the couples' families who have supported their journey or who may have traveled many miles to share the couples' special day. And for us, as the cake artists, we know that we are a part of thousands of couple's memories on their special day. Find a baker that takes that seriously.

JL: What should I ask my baker regarding a wedding cake?

LO:  Your specific questions will likely vary, but main, important questions to ask are:
- How much passion does the baker have for what he does?
- Will the baker be creating the cake or designating the project to someone else?
- Is there a set flavor menu or can the baker customize the flavors to an individuals tastes or nationality?
-Can the baker accommodate people with allergies?
- Can the baker accommodate Vegans or people who eat gluten-free?
- Is the person who designs the cake working weekends in case anything happens to the cake in transit to the wedding?
- What is the refund policy for emergencies or wedding cancellations?
- What other contacts does the bakery have, in case any wedding vendors fall through?

JL: What are the styles that are "in" right now?

LO: The traditional single design for all tiers is out and many styles per tier are in. Along with cakes that tell a story rather than just being a symbol, fun wedding cakes that are more like unique sculptures are in. Wedding cakes have become the token art pieces of weddings. 

JL: How much should I pay for my wedding cake?

LO: This really varies depending on the skill level of the baker or cake decorator. Depending on the skill level to create the masterpiece, a typical wedding cake might cost $3.50 per slice but a great decorator can charge $15.00 per slice.

JL: How do I get a cheap wedding cake?

LO: If you're on a strict budget, consider alternatives to a specialty bakery and use a mainstream bakery like Costco or Wal-Mart.

JL: Do I need a wedding cake?

LO: Absolutely not! A good pie or great selection mini desserts are great alternatives to a wedding cake. The most important thing is to personalize the cake or dessert selection to the couple and not to what they think their guests would like. It is much better to look back in 20 years at wedding photos and say, "that was so me."

JL: How do I find a good bakery?

LO: The key is to research the bakery by visiting as a guest before calling to set up a cake appointment. If the staff treats customers well before they know you are spending lots of money with them, then it's a great start. Once the cake appointment is set, a great aspect to consider is if the staff is informative and trying to get to know the couple before pushing certain designs from a book of samples.

JL: What are a few tips for working with your baker through the process?

LO:  Working with a baker should be a team effort. An important thing to consider is how well the baker can ease the stress of wedding planning. Our cake artists give our clients a call the week before the wedding to reiterate the details of their cake and reassure them we'll take care of all the details for them.

Also, is the baker able to walk the client through the process of making the cake extraordinary? A great baker should be able to take the design to the next level. For example, we help design the cake table. Doing so makes the cake stand out even more, from table design to table accents, to continue the theme of the cake onto the table.

JL: Any thoughts on the Brad and Angelina cake to come?

LO: I foresee a simple but elegant cake that plays on the innocence of children in the theme and design. I expect the design to reflect their love for their children and humanity for the world.


For more information visit
HeavenSentDesserts.com