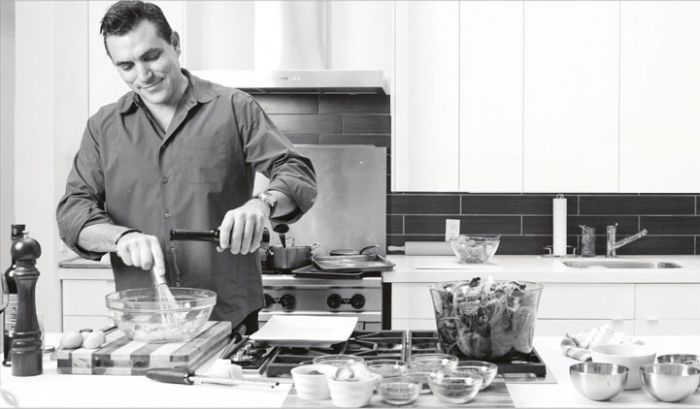 Photo Courtesy of Todd English
Not many people realize just how difficult it is for
Top Chefs
to stay at the peak of the culinary game (I'm not sure we even fully grasp it), which is why we want to acknowledge our favorite food wizards for their work. Basic cooking may be teachable but these
chefs
we're about to mention have more than that, they have inherent skill that just can't be faked. Aside from constantly studying, practicing, and experimenting, these chefs have most certainly dealt with kitchen irritants. We imagine they've seen it all, from hung-over waiters and prep cooks who accidentally slice a digit off to huge impatient groups who order the same thing and a new hostess who can't pronounce any of the dishes correctly.
Todd English
Todd English got his start back in 1989 when he opened his very first restaurant, Olives, in Charlestown, Massachusetts. His rustic Mediterranean cuisine quickly got him a lot of attention, allowing him to open Olives in New York and Las Vegas as well. A four-time James Beard Award winner and inductee into the James Beard Foundation's "Who's Who in Food and Beverage in America," English has authored cookbooks, has a house ware line, and hosts an Emmy-nominated PBS travel series "Food Trip with Todd English." With over twenty restaurants located all over (including Las Vegas, Boston, and Floridfa), he's more recently teamed with chef Ian Chalermkittichai to open the
Ember Room
in Manhattan.
William Bradley
As the executive chef for Addison Restaurant at The Grand Del Mar resort, William Bradley was born in Chula Vista, California. He got his start at Azzura Point at Loews Coronado Bay Resort, under the mentoring gaze of James Boyce, quickly moving up to sous chef at Phoenician in Scottsdale, Arizona. Once he snatched the executive chef title at the acclaimed Vu Restaurant in Scottsdale, Bradley was nominated for the James Beard "Rising Star Chef" award for three years in a row. His attention to simple, yet sophisticated flavors and textures helped him to succeed once he began working at
Addison
in 2006, infusing the menu with an interesting French-Californian flair. As the restaurant's Reflecting Director and Executive Chef, Bradley has helped the establishment earn the Forbes Five Star and AAA Five Diamond Awards for 2010 and 2009.
Photo Courtesy of William Bradly
Wolfgang Puck
When he was just 14, Wolfgang Puck apprenticed at the hotel in which his mother was a chef in Austria. Since, he has been awarded numerous times from various institutions, including the James Beard Foundation's Lifetime Achievement Award in 2012 and two Michelin stars in 2008 and 2009, and has built an empire that includes fine dining and catering. He's been on various television shows, including "Iron Chef America: Battle of the Masters" and his own cooking show "Cooking Class with Wolfgang Puck." He was even once in an episode of "Tales From the Crypt." Recently Puck's 24th floor lounge,
WP 24
partnered with Ritz Carlton in Los Angeles to create a coastline getaway for anyone needing some refreshments.
Photo Courtesy of Wolfgang Puck
Masa Takayama
Masa Takayama grew up in Tochigi, Japan, the second son amongst five children. A love for cooking was inherent, as his parents owned a catering business, and once he graduated high school, he went to work at Ginza Sushi-ko in Tokyo. He started from the bottom, washing dishes, and now is an accomplished chef with restaurants in Los Angeles and New York. His restaurant in LA, Ginza Sushi-ko (his former boss in Tokyo gave him the permission to use the name), gave him nearly twenty years of recognition before he ultimately sold it to his sous chef, and moved on to New York to open
Masa
. The talented culinary artist has been awarded the Forbes 5-star and three Michelin stars.
Photo Courtesy of Vdara
Michael Mina
With 19 restaurants to his name, Michael Mina strives to bring balance to every dish, making them memorable and unique. Born in Cairo, Egypt, Mina moved to Washington with his family when he was just two and by 15 he was working at the Garde Manager in a French restaurant. He's since been awarded numerous times, including the multiple Michelin stars and the four-star award from the
San Francisco Chronicle
for his self-titled restaurant
Michael Mina in San Francisco
. According to his site, among the highlights of his life was cooking for past and current Presidents of the United States, including Bill Clinton, George W. Bush, and Barack Obama.
Photo Courtesy of Michael Mina