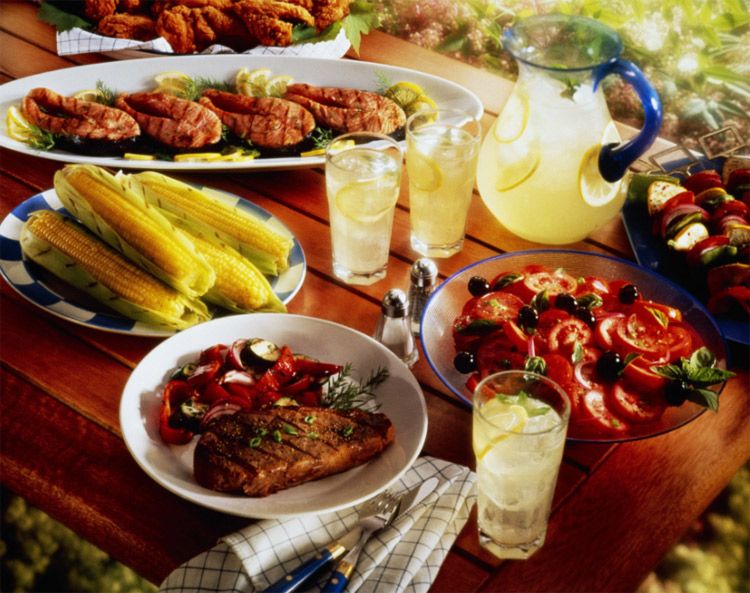 Recipes that will grab just as much attention as what's cooking on the grill
It's not often that sides create a stir, but we think these
sensational side dishes
will be the talk of the party. Pair them with some perfectly grilled steaks, juicy hamburgers, or some delicious barbecued ribs — these 11 side dishes are versatile enough to mix and match with just about anything. Each of them offers a slight twist on an old cookout classic, whether it's crunchy coleslaw, rich and creamy potato salad, or just some good old french fries. Here are some highlights:
Whole Foods Market puts a new spin on bean salad with edamame and quinoa; cut down on prep time by using shelled edamame and pre-cut green beans. Or, to put your own signature on the dish, feel free to substitute chickpeas, pinto, or black beans instead.
Normally, taking the potato out of potato salad would seem like sacrilege, but if the popularity of this recipe points to anything, it's that cauliflower makes a fine substitute. Go ahead, take the plunge, and give it a try.
Alison J. Bermack, author of the blog Cooking with Friends Club, puts a little extra crunch and an Asian-inspired twist on her coleslaw with pan-fried wonton wrappers, tender baby bok choy, and Napa cabbage, tossed in a delicious dressing made with sesame oil, freshly grated ginger, and rice wine vinegar.
Asian Coleslaw
Here's an interesting twist on the summer cookout staple, coleslaw, which has a little extra crunch from pan-fried wonton strips. (Photo credit: Alison J. Bermack)
Get the Recipe
Southwestern Potato Salad
Here's the perfect potato salad to serve at a Tex-Mex themed backyard dinner. (Photo credit: Robert Rabine)
Herby Pesto Pasta Salad with Chard
Whole-wheat penne and plenty of greens put a healthy spin on this typically calorie-laden side, but it's still packed with flavor thanks to plenty of chopped fresh herbs and pesto. Spinach works well, too. (Photo credit: Kath Younger)
Cumin-Crusted Oven Fries
Smoky cumin takes on a new dimension when roasted together with these easy-to-make, healthy oven fries. (Photo credit: Viviane Bauquet Farre)
Spicy Sweet Potato Fries
Looking for a healthy alternative to the russet potato? Look no further than these delectable, slightly spicy sweet potato fries. (Photo credit: Taste of Home)
Curried Corn on the Cob
There's nothing like fresh, sweet, summer corn cooked in their husks. A little curry powder and crumbled goat cheese create an Indian-inspired twist on this popular side dish. (Photo credit: Taste of Home)
Baked Beans in Bacon Cups
Instead of crumbling bacon bits into baked beans, this brilliant recipe takes a good idea and turns it upside down with amazing results. Baked beans served in individual bacon "cups" are perfect party platter sides. (Photo credit: Con Paulos)
Three-Bean Salad with Quinoa
Summer green beans, shelled edamame, and kidney beans combine into a protein- and fiber-packed powerhouse made even better with heart-healthy quinoa. (Photo credit: Whole Foods Market)
'No Potato' Cauliflower Salad
Looking for the alternative to the alternative? Sure, everyone knows about using sweet potatoes instead of russet or waxy potatoes in potato salad, but what about cutting them out completely and using cauliflower instead? (Photo credit: Isabel De Los Rios)
Cucumber Salad with Dill
Here's a Scandinavian take on refreshing cucumber salad that is a snap to prepare with just six ingredients and pairs well with just about anything — fish, lamb, veal, chicken, and even smoked meat. (Photo credit: Anne-Li Engstrom)
Char-Baked Tomato, Zucchini, and Eggplant
Looking for something a little unconventional? Look no further than this hearty side dish, packed with the summer's best produce. (Photo credit: Mikkel Vang)
More from our friends over at TheDailyMeal: