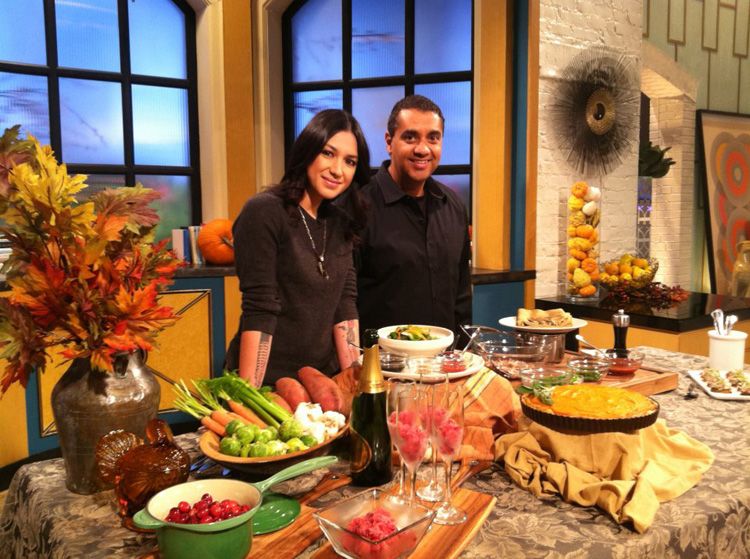 Photo Courtesy of Cook Taste Eat
Not only is Michael Mina a bona fide celebrity chef, but as those who have been privileged to see him do a cooking demo know, he's also a great teacher with a talent for explaining unusual techniques in layman's terms. Chef Mina is not a TV chef or a showman - if anything, he's a bit more reclusive than fans would want him to be - but with the launch of his new video site
Cook Taste Eat
, he'll be much more visible than ever before.
Mina's choice of co-hosts, the pop-acoustic singer/songwriter Michelle Branch, comes as a surprise - but then again, what celebrity doesn't wind up being some sort of amateur chef or would-be hotelier these days? Cooks are the new rock stars, as the saying goes. But in this situation, Ms. Branch seems more like a sidekick. She's the self-styled "avid home cook" who gets to poke around in Michael Mina's kitchen, ask him to break down all those famous cooking techniques (butter-poached meats, salt-grilled seafood) so that we all can try them at home, and hobnob with the other brilliant chefs that are in his every day orbit. Because of course, a celeb-fronted video site of this nature just wouldn't be complete unless there was an impressive pantheon of guest chefs.
The look/feel of
Cook Taste Eat
is different from most online cooking programming in that it is unapologetically educational — not trying to be sensational or funny or "cater to the 20-something male target demographic" like so much food programming of the Guy Fieri era. Nor is it targeting the harried housewife, as Rachel Ray and Parade and all the other magazine-helmed online tutorials aim to do. This is serious video for at-home cooks who really want to elevate their skills. 
Cook Taste Eat
videos focus on a specific dish one would find on a Michael Mina menu – and show how to create it in your own kitchen. The site is ambitious enough to promise that there will in fact be a new video posted every single day. Each week features a new Michael Mina meal, and each day brings a new segment focusing on one part of that meal – hence, once each week, there's a 7-part how-to detailing a complete Michael Mina meal. Exactly like you'd find on a menu, if you were to dine at your local Bourbon Steak or American Fish or RN74 that very night.
Though it only launched in fall 2012, the Cook Taste Eat archives already include ginger-crusted salmon with parsnip-apple puree, coconut curry lobster pot pie, turkey croquettes & gravy, and butter-basted pork loin. Plus about 50 other delectable main courses, sides, soups and salads.
The site is organized in a way that lets viewers pick and choose to create their own menu, though. Broad index categories include "Technique," "Season," "Holiday," "Dish Type" and "Main Ingredient". Sub-categories of "Main Ingredient" include Protein, Vegetable, Starch, Fruit, Dairy, Pantry, and Herbs. The unusual category is Elements of Taste, where you'll find videos that explore specific ingredients and the way they affect flavor. It's well thought-out, thorough and quite academic.